Refurb Dell 2TB SAS HDD Hard Drive
AED 340 (-6%)
100% Compatible with Dell Servers
Dell Authorized SAS HDDs
Improve Transfer Speeds
Store Bulk Data
Low Price, Heavy Performance
Description
Upgrade your Dell Server with Refurbished Dell 2TB SAS HDD
Power-up your datacenter with the best and most affordable Dell 2TB SAS Hard drives. Engineered with SAS interface, an array of transfer speed, storage space, and bandwidth, the SAS HDD offers greater value for your money. Designed to meet the needs of all the data centers, the Dell 2TB SAS hard disk drive delivers heavy performance. The hard drive comes with an enormous storage capacity of 2TB, which makes it suitable to handle mission-critical and heavy workloads. Being a refurbished hard drive, you get this hardware at a fraction of the cost of a new HDD. Buy from us, to get additional discounts and save your investments drastically.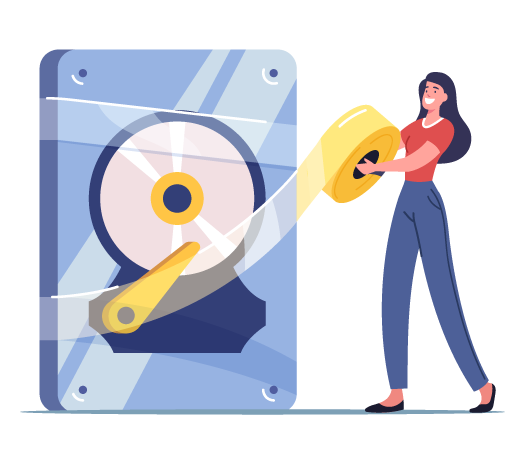 100% Compatible with Dell Servers:
The low-cost refurbished Dell 2TB hard disk drive is highly compatible with all old and new Dell servers. About 75% cheaper than other hard drives, the SAS HDD offers higher performance when installed in either rack, tower, and blade server. It highly supports Dell PowerEdge M910, R420, R520, R720, R620, R410, R510, R710, R610, T310, T320, T410, and T420 servers. Server Basket has almost all the part numbers in stock, including 9JX248-157, TDD3J, 4XVVV, 7RGK3, R755K, WDC07, FV4DC and many more.
Dell Authorized SAS HDDs:
The 2TB SAS hard disk drive has been tested and validated on Dell systems. We sell quality refurbished SAS HDDs and are Dell authorized. Our refurbished hard disk drives undergo rigorous testing processes to ensure that it can withstand the harsh environment and heavy workloads.
Improve Transfer Speeds:
The refurbished Dell 2TB hard disk drive has the ability to optimize datacenter performance, as it comes with a higher read-write throughput speed. With a spindle speed of 7200 RPM, you get faster disk access. Dell 2TB SAS hard drives Come in 2.5" and 3.5" form factor, the SAS HDD is engineered with 12Gbps bandwidth that ensures higher transfer speed and flexibility.
Assured 90 Days Warranty:
We have higher confidence in our refurbished SAS HDDs, and so we provide comprehensive coverage of complete 3 months or 90 days. Gone through a range of testing processes, the hard drives provide higher reliability and has a longer life span. The chances of drive failure are very low if you buy from us. But still, if you face any such issues, we provide you with instant product replacement
Low Price, Heavy Performance:
Direct association with Dell's brand and no interference of middlemen allows us to sell the Dell 2TB SAS HDDs at the very lowest price. Buy in bulk to get higher discounts and a drastic reduction in your IT investments. Our lower prices don't mean that we compromise on the quality. We guarantee that you receive heavy performance from our refurbished Dell SAS HDDs.
Quick & Secure Shipping:
We understand that you need to upgrade your servers for your current business needs instantly. And so, we ensure that the Dell 2TB hard drives reach you at the least possible time. Keeping instant customer needs in mind, we have partnered with the best shipping companies of UAE who help us to deliver the product quickly and safely.
Free Installation Help:
Don't know how to install the server Hard drives? With Server Basket, you don't have to worry about the complex installation processes. As soon as the Dell 2TB SAS HDD reaches you, contact us to get complete installation guidance with no extra fees.
Store Bulk Data:
The refurbished hard drive provides ample room for heavy data storage, as it comes with an amazing storage capacity of up to 2TB. Now store bulk data with higher reliability, performance, low latency rate, and zero downtimes.