Data Center Services
Server Basket offers comprehensive data center solutions, including: Virtualization, Server Consolidation and Transformation. Hosting and colocation services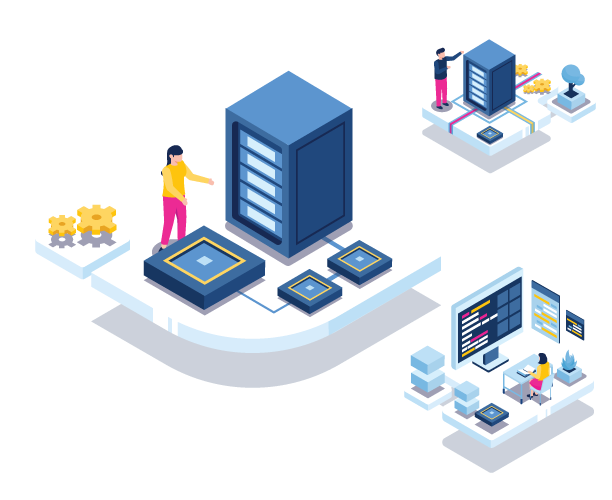 100TB of Storage Space

High-speed Connectivity & Network

Guaranteed Uptime and Reliability

Customizable Server Configurations

Full Control with Root Access

No Limits on Bandwidth Usage

24X7 Support from Experts

1Gbps Network Uplink Speed

Lightning-fast Data Transfer Speeds

Reduced Latency for Faster Response

Improved User Experience

Increased Productivity & Efficiency

Enhanced Security & Data Protection

Customizable Configuration Option

24/7 Technical Support Available

High-performance 128 Core CPU

Dedicated Resources for Your Business

Lightning-fast Data Processing

Customizable Configuration Options

Reliable and Secure Hosting Solution

Unmetered Bandwidth & 99.99% Uptime

24/7 Technical Support Available

1Gbps Network Uplink Speed

High Processing Power for Performance

Customizable Server Configuration Options

Advanced Security Measures for Protection

Guaranteed Uptime for Reliability

Remote Server Management Convenience

24/7 Technical Support Availability

High-performance with 64 Cores

Large Memory & Storage Options

SSD Storage for Faster Speeds

Ideal for High-traffic Websites

Customizable to Fit Your Needs

Flexible & Scalable Hosting Solution

24/7 Technical Support Available

No Limits on Bandwidth Usage

Full Control & Customization

Reliable Performance & Uptime

Advanced Monitoring & Management

Multiple Operating System Options

Redundant Power & Network Connectivity

Fast & Responsive Technical Support

Dedicated IP Address

Scalability & Flexibility

High-performance Dedicated Resources

Customizable Hardware and Software

Increased Reliability and Stability

Better Resource utilization and Management

Easy Integration with Other Services

Best Offers on Long Term Plans

Dedicated Team for 24/7 Support

Guaranteed 99.99% Uptime

Get Unlimited Bandwidth

High performance and reliability
Secure and Scalable Solutions
Easy Administration and Setup
Automated Data Backups
Seamless integration with Amibroker
Fast data Processing & Analysis
High Uptime & Unlimited Bandwidth

Protection Against DDoS Attacks

Dedicated Resources for Your Business

High-bandwidth Network Capacity

Customizable Configuration Options

Secure & Reliable Hosting Solution

Flexible Plans & Easy Payment Methods

24/7 Technical Support Available

Maximum Security and Performance

Scalable and Flexible Configurations

Customizable Hardware and Software

Dedicated Resources and IP

Multiple Operating System Options

High Availability and Uptime

Reliable Unlimited Bandwidth

24/7 Technical Support Available

Budget Friendly VPS Plans
Hosted in Tier DataCenter
High Level Security
24/7 Expert Support
Unlimited Bandwidth
99.99% Uptime

Best Windows VPS Hosting Plans
Hosted on tier4 Data Centers
Run Any Windows Application
Unlimited bandwidth with 100% uptime
Best Windows VPS Security guaranteed
Free 24/7 Professional Support

High-performance Servers

Large Storage Capacity

Choice of Operating Systems

Customizable Server Configurations

Advanced Network Infrastructure

High Network Uptime Guarantee

24/7 Technical Support

High Storage Capacity
Easy Remote Access to Footage
Encryption for Data Privacy
Automated Backup and Archiving
Compatibility with Multiple CCTV Systems
24/7 Technical Support Available

Customizable Plans
Quick Migration
Secured Linux Hosting
Full Root Access
No Bandwidth Limits
100% Uptime
Timely Data Backups
Live 24/7 Support

Low Cost VPS Plans
Powerful cPanel Control Panel
Flexible Customization Options
Scalable Resources On-demand
High Reliability and Uptime
24/7 Customer Support
Enhanced Website Security
Easy Website Migration
Wide Range of Add-ons

High-performance Citrix Hosting Service

Secure and Scalable Solutions

Customizable Configurations & Settings

Remote Access to Your Applications

High-speed Network & Data Transfer

Easy Administration and Setup

Reliable 24/7 Customer Assistance

Still confused to decide which data centre services will be foremost for your organization's requirement? Seeking maximum uptime with unmetered bandwidth at an affordable price? Then your sole solution is Server Basket. We offer an extensive range of budget friendly hosting plans, including shared, reseller, VPS and dedicated hosting highly suitable for varying business needs. Go through the listed plans and opt for the ideal one compatible with both Windows and Linux. Grab a wide range of top-notch data centre services with high-level security.
Additionally, get access to guaranteed uptime, unmetered bandwidth with round the clock technical assistance. We offer highly resilient, protected and performance-driven DC services across the country. We aim to offer pre-eminent services to our clients with reduced costs. You get the best experience with the absence of downtime and network latency.
Wide Range of Data Center Services
Are you looking forward to an extensive range of DC services suitable for your distinct business requirements? Then count on Server Basket's foremost Data centre services and grab access to flexible architecture, high-level data security, efficient management of large scale data, scalability, uninterrupted power and numerous advanced resources. Additionally, you have the option for add on to add specific service within the plan.
Supports Both Windows and Linux OS
Our plans are highly compatible with the Operating System of your choice, i.e. Windows and Linux. We pre-install OS of various versions as per the business requirement. You can choose amongst certain Linux OS such as Ubuntu, Linux Mint, OpenSUSE and many more. Talking about the available windows version, choose the needed one from Windows Server 2012 R2, 2016, 2008, 2008 R2, etc.
High security with 100% Privacy
Protection of enterprise data is critical; thus, we ensure high-level security through firewalls, IPS and IDS. Even a system failure can result in tearing down entire information, incurring losses. To prevent such situations, we carry out systematic backups of all servers present within the DC.
Affordable Data Center Service Plans
Looking for unique and cost-effective Data Center Service plans for uprooted business performance? Relish top-notch management and maintenance through our budget-friendly plans. Server Basket offers a wide range of scalable plans that can be upgraded as per fluctuating requirements. Grab numerous services, including a lasting environment, high-level security, without additional costs.
Hosted on Tier 4 Data Centers
Are you looking for data centre services with the highest level of robustness and reliability? Then have confidence in our hosting plans that are hosted in tier 4 DC's. The infrastructure is precisely designed to offer continuous availability and enhanced security. Furthermore, with 2N+1 redundant infrastructure, you avail numerous active power in addition to and multiple cooling paths.
100% Uptime and Unlimited Bandwidth
We at Server Basket offer a 100 percent uptime guarantee, including round the clock server availability and other network components. The data centre network is ceaselessly available without any interruption. Additionally, you get unlimited bandwidth with faster data transfer rates to perform complex tasks in the shortest times with better efficiency.
24/7/365 Professional Tech Support
With our continuous professional tech support, experience the interrupt free performance that the presence of expertise can offer. For smooth and uninterrupted day to day operations, our experts are 24/7 available. No matter what sort of issue you face, our technical experts present you with ideal solutions the same day through calls, email and chatbots.
Frequently Asked Questions (FAQ's)
What Are the Different Types of Data Center Services Available?
At Server Basket, we have various reliable data center services with enhanced security features, scalable architecture, and an automated manager. You can find DDos Protected VPS hosting, dedicated hosting, E-commerce hosting, Email hosting, Full rack colocation hosting, and many more options.
Can I Select My Preferred Operating System?
Yes, you can select the operating system of your choice based on your operational requirements. Choose from Windows, Plesk, Linux, Red HAT, OpenSUSE, Ubuntu, Linux Mint, and others. Reach out to our technical support team to find out which one suits you best.
What Kind of Security Features Are Included for Protection Against Malware Attacks?
Various firewalls, secure IPS, and IDS are used as protection against threats and to safeguard data. We provide scheduled backup as a method to prevent data losses in case of system failure. Added security is also provided by the operating system and server of your choice.
Is Your Data Center Tier-4 Level?
Yes, Server Basket has a tier-4 data center. We offer a flexible, reliable, and robust infrastructure for our clients to thrive on. Accurately planned to provide the best security and continuous availability, we have 2N+1-featured infrastructure with various cooling paths.
Is it a Certified Data Center?
Yes, we are a certified data center that offers 24×7 technical and customer support. We provide affordable hosting plans that include top-notch management and professional help at all times. Our customer support is here to answer more questions regarding our services and policies.
Do You Offer a Control Panel With Your Hosting Service?
Yes, we offer a control panel along with the hosting service. A user-friendly and configured control panel is accessible. Manage backups, install apps, update security, and manage all your hosting-related activities with the control Panel of your choice.