Refurbished Dell Precision Tower 7810 Workstation
Best Workstation for AI & Graphic Designing
Supports Advanced Dual Processors
Large Memory for Handling Multiple Applications
Excellent Storage with HDDs & SSDs
Rigorously Tested & Certified by ISVs
Any Configuration Readily Available
Description
Are you longing to buy a workstation that can efficiently control and suffice your user interface? Do you require a genuine workstation that can help you with your AI and graphical applications? Your search ends here as Server Basket highly recommends you the Dell T7810 workstation that is tested and certified by the leading ISVs. They render excellent performance with their high-speed processors, much desired memory, and super sturdy storage features. The workstation offers immense support to the latest graphic cards so that designers, engineers, architects, etc., never have to worry about the quality of their designs. To provide the utmost user experience, the Dell T7810 workstation comes with time-saving features and best-in-class integration. Server Basket has pre-configured Dell T7810 models that can definitely suit your requisites. We put reasonable and the most affordable prices on all our workstations compared to any other dealer in the UAE. Our Dell workstations are highly reliable, flexible, agile, and will stand out among all the other competitive workstations. Contact us today to buy the renowned workstation and bag the advantages of free installation, tech support, infallible warranty, and instant delivery services.
WORKSTATION TYPE
PROCESSOR
RAM
STORAGE
PRICE
BUY NOW
Refurbish Dell T7810 Workstation
(Basic)
12 Cores / 24vCPU ( 2 x Intel Xeon E5-1650 v3 / 3.50GHz )
32GB DDR4
512GB SSD / 2TB SATA HDD
Buy Now
Refurbish Dell T7810 Workstation
(Standard)
24 Cores / 48 vCPU ( 2 X Intel Xeon E5-2678 v3 / 2.50 GHz )
64GB DDR4
512GB SSD / 2TB SATA HDD
Buy Now
Refurbish Dell T7810 Workstation
(Reliable)
36 Cores / 72 vCPU ( 2 x Intel Xeon E5-2696 v3 / 2.30GHz )
128GB DDR4
512GB SSD / 2TB SATA HDD
Buy Now
Refurbish Dell T7810 Workstation
(Powerful)
40 Cores / 80 vCPU ( 2 X Intel Xeon E5-2673v4 / 2.30 GHz )
256GB DDR4
512GB SSD / 2TB SATA HDD
Buy Now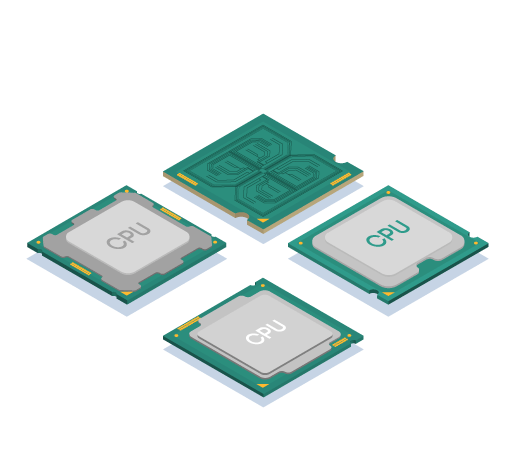 Best Workstation for AI & Graphic Designing:
The Dell T7810 workstation is a single stop solution for all graphic designing and AI-centric works. They are optimized to deliver top-notch performance in any work environment you put your workstation through. Your AI or graphical applications and software demand better GPUs, storage, and memory features that are surplus in these Dell T7810 workstations. They are known for their ability to resist and run complex problems and can best serve the designers, researchers, developers, and creators.
Supports Advanced Dual Processors:
If you want a workstation that offers peak performance with dual processors, you should go for the Dell T7810 workstation that can house up to two Intel Xeon E5-2600 series processors that are supplemented with advanced technologies to aid your mission-critical workloads. This Dell workstation can handle up to 22 cores at its maximum capacity. By performing any heavy workloads with better speeds, this Dell T7810 is setting its bars high for other workstations in the market.
Large Memory for Handling Multiple Applications:
Do you wish for a powerful workstation with abundant memory to take care of your loaded applications? Then try the Dell T7810 workstation that comes with a quad-channel memory offering up to 256GB of memory using 2400MHz DDR4 ECC memory technology. The Dell workstation that comprises 8 DIMM slots is efficient and most reliable. You can run complex applications with enhanced system performance uninterruptedly without the fear of system crashing using the large memory the workstation offers.
Excellent Storage with HDDs & SSDs:
Are you looking for the ideal and most reliable way to store your content and data? The Dell T7810 workstation is furnished with rich storage capacity with huge space to support either 4 PCIe SSDs or 3 LFF SATA or 4 SFF SATA/SAS storage drives. This Dell workstation offers maximum storage of up to (3) 4TB which users can efficiently work on their graphic renderings, video editing, complex computations, and intensive applications with greater transfer speeds.
Rigorously Tested & Certified by ISVs:
Server Basket never compromises the quality of the Dell workstations being sold by them. Our T7810 workstations are certified for their perfection by the leading independent software vendors. We take extreme care in selecting each workstation and subject them to multiple tests to confirm their ability. Our rigorous testing procedures prove that the ISV certified Dell T7810 workstation is ready for use and can comply with any kind of work environment to deliver exceptional results.
Any Configuration Readily Available:
Why compromise on the workstation configuration while you can buy exactly what your need at Server Basket? We have customized the Dell T7810 workstation in various in-demand levels of memory, storage, processors, etc., so that you can choose a configuration that checklists all your requirements. You can also take help from our sales guides to buy your desired Dell configuration. Our Dell workstations are capable of handling your existing and future work needs with utmost ease and proficiency.
Accelerate Graphical Workflows with Powerful GPUs:
Are you in search of an ideal workstation to handle your demanding graphical workloads? Our Dell tower 7810 workstations are enriched with NVIDIA Quadro, NVIDIA NVS, and AMD FirePro graphic cards that helps in maximizing the capacity of your graphical applications. You can seamlessly work on your professional 2D,entry 3D,mid-range 3D,and high-end 3D works using the high-quality GPUs that the Dell workstation can support. This workstation undoubtedly accelerates and improves the efficiency of your workflows.
No Charges for Installation & Tech Support:
Don't know how to install the workstation in your workspace? Server Basket helps you with that. We offer free installation and technical support to all the customers who buy the Dell T7810 workstation from us. Our team of expert engineers will guide you through the whole installation process step-by-step, ensuring that the workstation is appropriately fixed. If you have any doubts or problems, you can contact us at any time of the day and expect an immediate response.
1 Year Assured Warranty:
Every workstation you buy at Server Basket is covered by a reliable warranty plan. The Dell T7810 workstation comes with an assured warranty of one year. If you face any issues with the hardware functionality or performance of the workstation within one year from the date of its installation, get in touch with us immediately. We will provide you a replacement with genuine spares of any hardware like RAM, hard drive, processor, graphic cards, etc., as soon as possible.
Prompt & Safe Delivery in & Around UAE:
Do you need the Dell 7810 workstation immediately? Server Basket offers quick delivery of all your ordered workstations in less than 3 working days wherever you live in the UAE. Once the order is confirmed, we wrap the workstation in multiple protective layers and then dispatch it to your desired destination. Our reliable agents deliver the Dell workstation at your doorstep in the promised time, even to the busiest places like Dubai, Sharjah, Ajman, Al Ain, etc.
Specification
Additional information
| | |
| --- | --- |
| Brand | Dell |
| Form Factor | Tower |
| RAM Type | DDR4 |
| Memory Size | 256GB |
| Processor | dual Intel® Xeon® Processor E5- 2600 v4 Series |
| Processor Sockets | 2 |
| Max Storage | 12TB |
| PCI Slots | 6 |