Cheap Linux Dedicated Server Hosting Sharjah
Customizable Plans
Quick Migration
Secured Linux Hosting
Full Root Access
No Bandwidth Limits
100% Uptime
Timely Data Backups
Live 24/7 Support
Description
Are you searching for the best platform to purchase cheap dedicated hosting services in Sharjah? Server Basket is the ideal solution to buy customizable and affordable Linux dedicated hosting plans without compromising performance. We provide migration services free of cost and ensure that data wouldn't be lost while migrating your data or files. Our hosting services are encrypted with an SSL certificate and DDoS systems to avoid unauthorized entries to your website. Complete root access is available for Linux servers that allows customizing the tasks like installation and configuration of software applications. We don't restrict the bandwidth usage to run high-end applications and other complex workloads. Our servers promise 100% uptime for your website availability by providing localized hosting services at Tier-4 DC. We offer automatic data backups to restore it whenever you want. Technical expert support services are available to resolve server issues.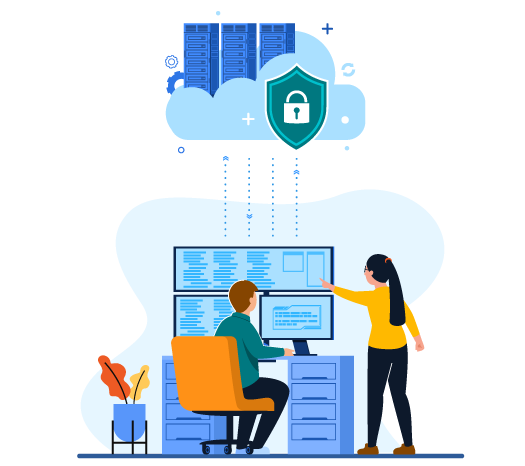 Affordable and Customizable Plans
Server Basket offers Linux hosting services at the lowest prices, and they are customized depending on your business workloads and budget limitations. Our plans have different specifications, including 16-256 GB RAM, Intel Xeon processors, and 1000GB SAS HDD.
Free Migration without Data Loss
Our Linux based hosting services provide free migration support from your existing hosting provider to Server Basket. We migrate the archived databases and files by implementing a QA process including different phases for a successful migration with no data loss.
Fully Secured Linux Hosting
The managed Linux servers offer encrypted security and SSL certificates for online transactions. The servers have in-built DDoS protection that filters the website traffic continuously. IPS and IDS systems are included to detect unwanted threats or block malicious attacks.
Complete Server Root Access
Linux servers based on dedicated hosting provide complete administration to the servers to customize the operations like installing any application, editing the files, and configuring the applications. You can gain full control over the server without any restrictions from us.
No Limit on Bandwidth Usage
You wouldn't be restricted to use the bandwidth under our dedicated hosting package that allows operating heavy workloads and improving business performance. You can run heavy applications and manage your website with unlimited traffic and higher availability.
Reliable Hosting with 100% Uptime
As our dedicated Linux servers hosted on Tier-4 DC, we guarantee 100% uptime availability of services with reliable networking and power systems. The hosting services provide benefits like diverse network connectivity, redundant power, and employee training and certification.
Regular Data Backups
Server Basket's Linux based dedicated hosting provides the latest backup services that protect your data. We promise that your data is safe and can be restored quickly. You can schedule weekly, monthly, or annual data backups automatically.
Live 24/7 Support by Experts
Our technical support team is available who assist you in resolving issues with the server and provide instant answers to your queries. You can contact our team members at any time if you face unexpected problems regarding server hosting.