Dell 4TB 7.2k SAS Hard Disk Drive
AED 400 (-5%)
Dell Certified SAS Hard Disk Drive
Better Than Previous Generation HDDs
Supports Dell Servers & Other Servers
Size: 3.5 Inches & 2.5 inches
Faster Disk Access & Speedy Read- Write
Firmware Signature To Stop Third-Party Intrusion
Description
Upgrade Dell Sever Storage with Latest 4TB SAS HDD, Compatible with All Dell Servers.
If storage is causing inconvenience to your business, then upgrading your existing server with the Dell 4TB 7.2k SAS HDD hard drive is an excellent choice. The Dell 4TB HDD hard drives will accelerate the performance and reliability of your existing servers. Server Basket sells a wide range of hard drives with all form factors and different interfaces that are compatible with various servers. We assure the quality of hard drives and their performance. We promise to replace the server with new ones if any issue or damage occurs. By purchasing the server components from Server Basket, you can experience our new offers, free add-ons, and other free services.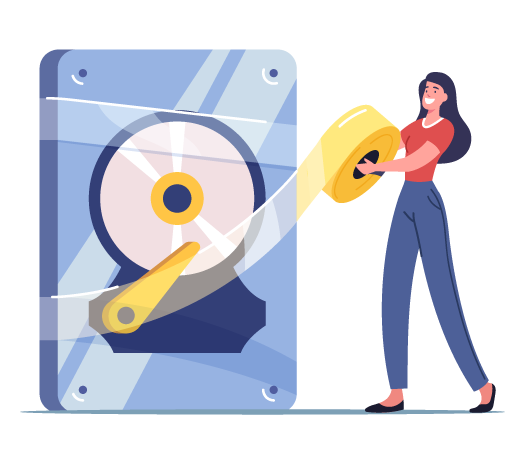 Ideal for All Dell PowerEdge Servers:
The fully tested Dell 4TB 7.2k HDD is the most suitable fit for all types of Dell servers, and it is an excellent choice for 13 generation servers. These hard drives are compatible with Dell PowerEdge R330, PowerEdge T430, Dell R730, Dell R830, Dell R630 server, Dell PowerVault MD1220, etc.
Achieve Greater Storage Capacity:
Switching to Dell 4TB SAS hard drives will upgrade your server storage, increases the data transfer rate, and reliability of HDD. These 4TB 7.2k 6gbps hard drives will add the benefits of less response time, data loss prevention, and avoids troubleshooting. Add multiple 4TB hard drives to your server, and you can build your Private Cloud.
Replace Your Old Hard Drive:
If your server is experiencing the signs of failure in the hard drive, then it is better to replace your existing hard drive with new ones. The Dell 4TB 7.2k SAS HDD hard drives will enhance your data storage capacity, fast disk access, and secure your business data. It also allows data encryption and data error correction that tackles with minute correction issues.
Choose Any Form Factor:
Whether you require a Large Form Factor or Small Form Factor, you can buy your hard drive as per your business requirements from Server Basket. Get your server chassis checked by our pre-sales executive and determine which form factor hard drive is suitable for your server. You also have the option of choosing the hard drive interface. We give caddy along with the Dell 4TB hard drive so that you don't sweat to buy a new one.
High Data Transfer Rates:
Featuring the Dell 4TB SAS hard drives, it allows vast data to store, and you can store up to 4TB. As the SAS interface delivers 6Gbps speed and spindle speed 7.2k rpm, it ensures to maintain high data transfer rate so that you do not have to wait lone while transferring data from one place to another within the server.
Quality HDDs at Lowest Price:
Compared to the other online server stores available in the market, Server Basket offers 4TB SAS 7.2k HDD at an affordable price with attractive discounts. You can avail of all types of certified hard drives and other components of the server from Server Basket. We make sure that the Dell 4TB 7.2K SAS hard drive you order is of pioneer quality.
Free Installation Guidance:
We always maintain a technical support team that is available all the time to support and install the servers and their accessories. They help you in installing the hard drives in the server by following proper guidelines. The free remote installation will also be available for purchasing other server accessories from the Server Basket.
Super Quick Delivery:
We always concentrate on customer's urgency, and this is the reason we provide instant delivery. You can expect 4TB SAS hard drives within the 1-2 business days of purchase and can get the same delivered in 2-3 business days. We offer free and secure shipping all over UAE and its cities like Fujairah, Al Ain, Dubai, Ras Al Khaimah, and other remote areas. We also ship to other gulf countries like Oman, Kuwait, and Qatar.
Best in Class Warranty:
Server Basket will never compromise on the quality of the server and its components. We always provide tested quality servers, which are certified by Dell. We also give a year warranty on new 4TB SAS HDD hard drives. You can claim for the free replacement or repair if any issue occurs with the Dell 4TB 7.2K SAS hard disk drive.