Used Dell Precision T7910 Workstation
AED 7,645 (-5%)
Form Factor: Workstation
Processor Series: Intel® Xeon® E5-2600 v4/v3 CPU Family
Max Memory: 1TB DDR4
Max Storage: 16TB SATA HDD or 8TB SATA SSD
Low Price Guarantee
Description
Looking for a workstation that can handle computationally intensive workloads but have budget limitations? Then Dell Precision T7910 Workstation is the best and affordable option for your business. Dell Precision T7910 is a used system but one of the top-of-the-line professional workstations. Engineered with dual processors, Dell T7910 effortlessly handles graphics-intensive workloads. The workstation is VR ready and is ISV certified, which helps it to support various software applications. Being a used workstation, it comes at a fraction of the price, when compared to the new workstation. But, if you want to buy at a more discounted price, then Server Basket is the one-stop online store. With huge discounts, you also receive exclusive services like technical support and quick delivery anywhere in UAE.
Used Dell Precision T7910 Workstation:
WORKSTATION MODEL
PROCESSOR
RAM
STORAGE
PRICE
Dell Precision T7910 Workstation
(Basic)
12 Cores / 24 vCPU ( Dual Intel Xeon 1650v3 )
64GB DDR4
512GB SATA SSD / 2TB SATA HDD
Dell Precision T7910 Workstation
(Standard)
24 Cores /48 vCPU ( Dual Intel Xeon E5-2678 v3 / 2.50 GHz )
128GB DDr4
512GB SATA SSD / 2TB SATA HDD
Dell Precision T7910 Workstation
(Reliable)
36 Cores / 72 vCPU ( Dual Intel Xeon E5-2696 v3 / 2.30GHz )
256GB
512GB SATA SSD / 2TB SATA HDD
Dell Precision T7910 Workstation
(Powerful)
40 Cores / 80 vCPU ( Dual Intel Xeon E5-2673 v4 / 2.30 GHz)
512GB DDR4
512GB SATA SSD / 2TB SATA HDD
Best for Graphics Intensive Workloads
The used Dell Precision T7910 Workstation is the ideal platform for handling computationally intensive workloads. It is best for rendering, video and graphics editing, post-production, analysis and simulation. The workstation supports the latest graphics cards that help it to run graphics software applications with ease.
ISV Certified and VR Ready Workstation
The highly affordable Dell T7910 workstation is ISV certified, which means the workstation is tested and has the ability to run intensive software applications used by geologists, financial analysts and design engineers with ease. This used workstation for sale is optimized for creating VR content. VR solutions such as Oculus Rift and HTC Vive are highly supportive in the Dell T7910 workstation.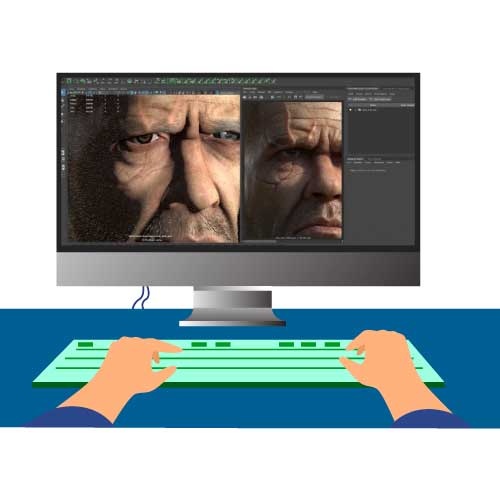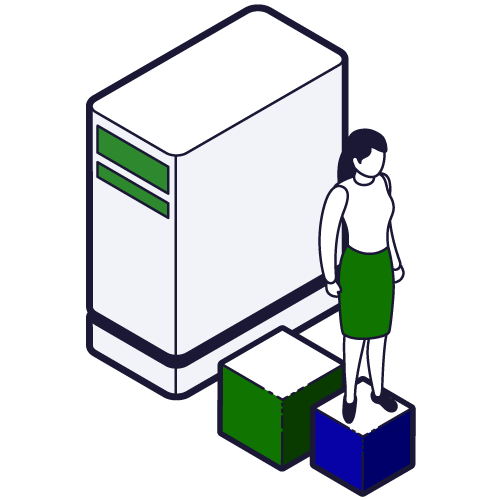 Ultimate 2-socket Performance
Experience peak performance as used Dell T7910 Workstation is engineered with 2-sockets that can accommodate 2 processors simultaneously. The workstation features the latest Intel Xeon E5-2600 v4 processors that come with up to 22 cores. The higher processor configuration makes it suitable for workloads like simulation, rendering, and analysis.
Easily Manage Huge Data Sets
The highly efficient Dell Precision T7910 is engineered with mammoth dedicated graphics memory for handling large datasets. The system memory of Dell T7910 is expandable up to 1TB. The workstation is compatible with the latest 2400MHz DDR4 ECC technology that enables it to run high-end multiple graphical applications without any delay.
Grade "A" Quality Workstation
Even though it's a used workstation, it has been multi-level tested to ensure it delivers higher performance levels. The rigorous testing includes various parameters; the workstation is certified as Grade "A" quality product after rigorous testing. The workstation is highly reliable to run industry-leading applications for media, manufacturing, engineering, healthcare, financial services, life sciences, etc.
Supports Powerful Graphic Cards
Run the most demanding software applications, as the used Dell T7910 Workstation supports highly powerful NVIDIA Quadro and AMD FirePro graphics cards. The graphics cards come with up to 675W of graphics power which enables the workstation to run applications like SolidWorks, CATIA, AutoCAD, Revit, Tecnomatix, Pro/Engineer Wildfire 4.0 and many more.
Innovative Management Features
The low-cost Dell Precision T7910 Workstation is embedded with the best management features. Dell Client Command Suite provides free automation tools that streamline and automates the monitoring, deployment and up-gradation. The Dell-unique Intel vPro extensions can help you to update the workstation even if the systems are offline. The workstation comes with best-in-class integration and effortlessly works with all management consoles.
Huge Storage Suitable for Rendering
The Grade A quality used Dell T7910 workstation comes with a huge storage capacity. It supports either eight 2.5" SATA/SAS drives or up to four 3.5" SATA drives. The workstation also supports PCIe SSD drives. You even have the option to connect your workstation with M.2 PCIe NVMe Solid-state drives that are four-time faster than normal SATA SSD storage. T7910 comes integrated with 12 Gb/s Raid controllers that doubles the I/O speed of the workstation.
1 Year SB Warranty
Dell Precision T7910 workstation comes with an awesome seller warranty of one year. If your workstation encounters an issue that cannot be solved remotely, then Server Basket would take the responsibility to repair or replace the damaged component during the warranty period.
Instant Delivery Anywhere in UAE
Looking for a retailer that can deliver Dell T7910 at the least possible time? Then Server Basket is your one-stop solution for fulfilling your instant delivery needs. Get Dell precision T7910 securely at your doorstep within 2-3 business days. Our logistic partners help us to deliver in Abu Dhabi, Sharjah, Dubai, Al Ain, Ajman, Fujairah and even in the remotest places in UAE.
Specification
Additional information
| | |
| --- | --- |
| Brand | Dell |
| Form Factor | Tower |
| Core Options | 10, 12, 14, 16, 18, 20, 22, 4, 6, 8 |
| Max RAM | 1TB |
| RAM Type | DDR4 |
| Processor | dual Intel® Xeon® Processor E5- 2600 v4 Series |
| Processor Sockets | 2 |
| Max Storage | 16TB |
| PCI Slots | 4 |