32 GB DDR4 RAM for All Dell and HP Servers
AED 800 (-5%)
Larger Memory Capacity
Compatible for all Dell and HP Servers
Enhances Server Applications Speed
Properly Reviewed and Certified
Seamless Multi-Tasking
Perfect Price in the Market
Description
Do you consider upgrading your existing memory modules? Are you expanding your business or data centers and require better memory for your servers? Why pondering over the thought of changing your servers when you can effortlessly upgrade your memory with a better version of 32GB DDR4 memory module that can enhance your processing speeds and performance inclusive of multi-tasking to greater extents at an affordable price. The DDR4 memory offers the finest memory capacity compared to the rest of the prior versions and can handle heavy and complex workloads simultaneously and seamlessly without any additional effort. Buy the most efficient 32GB DDR4 memory and help your applications run at greater speeds without any latency. It is a golden chance to improve work efficiency with the least possible budget as we put the best deals in the market. Get in touch with us today to know the simplest procedure of buying the 'A' quality DDR4 RAM with added advantages of a quick delivery, assured warranty, and remote technical assistance.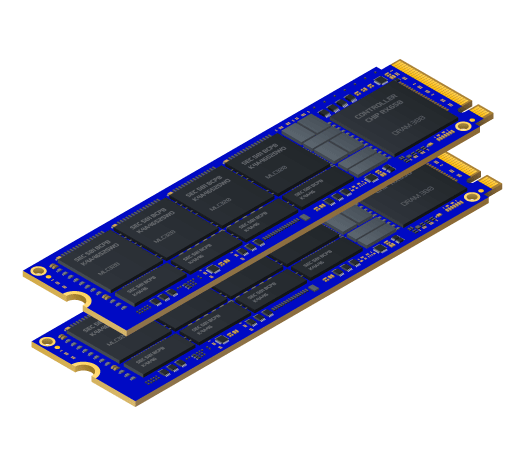 Higher Memory Capacity:
When it comes to memory capacity, the greater – the better. The 32 GB DDR4 RAM has more than enough capability to open, handle and work on dozens of applications all together uninterruptedly without declining the speed of your servers and workstations. Users can make the best use out of this DDR4 memory capacity to decrease their work complexities. Higher memory capacity is quite advantageous for designers, engineers, gamers, professional A/V editors to remarkably process high-end applications at optimum speeds.
Suitable for all Dell and HP Servers:
Specially designed to assist servers of multiple configurations, the DDR4 memory efficiently supports all types of Dell and HP servers irrespective of the version they adapt to. With its 32 GB high performance memory, the RAM is engineered to servers to offer greater clocking speeds and much better heat dissipation. Might it be a basic site or a fault-tolerant infrastructure, the 32GB DDR4 can fulfill its purpose beyond any questions.
Improves Server Applications Speed:
Who doesn't hate buffering? If you are tired and fed up with unwanted latency rates and plan to upgrade your RAM, you should definitely try the best available DDR4 RAM with 32 GB of memory, which can successfully boost up the server application speeds up to 2666 MT/s. Faster RAM leads to better processing speeds, thereby enabling your server to reach its peak performance. With an effective speed, your server can most certainly deliver best productive outcomes.
Properly Checked & Approved:
Server Basket prefers quality over anything and everything. The 32GB DDR4 intensively checked and approved ensuring its finest quality. The RAM we sell you is tested in multiple processes with respect to various parameters under worst work pressures so as to prove its reliability and rigidness. Big or small, heavy or minor, you can confidently rely on the legit approved DDR4 RAM to speed up your server under any working circumstances.
Seamless Multi-Tasking:
Now run multiple memory intensive applications without any delay for greater periods of time with the efficient DDR4 RAM memory modules. Believe it or not, memory plays an essential role in providing seamless and uninterrupted work experience. With its high transfer rates and impeccable memory speeds, the 32GB DDR4 is the best fit for all your complex, time consuming, and loaded data centers, hosting, web applications, high-end computing, and virtualization needs.
Free Remote Installation Assistance:
Installing a RAM isn't as easy as it sounds and it needs quite a lot of care and attention. Following the manual rules and guidelines to install the RAM in its memory slot is a tedious job. Server Basket is here to save your day. We have an experienced team who has hands-on experience with memory installation who are always ready to remotely help you through the entire installation procedure at a free of cost.
Quick Delivery Across UAE :
Server Basket offers prompt delivery of your ordered RAM considering your necessity and urgency. Our dealings with the best delivery teams allow us to deliver the dispatched order at your doorstep within 2-3 working days. We offer quick delivery all around UAE to remote locations and major cities including Dubai, Sharjah, Ras Al Khaimah, Fujairah, Al Ain, and many more with the utmost care and concern right after we receive your order confirmation.
Warranty for 90 Days:
The 32GB DDR4 RAM is secured with an assured warranty of 90 days for your convenience. You can claim your warranty for even the slightest malfunctioning of the RAM, and we will provide an immediate replacement for the defective piece. We come up with the best reliable warranty deals compared to the rest of the marketers as we believe that customer satisfaction stands above all.
Specification
Additional information
| | |
| --- | --- |
| Max RAM | 32GB |
| RAM Type | DDR4 |
| Memory Speed | 2666 MT/s |
| Supported Servers | Dell & HP |