64GB DDR4 RAM for All Dell and HP Servers
AED 1,066 (-10%)
Larger Memory Capacity
Compatible for all Dell and HP Servers
Certified High-Quality RAMs
Enhances Server Applications Speed
Properly Reviewed and Certified
Seamless Multi-Tasking
Description
Do you plan on maximizing your server's memory capacity? Are you thinking of upgrading your memory to gain optimal outcomes? Consider giving a tour to the 64GB DDR4 RAM module, which best serves its purpose by delivering the best clock speeds and mind-blowing transfer speeds. No more buffering and file lagging. Compatible with the latest server configurations, the DDR4 with 64GB memory space assists the server to function ideally even at the complex burn-in conditions. With less investment, you can quickly scale up your work processes to a greater extent with the help of this superfast memory module. The 64GB DDR4 RAM enhances the application performance with its capability and is built with an aim to efficiently handle complex data-intensive applications and increases the responsiveness of your data centers. You can uninterruptedly work on multiple files with the least latency with the help of our certified RAMs. Contact us today to buy the 64GB RAM at the best prices and enjoy the benefits of a quick delivery, remote technical support, and authentic warranty schemes.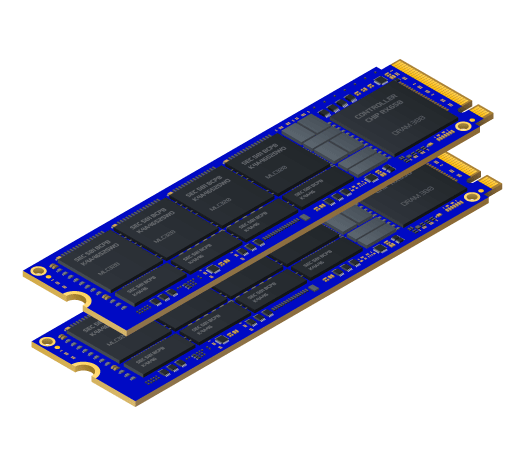 Increases Server Application Speed:
Here is a simple solution for your slow servers – Better memory. Power up your server applications with high speed DDR4 RAM that offers exceptional data transfer rates. You can now get rid of boring file lags and buffering processes with the memory module having a memory space of 64 GB to deliver the best application speeds. The 64GB DDR4 module imparts faster memory that allows you to perform all your complex tasks at a greater data transfer rate optimal for high-end applications.
Larger Memory Capacity:
Are you thinking of ways to improvise the channel handling capability of your system? With a better memory capacity, your system can doubtlessly open, work on, handle, and function a surplus number of files simultaneously. The 64GB DDR4 memory possesses a larger memory capacity with which users can efficiently work on multiple applications without any unnecessary interruptions. Larger memory capacities have the ability to execute and run applications at much better processing speeds as desired by various users.
Certified High-Quality RAMs:
Hesitant about the quality of our RAMs? You don't have to. All the memory modules we put for sale in Server Basket are tested in their burn-in conditions to ensure their capability. The RAMs are experimented at their component levels with various configurations to prove their compatibility. Our products are examined and approved to manifest the fact that they are the best of their kind. Our 64GB DDR4 modules come with high quality certification at affordable prices.
Smooth Multitasking:
Different applications need different memory capabilities and running them parallelly without any delays is a whole new chapter. Since these applications utilize the limited memory, there raises a question of compromise while using them at the same time. By installing the high quality 64GB DDR4 memory module, you can enjoy effective and smooth Multitasking without the fear of degrading application performance. This is an ideal choice for the parallel running of all complex and high-end applications.
Ideal for all HP and Dell Servers:
Get the maximum out of your Dell and HP servers by employing the eminent DDR4 memory module. The 64GB DDR4 will be the ideal fit for all your Dell and HP servers irrespective of the server configuration your business or data centers use. With its 64GB memory space, the DDR4 RAM offers the easiest way to achieve greater speeds and better heat dissipation to run the server at its ideal capacity to deliver desired outcomes.
Fast Shipping All Over UAE:
Do you wish to update your server memory instantly? Server Basket offers quick delivery of your ordered memory modules anywhere in the country within 2-3 working days. We dispatch the product as soon as we receive an order confirmation and our tie-ups with well-disciplined dealers help us deliver the orders within the assured delivery time. We deliver 64GB DDR4 RAMs to major cities and remote areas inclusive and around Dubai, Sharjah, Fujairah, Abu Dhabi, Ajman, Al Ain, etc.
Free Remote Installation Support:
Sever Basket cares about the comfort of its customers. Installing a RAM in your server is a tiring process and needs to be done carefully. We help our customers to install the memory at the correct slot assigned for it. Our trained technicians offer remote assistance to all our customers until completing the installation of a 64GB DDR4 memory module. We don't charge any money out for this, and this installation procedure is a complimentary service from our side.
Assured 90 Days Warranty:
Server Basket's products will never revoke the warranty you sign with us. We propound a warranty of 90 days on our 64GB DDR4 RAM. Any kind of malfunctioning of the RAM within 90 days of its installation will be covered by us. We assure the perfect working of the memory module, or else you can claim for a replacement within the stipulated warranty period. We make sure your RAM is immediately replaced to save you from any sort of inconvenience.