SSD VPS Hosting
Suitable for E-Commerce Websites
High-Speed SSD Drives
No Data Fragmentation
Low Energy Consumption
Better Efficiency at Low Price
Advanced Data Security
Free Data Migration Support
Description
Are you looking forward to purchasing Solid State Drive or SSD VPS Hosting Plans? Do you want to opt for hosting plans which offer faster performance yet are accessible at a reasonable price? Server Basket offers SSD VPS hosting plans with low energy consumption and negligible data fragmentation. Avail free migration from the current host to Server Basket's hosting platform in addition to advanced data security and unlimited bandwidth.
We at Server Basket put forward an extensive range of SSD VPS hosting plans which range from Basic to Corporate level. Solid-state drive-based hosting is the foremost option for E-commerce websites that require high bandwidth with 24/7 accessibility. Choose the supreme plan that perfectly fits the current organization requirements; You don't have to worry about increasing functionalities as our hosting plans are flexible enough and upgraded as per fluctuation user requirements. With us, unlock unbeatable opportunities at reasonable and budget-friendly costs. Additionally, get round-the-clock tech team support to resolve hosting-related issues in minimal time.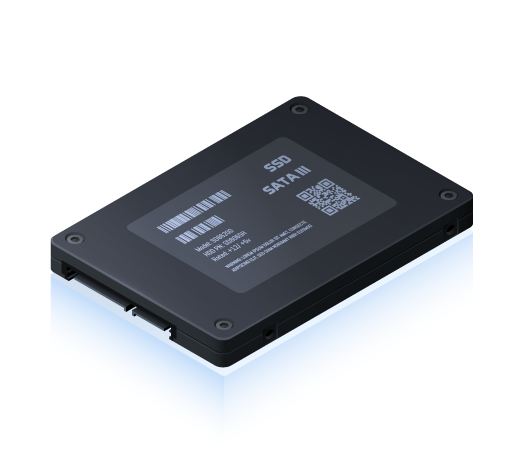 Suitable for E-Commerce Websites
Are you searching for VPS hosting plans that offer scalability and flexibility to your E-Commerce website? Then, rely on Server Basket's SSD VPS hosting plans. Get the ultra-fast speed and supreme performance and manage sales volume and immense traffic more smoothly. You would be able to offer a satisfactory customer experience through better accessibility with no downtime issues.
High-Speed SSD Drives
Our broad range of SSD VPS hosting plans are perfectly designed to offer enhanced hosting speed, high-level data security, faster execution of customer requests, low power consumption, and well-grounded performance without fragmentation. All this is possible with high-speed SSD drives, which boost the overall website performance at lower costs.
No Data Fragmentation
The presence of solid-state drives at our data center ensures no data fragmentation and offers added reliable performance. With SSD, data can be easily accessed whenever needed in minimal time deleting data fragmentation conditions. The customer can access the relevant content in a fraction of seconds without delay.
Low Energy Consumption
Do you want to lower down the energy consumption and the associated costs? With solid-state drives VPS hosting, just 20% of the power will be needed compared to other HDD-based hosting platforms. Save huge in terms of power cost by lowering down the electricity consumption.
Better Efficiency at Low Price
Procure the cheaper SSD VPS hosting plans with numerous additional benefits, including guaranteed uptime, bulletproof security, enhanced reliability, and user-friendly c-Panel. With quality hosting services, upgrade performance efficiency in page speeds and whip up of staging site. Avail of best possible hosting features, better efficiency at the lowest price than other hosting service providers.
Advanced Data Security
We at Server Basket resolutely perform monitoring of the network and associated hardware. We provide top-notch security and periodic data backups. Our advanced security tools ensure that the network is protected from possible virtual threats, DDoS attacks and other malicious activities. With our secured tier 4 datacenter hosting, you can host numerous websites and applications with stronger network connectivity.
Free Data Migration Support
Are you worried about the cost involved in migrating the website from the existing host to Server Basket? With our pre-eminent hosting experts, you don't have to worry about the data loss and downtime that might occur during the migration process. We carry out the migration process in minimal time without downtime, that too without any additional cost.