Dell 900GB SAS HDD Hard Drive
AED 393 (-10%)
Brand New HDDs for Sale
Move Data at Higher Speeds
All Form Factors Ready (2.5", 3.5")
Certified and Approved by Dell
Supplied With Free Caddy
Lowest Price Guarantee
Description
Buy Dell 900GB SAS HDD Hard Drive Online in UAE
Do you want to add more storage to your existing Dell Server? Buy Dell SAS 900GB HDD from Server Basket with free caddy and at the lowest price. The Dell hard disk drive provides you a higher storage capacity of 900 GB with a spindle speed of 10k rpm or 15k rpm. This HDD is a perfect choice for big data analytics, transaction processing, high-performance computing, and database applications. For all your purchases made with Server Basket, you get free delivery, tech support, free installation support, and a good warranty period.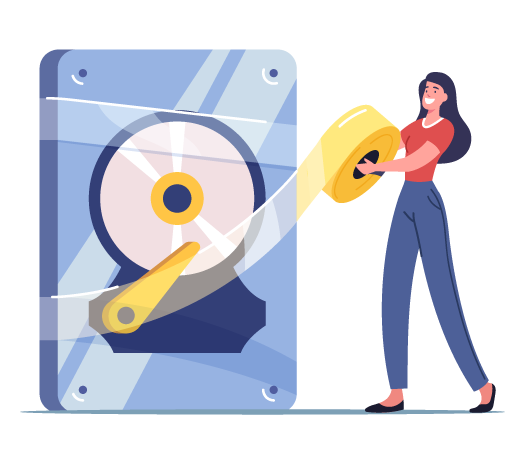 Brand New HDDs for Sale:
Do you want to improve the storage capacity of your existing server? Then, a brand new Dell SAS 900 GB HDD is available for sale from Server Basket. The SAS HDD offers a lesser latency rate and larger bandwidth if compared with the SATA drives. Dell HDDs are made with advanced security features and technologies, which protects your data.
Move Data at Higher Speeds:
This Dell 900GB Hard drive is created for meeting the various application needs, which demands a higher speed of data transfer and larger availability of data. The hard disk drive comes with a speed of either 12Gbps or 6Gbps, and that is a higher rate of data transfer in the SAS interface.
All Form Factors Ready (2.5", 3.5"):
The Dell hard disk drives are available with all the form factors either maybe 3.5 inches large form factor (LFF) or 2.5 small form factor (SFF). Few data storage capacities are available in 2.5," and 3.5" both, and 900GB HDD is one of them.
Buy with Part Number:
Let us know your requirements and specifications, and we will provide you the hard drive accordingly. We have a collection of Dell 900GB SAS HDDs in several part numbers. All the part numbers such as Dell XTH17, Dell 0XTH17, Dell 8JRN4 contribute to the reliability, unique performance, and greater security features.
Certified and Approved by Dell:
Since the SAS hard disk drive with 900GB is approved and certified by Dell, the HDD is of superior quality. Even we test the hard drive thoroughly before shipping it to our customers. Customer satisfaction is the top priority for Server Basket, and we always try to keep it that way.
Supplied With Free Caddy:
The Dell 900GB SAS hard disk drive is supplied with a free caddy. The hard disk drives caddy is also known as the disk enclosure. To give you the best possible deal, we provide you with free caddy along with the Dell 900GB SAS hard disk drives. The performance of the disk's caddy is to protect the disk from any of the physical damage during the working of the hard drive.
Lowest Price Guarantee:
Do you want to upgrade your server at a very reasonable price? Then get it from Server Basket now, as you get Dell hard disk at a huge discounted price. Whether your requirement is for a single hard disk drive or in bulk requirement, we provide at the least price possible, and no other online seller can give you such a competitive price. Believe us, and you will not get Dell SAS 900GB HDD at such a lower price.
Best Warranty:
Server Basket always makes sure that its customers are satisfied to the fullest, so we offer you a warranty service of one year. The Dell SAS 900GB hard disk drive is free from faults and is certified by Dell, and if there are any defects found in the product during the warranty period, just let us know, and we will immediately start the replacement or repair procedure.
Super-Fast Delivery in UAE:
We know that you need to increase your server's storage instantly. So, we pack and ship the Dell 900GB SAS HDD immediately after the confirmation of your order and payment. Server Basket has tied up with the most reliable logistic companies that ensure superfast delivery all over the UAE both to the major as well as metro cities.