HP Z620 Workstation Rental
AED 532 (-10%)
Suitable for Video Editing Projects
Ideal for High End Designing & Animation
Save More with Renting than Buying
Quick ROI on Short Term Projects
Powerful Workstation with ISV Certification
Buying Option Available During Rental Period
Customized Rental Solutions at Low Price
Description
Do you need a powerful workstation for your short-term projects? Searching for the best rental deals on workstations that can fit your diverse needs? Server Basket suggests you rent the HP Z620 workstation that is packed with a load of computing, designing and graphical power in a compact space. This HP Z620 workstation is powered by the reliable Intel 2690 processors, supports versatile memory and storage drives to process your visual and design workloads. We give our users what they want by customizing the HP Z620 workstation with the exact specifications they anticipate. We have a cluster of HP Z620 workstations ready for deployment that are tested and certified by the most popular Independent software vendors. Renting this workstation can be truly advantageous to you as you can get hold of colossal returns even for your petite investments. Server Basket has flexible rental plans that allow you to rent it for as long as you need with liable prices and discounts. Contact us today to know all about the HP Z620 workstation rental that falls along with free installation and technical support exclusively for our customers in the UAE.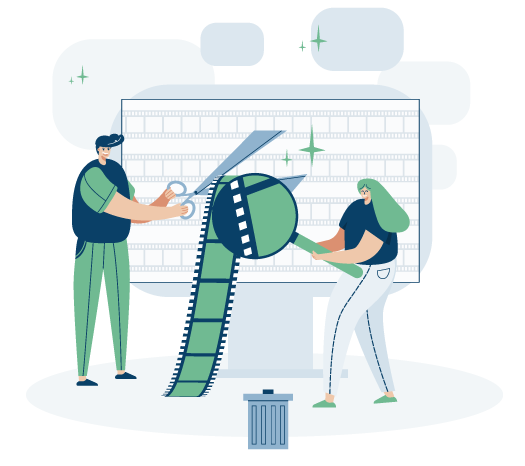 Suitable for Video Editing Projects
For a powerful workstation to run your high-end video editing applications and software, try renting our HP Z620 workstation that has the capability to resist and endure variable projects with utmost efficiency. Video editing is a tedious job and demands a workstation with better processing power, resilience, and magnitude that can be foreseen in none other than the HP Z620 workstation. With an eye to the future, this workhorse is everything you'll need for tenacious and persistent outcomes.
Ideal for High-End Designing & Animation
If you are looking for the best-in-class graphics workstations, then our HP Z620 will perfectly suit your requirements. It is engineered with the powerful and most appreciable GPUs that allow you to uninterruptedly work on high-end designing, animation, and graphical workloads of professional 2D, entry, mid-range, and high-end 3D ranges as well. These HP workstations can handle high-pressured environments and certainly meet your goals and targets with better efficiency, speed, and resolution.
Save More with Renting than Buying
Why spend so much money on buying a new workstation while you can get the exact work done by renting it? Renting our HP Z620 workstation will save you money and avail you enhanced productivity beyond expectations. Users can upgrade them any time they want and can also terminate the plan once they are done with their projects. We highly consider this as customers can work productively and protect their budget all along the rental period.
Quick ROI on Short Term Projects
Do you want an effective workstation for your short-term projects or tasks? Rent our HP Z620 workstations that offer better performance, reliability, scalability to provide the ROI you deserve. Achieve the highest performance for your complex projects by renting these eminent workstations, where you can invest less and complete your projects prior to the deadline. You can find no better option other than HP Z620 to work on your short-term projects whilst gaining finer returns for your capital.
Powerful Workstation with ISV Certification
Are you concerned about the quality of this HP Z620 workstation you rent from us? We never give you a chance to doubt us. Server Basket is quite picky about its workstations. Our powerful HP Z620 workstations undergo multiple rigorous testing procedures in burn-in conditions to prove their eminence. We strive for notability. Only those HP workstations that are certified by the leading ISVs will be approved by our team and stocked in our warehouses.
Buying Option Available During Rental Period
Server Basket gives liberty to its users to extend their rental plans whenever they need. But if you think that, you need our HP Z620 workstation for longer time periods, we avail an excellent option for our users where you can buy this workstation in the renting period itself. There will be no disturbance to your workflows as we immediately send you the quotation once you decide to buy our high-performance HP Z620 workstation.
Customized Rental Solutions at Low Price
Couldn't find a workstation with your desired specifications? No matter whichever configuration you want in the HP Z620 workstation, we will customize it for you in the way you need it by the experts who have complete knowledge about the HP workstations. This custom-configured workstation will come with low rental prices that benefit you with savings as well as productivity. With us, you can rent an HP Z620 workstation that has the exact hardware you require for your workloads.
Lowest Rental Rates with Huge Discounts
Are you a little restricted on the budget but don't want to compromise on the workstation? Then our rental workstation is a perfect choice for you. Rent our HP Z620 workstation at the most reasonable rental prices with added discounts at Server Basket and enjoy its excellent support to your workflows alongside saving your money. Our rental plans are highly flexible, customizable, and user-friendly. You can save more and work seamlessly with our low-cost HP Z620 rental workstation.
Rental Service Available All Over UAE
In search of ideal workstation rentals in the UAE? Server Basket offers the finest rental deals on all its HP Z620 workstations to users in Dubai, Sharjah, Abu Dhabi, Ajman, Al Ain, and many more. We pack the workstations in corrugated boxes and ensure that you receive them within 2-3 working days. Our reliable delivery agents are the best in the UAE, and they securely drop-ship the workstation at the destination you prefer without any delay.
Free Technical & Installation Assistance
Server Basket always looks out for you. We provide multiple services to our customers, and installation assistance is not an exception. Once you receive your HP Z620 workstation, give us a call, and our technical experts will help you with the installation process. They'll make sure that the workstation is properly installed and perfectly running. Technical support will be available to each user round-the-clock as our team would be happy to help you with your issues and concerns.