Customized Hosting Services
AED 125 (-20%)
Pricing is Based on Customized Hosting Plan
Application Based Customized Solutions
Enterprise Class Tier 4 Data Centers
Select Hardware as Per Budget & Needs
Free Migration with No Data Loss
No Limitations on Bandwidth Usage
Description
In search of perfect hosting service providers that understand your needs? Why compromise on regular hosting solutions while we can suffice you with customized hosting plans? Server Basket offers ideal hosting services blended with performance and perfection. When you choose our customized hosting services, you get more than just guaranteed uptimes and unlimited bandwidths. We make your single-tenant hosting platforms reliable for mission-critical, big data, and intensive applications. Our application-based custom dedicated servers will be enriched with high-end hardware and software considering your needs. Our cloud hosting and custom VPS services are best suitable for all your virtual, business, blogs, IT, e-commerce, designing, networking, enterprise applications, etc. Server Basket provides these hosting services using reliable and redundant servers picked from our tier 4 data centers. In an endeavor to ensure your data privacy, we secure our custom dedicated servers with firewalls and SSLs. We continually manage, monitor, and control your applications and sites to ascertain maximum uptime and availability. Contact us to know more about our server hosting solutions that are priced genuinely and get yourself a customized plan along with free technical support.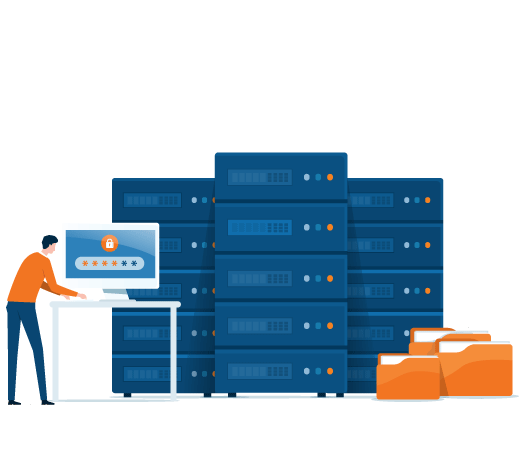 Application Based Customized Solutions:
Do you wish to justify your high-end applications by benefitting them with customized hosting solutions? Server Basket helps you with that. We have a team of professionals who can configure the hosting plan considering the memory, storage, power, and other requisites of your applications. This helps your apps to deliver better performance even in adverse work environments. Our customized solutions come with a provision of administrative support to avail you of the best user experience.
Enterprise Class Tier 4 Data Centers:
Don't want to take risks with power failures and downtimes? All the dedicated hosting services we bring forth trace their roots back to the high-performance custom servers from our tier 4 data centers. Built-in on a 2N+1 infrastructure, our dedicated hosting servers have backup power sources to handle unforeseen situations. We guarantee that our fault-tolerant database servers avail 99.99% uptime for your business or corporate sites and applications with uninterrupted availability at all times.
Select Hardware as Per Budget & Needs:
Are you interested in custom hosting plans that allow you to choose whatever your business website needs? Turn to Server Basket as our custom dedicated servers are highly flexible and enable users to opt for the hardware specifications that their websites sufficiently need. Our budget-friendly server hosting solutions act as a host of any server hardware and technologies you prefer. With better storage, control, scalability, and manageability, users can undoubtedly keep pace with any upcoming advancements.
Free Migration with No Data Loss:
Do you want to shift to a new hosting plan for your existing projects? Then you must be concerned about your prevailing data, configuration, and structure. Server Basket offers free data migration with guaranteed 0 data loss. Our team has clinched an appropriate plan and specific software using which we migrate your private cloud hosting projects from one cloud platform to another, either with the same or different server networking architecture, without any problems and data leakages in the least possible time.
No Limitations on Bandwidth Usage:
Growing businesses need better bandwidths. With Server Basket, you don't have to worry about surpassing the network plan as we put no limitations on the bandwidth usage of the custom hosting services we provide. This helps users' websites to handle more traffic without any throttling. Irrespective of the number of downloads or uploads made and the number of files and applications being accessed, you can expect a maximum bandwidth with ultimate performance with our server hosting solutions.
High Performance Virtualization Solutions:
Server Basket offers vSphere host access for VMware to deliver high performance for your virtualization workloads. This helps users to create more virtual machines for multiple operating systems. Users can enjoy the benefits of constant uptime, flexibility, scalability, and full-fledged accessibility of their virtual workloads in the most economical and efficient manner. We also install and manage your OS under our custom VPS services and also accommodate seamless server hosting solutions for their fluctuating virtualization requirements.
24/7 Monitoring by Expert Team:
Are you looking for server hosting solutions that offer constant vigilance for your cloud platforms and hosting sites? We assure you that our expert team will continuously monitor your dedicated hosting networks at any time of the day to ensure that they are running perfectly without any problems. We ensure that their websites, applications are secured from all forms of vulnerabilities. We also constantly check the power supply so that users don't experience any downtimes within the server hosting solutions we offer.
Reliable Servers with High Redundancy:
Do you expect your cloud hosting websites to be up and running all the time? Our server hosting solutions are supported by highly reliable custom servers that spare you from being bogged down by poor connectivity and excessive traffic. The servers in our database are known for their redundant performance as they promise secure and genuine backups for the crucial data related to your cloud platform. With improved reliability, multi-cloud connectivity, and protection, users can handle their cloud hosting sites without any inhibitions.
Free Instant Technical Support:
If you encounter any issues or have any doubts about our customized hosting services, then immediately contact us through your available sources. Server Basket has a team of well-versed technical experts who can deal with any hosting situation. We offer instant technical support to all our users and resolve their issues immediately. Our team will be at your service 24*7 throughout the year to ensure that you face no problems with our server hosting solutions.