Ensure Stable Network Connectivity
Grade "A" Quality Gigabit Ethernet Ports
Gigabit Network Cards for HP Servers
Add Extra Bandwidth to Server
Access Several Networks with Single Card
Strengthen your VMs Networking

Do you need an efficient and durable Ethernet card to build and access lightning-fast networks at data centers or high-end organizations? Don't fret! ServerBasket offers long-lasting 10GbE Ethernet cards at budget-friendly prices. These low-profile or high-profile cheap 10GbE Ethernet cards come in dual- and quad-port configurations, sharing 10Gbps bandwidth per port. At the SB online platform, you will find 10G Ethernet cards from several leading manufacturers, including Intel, Broadcom, Cisco, Solarflare, Supermicro, etc. These 10GbE NICs are suitable for many server brands, like Cisco, HP, Dell, Supermicro, Lenovo, Huawei, etc. Moreover, these high-speed Ethernet cards can execute multiple performance-intensive tasks seamlessly without any failures and minimize server downtime. Buy 10G Ethernet card in the UAE from the ServerBasket online store at a low cost. We promise a 90-day seller warranty, prompt and no-charge shipping, and a hassle-free return policy. Besides, we offer free demos and unlimited technical and IT installation assistance.
Wide Range of 10G Ethernet Cards:
Wide Range of 10G Ethernet Cards
Choose from a range of 10G Ethernet cards such as Intel, Mellanox, Supermicro, Broadcom, etc. We sell only Top-brand Ethernet Cards that come with higher bandwidth and lower latency. The network adapter we stock has varied configurations. Some are unified wired, converged, SFP+ low profile, dual-port, single port, etc.
10G LAN Cards for All Brands Servers
Boost the network speed of your Dell, HP, fujitsu, IBM, Lenovo, Cisco, and many other servers. The 10G Ethernet card is highly compatible with all servers, as it is engineered, keeping in mind various business server needs. The 10G Ethernet cards are designed as such that they fit well in all the servers. The Ethernet card works well with various operating systems such as Linux, Windows, Ubuntu installed in your server.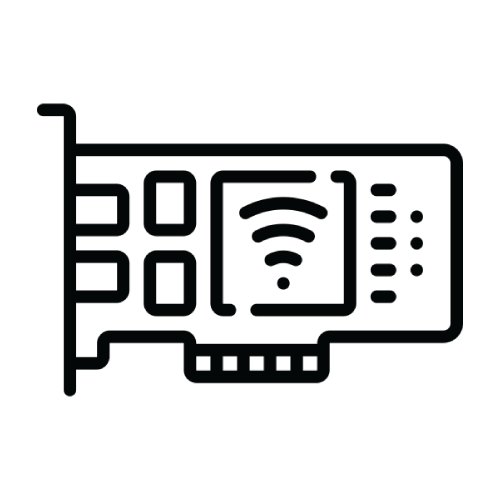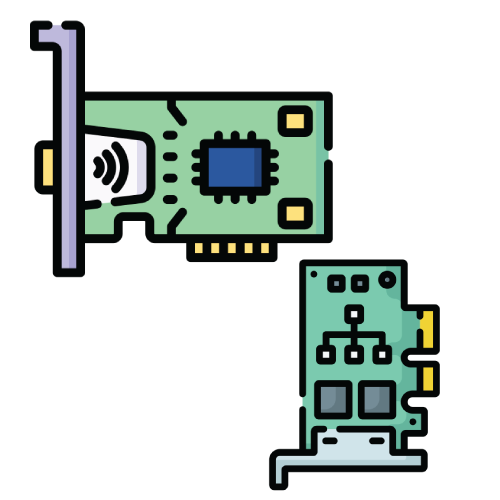 Switch Your Network to 10Gbe
Enhance your network speed by 10 times with our highly reliable 10G Ethernet Cards. Enjoy high-speed connectivity resulting in high-end data delivery. The faster data transfer and higher bandwidth make the 10G network cards ideal for high-end applications that includes Virtualization, business logic apps, databases, web cloud computing, HPC, and others.
All Modules Available
We have all modules of 10G LAN Cards in stock. Browse Server Basket's website to buy SFP, SR & SFP+ modules. SR modules mostly are multi-mode transceivers and are suitable for high-speed data transfers across short distances. SFP module is ideal for businesses running data communication and telecommunication applications. SFP+ is best for long-distance data transmission and consumes less power.
Good Option for ISPs/ Data Centers
The 10G Ethernet cards come with faster and higher-bandwidth connectivity. This makes it ideal for ISPs and data centers. Now make your large file transfers easier. Your network would never face any delays while transferring heavy multimedia content and handling an increased number of network users.
Free Installation Support
There are many important steps that you need to follow while installing the 10G Ethernet cards strictly. Our team has expertise in dealing with various issues faced during network card installation. We would provide you step by step guidance until the 10G Ethernet card is successfully installed and running.
Assured Warranty
The 10G Ethernet cards in our stock come with brand-specific warranty coverage. We deal only in quality products. Our Ethernet card is highly genuine and free from internal components and complete hardware defects. Our warranty coverage for one year on new LAN Cards and 90 days on refurbished Ethernet cards assures that; you will receive instant replacement during any product issue or failure.
Instant and Secure Delivery All Over UAE
We follow a strict procedure of multi-level packing so that the Ethernet card is securely delivered to your doorstep. Server Basket is associated with the best logistic companies in UAE, which enables us to deliver the ethernet card as quickly as possible. We have served many customers in Dubai, Ajman, Fujairah, Abu Dhabi, Sharjah, Ras Al Khaimah, Al Ain, and many other places in the UAE.
Frequently Asked Questions (FAQ's)
What are 10G Ethernet Cards Used For?
10G Ethernet cards are highly useful for data centers and ISPs. Offering fast bandwidth connectivity, it makes large-scale file transfers a seamless task. Thus, you will not face any downtime when you transfer multimedia files for more users.
Which Brands of Ethernet Cards are Available at Server Basket?
Get 10G Ethernet cards from top-notch brands including Supermicro, Intel, Broadcom, Mellanox, and others are available. Select the desired modules, be it SR, SFP, or SFP+, at Server Basket. Customize its configurations to get the bandwidth needed.
Are These Ethernet Cards Compatible with All brands of Servers?
Our catalog of Ethernet cards shows compatibility with a wide range of server brands. You can purchase it for your IBM, Dell, HP, Fujitsu, Cisco, Lenovo, or any other server to accelerate your data and business performance.
What is the Speed of 10G Ethernet Cards?
10G Ethernet cards help increase your network speed by up to 10 times, providing a data speed of up to 10 billion bits per second. Get high-end data delivery and ultra-fast connectivity with 10G Ethernet cards to improve business productivity.
How Much Time Does it Take to Deliver Ethernet Cards in the UAE?
We have a strong logistics network that allows us to quickly dispatch and deliver Ethernet cards in the UAE. They are safely packaged to avoid any physical damage. Get your product in 2-3 business days at your doorstep.