Refurbished HP 1.8TB 10k SAS 2.5″ HDD
AED 666 (-10%)
HP 1.8TB 10k SAS
Supports All HP Servers
SAS Hard Drives
1.8 TB Max Storage
Spindle Speed 10K RPM
Data Transfer Rate 12 Gbps
Description
Buy Refurbished HP 1.8TB 12G SAS 10K RPM 2.5" Enterprise Hard Drive at Offer Price with 90 Days Warranty
Looking for a higher reliability and performance hard drive with advanced interconnect speed? Then look no further than HP 1.8TB 10K SAS capacity hard drive. Engineered with the SAS interface, the hard drive is ideal for handling enterprise applications. Though it's a used hard drive, it provides higher performance during heavy workloads and in tough environments. Accelerate the performance of your data-intensive applications within your budget. How is it possible? Server Basket offers the refurbished HP 1.8TB 12G SAS 10K HDD at the very lowest market price along with free installation support, genuine warranty, instant delivery and hassle free return back option.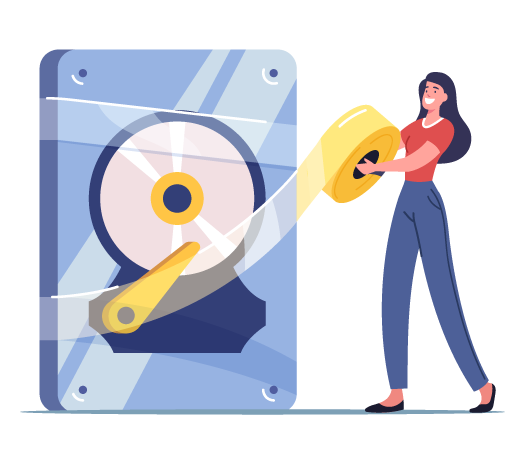 100% Supported on any HP Server:
Upgrade your legacy HP servers with the highly efficient refurbished HP 1.8TB 10K SAS Hard Drive. Enclosed in 2.5" form factor, this SAS HDD easily fits in BL420c G8, BL460c G8/G9, DL120 G9, DL160 G8/G9, DL180 G9, DL320e G8/v2, DL360 G9, DL360e G8, DL 380 G9, DL380e G8, DL560 G8, DL580 G8, ML150 G9, ML350 G9, ML350e G8, SL230s G8, SL250s G8 and many other servers. The hard drive provides exceptional performance when installed on 8th, 9th and 10th generation servers.
Save Big with Refurb SAS HDD: Supported:
If you want to "Save More" on refurbished HP 1.8TB 10K SAS hard drive, then buy it from Server Basket. Being refurbished, the hard drive comes at a fraction of the cost of a new drive. Associated directly with the brand helps us to save more and pass on the benefits to our customers. Thus, you receive the refurbished hard drive at an additional discount like nowhere else in UAE.
Expand Storage with Reliable HDD:
Now get more room for storing heavy databases as the hard drives comes with a storage capacity of HP 1.8TB 12G SAS. The hard drives are ideal for transaction processing, database applications, high-performance computing, analytics and crucial business applications. With more space, the hard drive is highly reliable and handles mission-critical applications with ease.
Free Installation Support:
Do you know, there are various steps you need to follow while installing a hard drive? Steps such as connecting the data cable to the SAS interface, run BIOS set up, and setting it up as per the manufacturer's guidelines. That is why we provide you free installation support. Our team of engineers is well-versed with all the server hard drive installation process. And would provide you step by step guidance.
HP Certified Hard Drives:
Though it's a used hard drive, it is highly reliable. HP Hard drives undergo a strict refurbishment process and quality checks. The HP 1.8TB 2.5" hard drive capacity is tuned for optimum performance and has a longer shelf life. The hard drives are HP certified, highly reliable and come with a standard manufacturer warranty period.
Ultimate Data Protection:
Re-engineered with the latest technology, the HP 1.8TB SAS 2.5" hard drive offers ultimate data protection. The affordable SAS HDD comes with HP's digitally signed firmware that prevents unauthorized access to your crucial data. When connected with Smart Array Controller, the hard drive indicates the Pre-Failure Alert.
Eligible for Returns (within 7 days):
If the HP 1.8TB 12G SAS HDD doesn't fit your business needs or you are not satisfied with the product, then don't worry. Server Basket offers a "7 days return policy". Where you get the option of returning the product within 7 days of the purchase. Our team will inspect the return shipment and then would refund the full purchase amount.
Instant Shipping All Over UAE:
Is your business affected by the sudden need for more storage space? Then don't worry, Server Basket instantly delivers SAS HDDs to any place in UAE. We are associated with the best logistics companies in Ajman, Dubai, Abu Dhabi, Sharjah, Fujairah, Umm Al Quwain, Ras Al Khaimah RAK, who helps us in securely delivering the product at your doorstep within very less time.
90 Days Iron Clad Warranty:
You may rest assured with our SAS HDD as it comes with a standard warranty period of 90 days. Our warranty states that the SAS HDD is free from any internal defects. You can claim for repairs or replacement if you face any issue with the product within the warranty period.
High Transfer Rate:
The highly economical HP 1.8TB 10K SAS hard drive is best for hosting high transaction-based applications. The hard drive comes with a spindle speed of 10K RPM and a data transmission rate of 12Gb/s. This amalgamation of transmission rate and spindle speed allows to read/write data at a faster rate.