Intel Xeon X5690 @ 3.46 GHz Processor
AED 173 (-10%)
Accelerates the Performance of your Server
Offers Excellent Supports for Virtualization
Compatible with HP, Dell & Other Brands Servers
Features Intel Virtualization Technology
Supports Multiple Advanced Technologies
Adjusts Performance Based on Application Needs
Description
Are you planning to upgrade your servers with high-quality processors? Want to experience faster processing speeds and better performance? Your wait ends here as Server Basket has an amazing collection of Intel Xeon X5690 processors that offers excellent support for a wide range of servers from HP, Dell, Cisco, Lenovo, Fujitsu, and other brands. Users can completely rely on these highly productive processors for all their virtual workloads. Engineered with the industry leading advanced technologies, this processor yields better results for heavy workloads. The Intel processor can also manage power consumption by balancing the heat generated due to the continuous flow of server operations. Businesses, organizations, start-ups, data centers can make the best use of the servers by installing these 3.46GHz processors, available at Server Basket. All the Xeon X5690 processors are tested under high-pressure environments to ensure their rigidity and stability. We assure you that they can easily blend in any work situation. Contact us through live chat or WhatsApp to know more about this splendid processor. Along with a sturdy processor, you can enjoy free installation assistance, an iron-clad warranty, and the quickest delivery benefits exclusive for our UAE clients.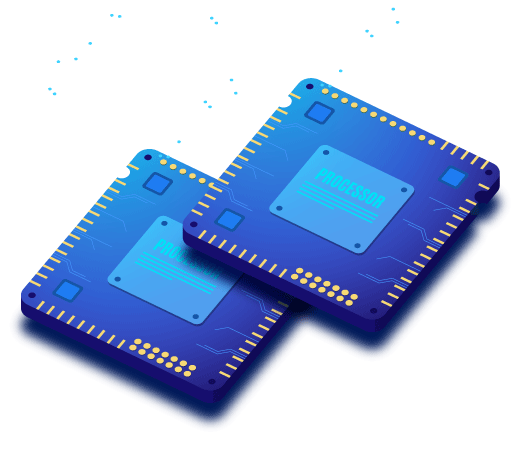 Accelerates the Performance of your Server:
Tired of the slow performance of existing processors in your server? Time to switch to something better and intoxicating. The Intel X5690 processor has a total of 6 cores to provide enormous speeds for your complicated workloads. The X5690 processor offers a base frequency of 3.46GHz and a bus speed of 6.4GT/s. They are scalable, highly flexible, and can handle a maximum memory of up to 288GB. With its sky-rocketing features, this Intel processor can, without doubt, accelerate your server performance.
Offers Excellent Supports for Virtualization:
Are you longing for a powerful processor that can offer exemplary support to your virtualization workloads? In such a case, the high-quality Intel X5690 processor is for you. This well-built processor features multiple virtualization technologies such as Intel VT-x, VT-x with EPT, and VT-d. They limit the downtime of your servers and can uninterruptedly handle up to 12 virtual machines. Your virtual works would be performed simultaneously in a secure environment by making use of advanced virtual technologies.
Compatible with HP, Dell & Other Brands Servers:
Are you looking for a processor that is well supported on a wide range of servers? The Intel Xeon X5690 processor is preferred to be used in servers of popular brands that include HP, Dell, IBM, Cisco, Fujitsu, etc. It is compatible with HP DL160 G6, HP DL180 G6, HP DL360 G6, HP DL380 G6, Dell R610, Dell R710, Fujitsu Primergy RX300 S6, etc. Build up with the desired lithography and finest structure, these processors can undoubtedly provide extraordinary outputs.
Features Intel Virtualization Technology:
Do you want to reduce the complexity of your hypervisor? Stop looking for other options and buy the Intel Xeon X5690 processor that features Intel virtualization technology. This helps your virtual systems by improving their functionality, increasing performance, enhancing reliability. Users can enjoy high speeds of their virtual machines while creating a better platform to develop even more hypervisors with the help of the Intel Virtualization technology feature that is available in the Xeon X5690 processor.
Supports Multiple Advanced Technologies:
In search of a powerful processor that complies with modern technologies? Then turn to the most efficient Intel Xeon X5690 processor that supports numerous new technologies to improve the capability of the servers they are installed in. The Intel turbo boost, hyper-threading, many virtualization technologies, instruction sets, and other extensions alongside Intel AES as well as trusted execution technology together constitute a strong team that offers great assistance and security to the intensified workloads users work on.
Adjusts Performance Based on Application Needs:
Are you working on multiple levels of applications on a single server? In that case we suggest you a processor that can adjust the performance depending upon the application requirements. Try the efficient Intel Xeon X5690 processor that offers great support to Intel XTU optimization software, which allows users to easily configure their overclocks and control the processor speed to tune the performance. Beginners, as well as experts, can make use of this software using the Intel X5690 processor.
Regulates Power Consumption Automatically:
Do you require a processor that has the ability to maintain and regulate power consumption? Given your preferences, The Intel Xeon X5690 processor will be the ideal choice for you as it comes with a thermal design power of 130W and a case temperature of 78.5°C. It comes with Intel demand based switching and enhanced Intel SpeedStep technology that maintains the clock speeds and voltage at minimum levels while delivering high performance.
Free 24/7 Remote Installation Assistance:
Why bother going through all the rules inscribed in the manual while we can help you install the processor at a proficient level? We employed a team of experts who have worked with almost all Intel Xeon Processors. They will guide you stepwise carefully and make sure that you have installed the processor properly. They explain all the safety measures to be taken while handling the processor and clear all your doubts concerned about the X5690 processor.
Assured 90 Days Replacement Warranty:
Stay calm and relax as Server Basket offers an assured replacement warranty of 90 days on every Intel X5690 processor they sell. Users are free to claim for the processor replacement if they face any problems in the functioning of the processor within 90 days from the date of its installation. We will provide you with an immediate replacement if the processor gets damaged.
Fast and Safe Delivery in UAE:
Are you fed up with late deliveries? Well, that's not our style. Server Basket offers the most secure and fastest delivery of the processors to any place in the UAE. The processors will be carefully wrapped in multiple layers. We have our ties with a responsible delivery service team that can undoubtedly deliver the Intel processor in its perfect form to every corner of the UAE, including Dubai, Abu Dhabi, Al Ain, Sharjah, Umm Al Quwain, etc.
Specification
Additional information
| | |
| --- | --- |
| Brand | Intel |
| Product Type | Processor |
| Number of Cores | 6 |
| Number of Threads | 12 |
| Clock Speed | 3.46 GHz |
| Cache Memory | 12MB |