Dell 32GB – 2Rx4 DDR4 2666MHz Server Memory
AED 666 (-10%)
Upgrade Your Dell Server Memory
Boost the Application Performance
Suitable for All Dell Servers
Genuine RAMs With Dell Part Number
Run Multiple Applications Smoothly
Excellent Data Processing Speed
Free Technical Guidance
Instant Delivery Across UAE
Description
Are you bothered about the diminished server performance? Do you have to face downtime because of exhaustive memory applications? Then effortlessly expand server memory up to a great extent to boost overall server performance. Add more memory to your current configuration with our 32 GB DDR4 RAMs. With increased memory capacity, the server becomes more capable of handling multitasking and demanding workloads.
If you are thinking about upgrading your Dell server's memory, then of Dell's 32 GB server memory, all you need to get high-end performance. ServerBasket provides Grade "A" high-quality server memory at a reasonable price to access enhanced processing speed. It is highly compatible with all Dell servers and allows the running of multiple memory-demanding applications seamlessly. Are you still confused? Talk to our team and know how it upgrades overall performance and why your business needs better data and application processing. Get your server memory today, and grab the best-discounted offers, free installation support, quick delivery, tech support, and a 90-day warranty.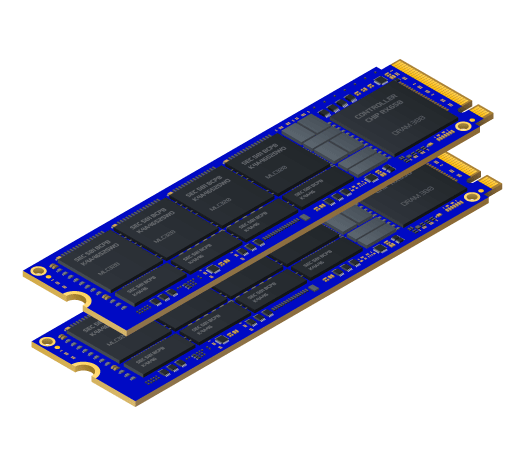 Upgrade Your Dell Server Memory
Do you think your complex business applications are RAM hungry and seek memory upgradation? Then, without any delay, upgrade your Dell server with a highly efficient and affordable 32GB DDR4 memory module. Aid your server with higher memory capacity to carry out more read/write operations and better data access & storage. With more memory, experience rapid application processing.
Boost the Application Performance
Enhancing existing memory is an excellent method to improve application performance. Being cost-effective, memory upgrade allows the completion of tasks within minimal time. With a huge 32GB memory capacity, run multiple complex applications flawlessly without facing downtime. In addition, with memory expansion, the overall capability of handling a demanding workload is boosted, and you can run simultaneous applications without interrupts.
Suitable for All Dell Servers
Do you need an ideal memory compatible with all Dell servers regardless of the generation, configuration, and processor support? Then maximize your server memory with 32 GB DDR4 RAM. With a 2666MHz processing speed, it is suitable for all Dell servers. Whether you are having a rack server, a tower server, or a blade server, it fits with either one of them to provide optimal performance.
Genuine RAMs With Dell Part Number
ServerBasket is well-known for providing genuine and quality products. Our 32 GB DDR4 Ram is Grade "A" high-quality memory. Before making it available for use, it goes through third-party testing to provide the expected performance. In addition, we Cross-check the part number of the chosen memory module to authenticate it with the existing one as they must be similar.
Run Multiple Applications Smoothly
Do you find the simultaneous running of applications daunting? Have to face downtime and slow server processing when you execute multiple applications at a time? It means you need to increase the server's capability of multitasking by upgrading the existing memory with the 32GB DDR4 RAM. This powerful memory module is a cost-effective solution for improving server performance and accessing maximum uptime.
Excellent Data Processing Speed
Looking for RAM that can offer excellent data transfer and processing speed? Promoting a high processing speed of 2666MT per second allows quick data access from HDDs and SDDs. Moreover, it offers magnified processor performance, extremely fast data processing speed, and high productivity. Avail of all these extraordinary features at an affordable cost with 32GB DDR4 RAM.