Dell R710 Server Hard Drives
AED 221 (-5%)
Wide Range of R710 Supported HDDs
Certified & Approved by Dell
Solid Data Transfer Speeds
Heavy Storage Performance Guaranteed
Best Price in Industry
Free Pre-Sales Help
Description
Buy Hard Drives for Dell PowerEdge R710 Server
Do you know that unrecoverable data loss can affect your business? With Server Basket, get a range of hard drives from self-encrypting drives, hybrid, to hybrid SED. We offer the best hard drives that are mission-critical performance and capacity-optimized. Choose from hot-swap and non-hot-swap, range of spindle speed, and data transfer rates. Server Basket helps you fulfill your hard drive requirements at a competitive market price. Handle multiple tasks and heavy loads with the affordable Dell PowerEdge R710 latest Hard drives. Hard drives are embedded with the latest technologies and features that help to reduce failure rates and enhances server performance. Get extended longevity hard drives at a very low cost only from Server Basket. We offer higher discounts, Grade 'A' quality hard drives for Dell PowerEdge R710 servers, and excellent support services. With us, get guaranteed server uptime.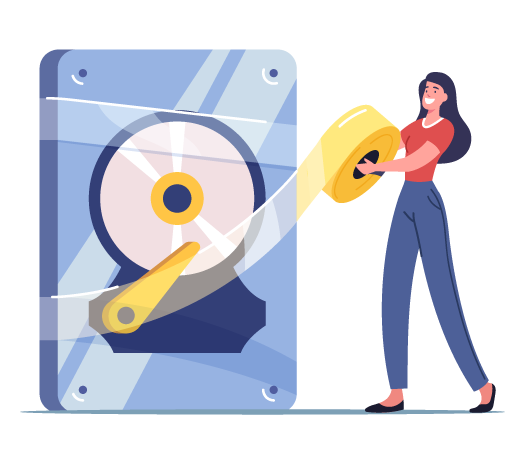 Wide Range of R710 Supported HDDs:
Choose from a range of storage capacity starting from 300GB and continuing to 600GB, 450Gb, 900GB, 1TB, 1.2TB, 1.8TB, 2TB, 4TB 6TB and 8TB. You get the option to select from a SATA or SAS drive, 2.5" or 3.5" form factor. Depending on your budget and server compatibility, you can either buy hot-swap or non-hot swap drives. The affordable drives come with different spindle speed and density. No matter, whichever hard drive you are choosing, you get guaranteed higher-performance, software advantage, and greater reliability.
Certified & Approved by Dell:
Designed with reliability, exceptional performance, and availability, the Dell server hard drives can handle more load. The Dell hard drives come with better specifications and less failure rates. To ensure its reliability, the hard drive comes with a warranty period, certification, and Dell approved.
Solid Data Transfer Speeds:
Now manage your demanding workloads with easy-to-manage connectivity. With up to 12 Gbps data transfer rate, the hard drive allows you to quickly archive or backup your data. The hard drive comes with a range of spindle speed, starting from 7.2K RPM, 10K RPM or 15K RPM that allows you to read/write data effortlessly, without a second delay.
Heavy Storage Performance Guaranteed:
Handle your complex databases with higher storage space and minimum latency rate. We have a range of storage capacity hard drives starting from 300GB, 600GB, 900GB to up to whopping 8TB. With such high storage capacity, you can utilize the hard drive in enterprise data centers. The hard drives are best for data centers that fulfill too many requests from numerous users simultaneously.
Best Price in Industry:
Get Dell hard drives at an unimaginably lower prices only from Server Basket. Ask for a quote and compare our prices with other competitors. We don't have any hidden charges, and we maintain utmost price transparency. Server Basket gives you a free caddy along with each hard drive so that you can use the hard drives right away without any trouble. We guarantee by comparing the prices, you would come back to us as Server Basket provides the best price in the hard drive industry.
Quick Delivery All Over UAE:
We put customer satisfaction above all. Partnered with many logistics companies in UAE that provides simplified logistics services, allows us to deliver the hard drives quickly and affordably. As soon as the order comes in, we instantly dispatch it on the same day. This allows our logistics company to deliver at your location, be it Dubai, Sharjah, Abu Dhabi, or remote locations such as Al Ain, Ras Al Khaimah, and Ajman, etc. within very less time. Server Basket also delivers Dell hard drives to the complete Gulf belt, including Oman, Kuwait, and Qatar.
Standard 1 Year Warranty:
Dell server hard drives are worth to buy due to the complete peace of mind it offers. The hard drives are covered with a 1-year warranty period and are free from defects. If you still face any issue with the product, we would provide you with instant replacement.
Free Pre-Sales Help:
Talk to our best-in-class pre-sales specialists, and get the best hard drive options for your business. The specialists would support you with questions about hard drives, form factors, storage capacity, data transfer speed, and many more.