Dell 2TB 12Gbps 7.2k RPM 3.5″ SATA HDD
AED 250 (-5%)
Dell Certified SATA Hard Disk Drive
Better Than Previous Generation HDDs
Supports Dell Servers & Other Servers
Size: 3.5 Inches
Faster Disk Access
Speedy Read- Write
Description
Buy Dell 2TB 7.2k RPM 12gbps 3.5in SATA HDD in at Lowest Price in UAE from Server Basket.
Upgrade Your Server Storage, 1 Year Warranty.
Now check out the best in market Dell 2TB 7.2K RPM 12Gbps 3.5 in SATA HDD drives if you want to improve the storage of a server in a low budget. These drives provide massive 2TB storage capacity and 12Gbps high speed with the reliable performance of your server. Server Basket is providing ample servers spares of high quality to meet your customized specifications. The Dell 2TB 7.2K RPM 3.5 inch HDD hard drives have SATA interface, which enhances read/ write speed, accelerates data transfer rate and server performance. You can get the benefit of pre-sales support, remote installation support, 24/7 tech support, and other features from Server Basket.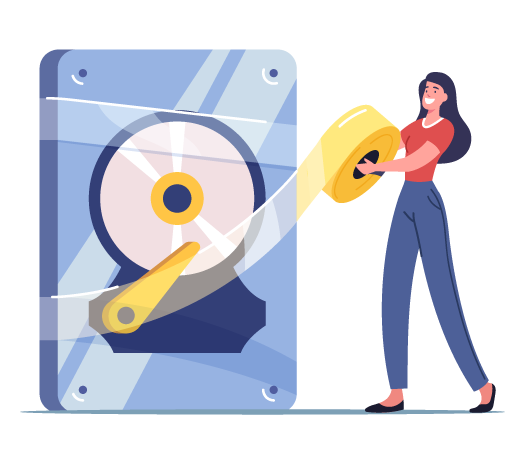 Dell Approved SATA HDD:
Server Basket promises to provide the certified components and servers which assure high-end quality. These 100% original parts undergo multiple levels of testing before packing. The quality of the 2TB 3.5 inches SATA hard drive is accredited from the certified Dell Company.
Best Transfer Rate:
The excellence is Dell 2TB 3.5 inches hard drive comes with the speed of 7.2K RPM spindle speed with SATA interface. These HDD hard drives can transfer the most comprehensive file within less time, as it allows 12Gbps data transfer speed. It is the best you can get for your server.
Works with All Dell Servers:
The Dell 3.5 inches 2TB SATA hard drives are highly stable, secure, and compatible with all the servers available in the market. Few compatible servers are PowerEdge R730, PowerEdge R630, PowerEdge T630, PowerEdge R730XD, etc. There are many other servers compatible with Dell 2TB 12Gbps SATA HDD.
Enhanced Read-Write Speed:
The Dell 7.2k RPM 12gbps SATA HDD carries sequential writing and reading the data within less time. It enhances data transfer speed and decreases idle time and response time and accelerates data access. Dell SATA hard drive ensures to save every microsecond of yours, reducing the overall time.
Equipped with SATA Interface:
The Dell 2TB 12Gbps 3.5 inches SATA hard drives enhance the capacity of hard drives and carry FIS data transfers. It also provides the best security features that support ISE, and firmware which is digitally signed.
Best Online Price:
Server Basket will help you in enhancing your storage with less investment by providing Dell 2TB hard disk in uae with a guaranteed discount. Compared to the other online stores, Server Basket will offer the best deals by understanding our customer needs. You get a bulk discount on bulk purchase.
Free Installation Support:
If you are purchasing Dell 2TB 7.2k RPM 3.5 inches SATA hard drives, you need not worry about installation support. Server Basket is providing free installation support on servers and its spare parts to bring customer satisfaction. You can avail instant installation support from our expert team, who has good experience in guiding about the entire installation procedure.
Instant Shipping Available Across UAE:
We understand your immediate demands and importance of Dell 2TB 7.2k RPM SATA HDD in your business, and thus we are shipping the hard drives instantly. We provide prompt delivery in 2-3 business days in UAE and every corner of the city. We assure free shipping in all cities like Dubai, Umm Al Quwain, Fujairah, Ajman, etc. and to the complete gulf belt including Oman, Kuwait, Qatar and Doha.
1 Year Ironclad Warranty:
Server Basket always stands on the quality we are providing, and hence, we are offering a year warranty on Dell 2TB SATA HDD hard drives. We also provide the free repairing services on malfunctioning hard drive in one year, and you can claim for a replacement if any issue occurs within the warranty period.