Database Servers
Storage Servers From Leading Brands
Supports any DBMS
Better Options than File Servers
Store Databases Securely
Cost Effective Pre Configured Solutions
Customize Based on Your Applications
Configured with RAID for Data Safety
Categories :
Brand New Servers
,
DAS Storage Servers
,
Fujitsu Servers
,
HP Servers
,
IBM Lenovo Servers
,
NAS Storage Servers
,
Refurb Cisco Servers
,
Refurb Fujitsu Servers
,
Refurb HP Servers
,
Refurb IBM Servers
,
Refurbished Dell Servers
,
Refurbished Servers
,
SAN Storage Servers
,
Servers
,
Storage Servers
Description
Do you want to own an ideal Database server that can store and manage huge databases effortlessly? Are you in need of a resilient server that offers better solutions than the regular file servers? Database management systems can be quite demanding, so you'll probably need a powerful server that can handle them with ease and proximity. Take a look at our high-quality database servers that are potent and capable enough to support any database management system irrespective of the software you install on it. We hold in-stock both pre-designed and customizable servers of the most popular brands so that you get a server that can cater to your workflows. Server Basket takes utmost care and attention while choosing their servers. Every database server you find on our website will be tested on extreme workloads using demanding systems like MySQL database to make sure that they are capable of dealing with all your DBMSs. Get in touch with us to know all about our secure low-cost database servers that come along with added advantages of strict replacement warranty, free technical and setup support, and assured on-time server delivery.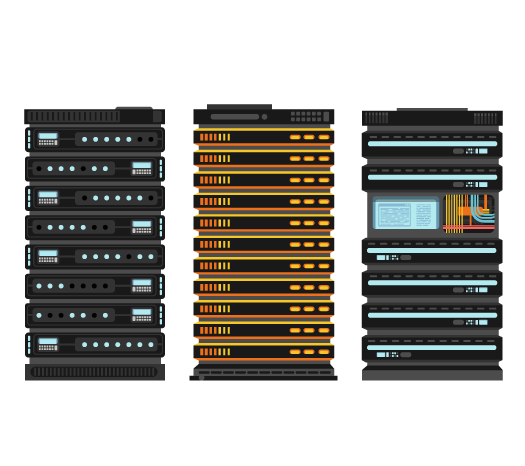 Storage Servers From Leading Brands
Server Basket is an excellent dealer of authentic servers. At Server Basket, you can find a server that perfectly fits your database requirements no matter whichever model and configuration you require. We sell storage servers built by major server brands that include Dell, HP, IBM, Cisco, Fujitsu, SuperMicro, etc. Our professionals will handpick the servers directly from the manufacturers, and so you'll have no reason to doubt the quality and functioning of the servers you buy from us.
Supports any Database Management System
If you are in search of robust servers that can handle and maintain your database systems, then our database servers will definitely entice you. Our servers can support any database management system and are most popular for their unquestionable compliance with the MySQL database. Enriched with the most demanding and powerful hardware configurations, these database servers can seamlessly take care of a great many management systems that run on challenging software like PostgreSQL, SQLite, Ingres, MaxDB, and more.
Better Options than File Servers
Why use the traditional file servers to store your files while you can make use of our magnificent database servers for the efficient storing of your files and data? Database servers show high performance and resilience even when huge amounts of data are added. These database servers comprise enormous disk space, fast I/O speeds, better network connection, huge RAM, and great processing power for storing your information in a structured format much better than the file servers.
Store Heavy Databases Securely
Are you looking for perfect server solutions that can help you store huge databases? Server basket sells the most reliable database servers that come with robust security protocols to shield the information stored in your database from any unauthorized users and intrusions. You can also control the visibility of tables by running the account-based security systems on these database servers. Storing colossal databases in our servers is extremely easy, and they will remain protected at all costs.
Cost Effective Pre Configured Solutions
In a rush to buy a database server to serve your demanding database software? We have the perfect server solutions for you. Our database servers are tagged with the most reasonable and affordable prices, and nowhere in the entire UAE will you find the database servers at the price we offer. We offer cost-effective servers to our customers, which are pre-designed with high-quality hardware components of highly demanded specifications that have the potential to support multiple DBMS.
Customize Based on Your Applications
Do you want a customized server solution that can ideally support your applications? We have an extraordinary technical team who can customize any server within hours. State us your application requirements and the model of the server you are looking for. Our technicians will configure the server with the exact hardware and software you desire and provide you a quotation for the same. Once you are satisfied with the quote we provided, we can take the buying process further.
Configured with RAID for Data Safety
Worried about the security of your crucial files and data? Try our database servers that tag along with multiple RAID controllers for protecting your data at all costs. We know how crucial data safety is for you. Our database servers, configured with high-end RAID cards, take complete responsibility for securing your information and documents even in the case of hardware failures and unexpected system errors caused by software glitches or OS errors with the help of redundant backups.
Certified Servers with Replacement Warranty
Are you concerned about the quality and functionality of our database servers? Every server you see on our page is tested and certified by leading ISVs for their ideal performance and credibility. Also, our database servers come with an assured replacement warranty plan. Given that you encounter problems with our database servers in the given warranty period, we will replace the dysfunctioning hardware with genuine spare parts in the shortest possible time so that your workflow is not disturbed.
Free Server Setup & Tech Support
Server Basket puts all possible efforts to help customers with anything they need. A team of technical experts will be at the service of the users throughout the day to clarify their doubts and concerns related to the database servers. Our technical team will also help you set up your server in your workspace by guiding you through the entire installation process. They ensure that you make no static errors during installation and utilize the whole server potential.
Fast & Safe Doorstep Delivery
Do you want your servers to be delivered safely without any delay? Server Basket is notable for its secure and prompt delivery services to any place in and around Dubai, Sharjah, Abu Dhabi, Ajman, Al Ain, Fujairah, etc. We pack the database servers you order in numerous protective layers and seal them in sturdy corrugated boxes. Our attested delivery agents are absolutely the best and will dispatch the server to your desired destination in the UAE within 2-3 days.