Refurbished Dell PowerEdge R530 Server
Description
Looking for a virtualization-ready server? But you are low in budget!!! Then buy the virtualization-ready refurbished Dell PowerEdge R530 rack server. Dell R530 is one of the excellent platforms for a wide range of common business applications. If you are a small business that requires small-scale virtualization features in the server then Dell R530 is ideal for you. The low-cost Dell PowerEdge R530 works best as a backup and dedicated development server. The server offers you great versatility, maximizes your operational efficiency and delivers balanced performance. Buy Dell PowerEdge from Server Basket and get amazing discounts like nowhere else. With higher discounts also receive a host of services like quick shipping, installation and technical support that would contribute to increasing your business productivity.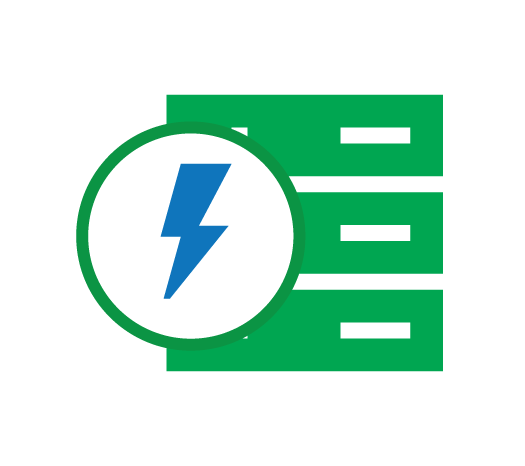 Affordable & Virtualization Ready Server:
Buy Dell PowerEdge R530 server from Server Basket at fraction of the cost of a brand-new server. This low-cost server is loaded with ample of benefits. It comes with the 4, 6, 8, 10, 12, 14, 16, and 18 core options. Which means you can connect up to 36 virtual machines per processor. Also, the server is supported with hypervisors like VMware vSphere, Citrix XenServer, and Red Hat Enterprise Virtualization.
Grade "A" Certified Refurbished R530:
The refurbished Dell PowerEdge R530 server delivers the same performance as of the new server. The server is engineered with the right configuration of memory, processors and storage drives. The internal components used in the server are of Dell brand that is certified and come with a warranty period.
Scalable According to Workload Conditions:
The refurbished Dell PowerEdge R530 server has the capacity to run for many years and scale as your business grows. The server comes with processor sockets. You can start with a single processor and as your business grows take advantage of the dual processor. With 2 processors onboard, the core count increases and the memory capacity as well.
Greater Memory Performance:
The affordable refurbished server delivers powerful performance as it is engineered with 2 DIMM slots DDR4 memory. The RAM comes with a memory capacity of up to 32GB which enables you to easily run multiple applications. The memory speed of 2400 MT/s in R530 allows you to read and write data at a faster pace.
Driven by Energy Efficient Processors:
The server is compatible with Intel Xeon E5-2600 V4 processor family. With E5-2600 you receive advanced multi-core, multi-threading processing, larger cache, and faster memory. The processors are highly energy efficient but never compromises on delivering higher performance for diverse workloads, technical computing and multithreaded applications.
Expand Storage When Required:
Dell R530 is a highly adaptable mid-range server that fulfils your performance needs and that too within your budget. The server comes with eight 3.5" drive bays that allows you to use either SATA, SAS or nearline SAS, SSD drives. The drives offer the whopping storage potential of up to 48TB
Purchase at Fraction of Actual Price:
Though Dell PowerEdge R530 is a used server, it never compromises on the performance, reliability and flexibility. The server goes through the exhaustive testing procedure. The refurbished Dell R530 Server comes at a fraction of the cost of a new server which means you can save a lot of your IT investments. Buy from Server Basket to get more discount and save more money. Try used Dell R640.
Avail Installation and Tech Support Anytime:
Server Basket is known for the high-quality services it offers. As soon as you receive your server, you can call us to get free installation support. Our engineers would guide you throughout the installation procedure so that you don't face any server issues. Also, we provide 24/7 technical support to all our clients of UAE.
Trusted One Year Warranty:
Yes, the refurbished Dell R530 server comes with a comprehensive one-year warranty. If you face issues with any of the internal parts like processor, memory, and storage drive, then you receive free repair services from us during the one-year warranty period. The motherboard of the Dell R530 server comes with 90 days warranty period.
Quick Shipping in UAE:
Are you in urgent need of the server? Trust on us as we offer lightning speed delivery options. We are associated with the best courier companies of UAE who will deliver your server within less possible time. Server Basket is the sole online retailer that offers quick shipping to any cities of UAE.
Specification
Additional information
| | |
| --- | --- |
| Brand | Dell |
| Form Factor | 2U Rack |
| Processor | Intel Xeon Processor E5-2600 v4 Product Family |
| Processor Sockets | 2 |
| RAM Type | DDR4 |
| Memory Size | 16GB, 32GB, 4GB, 8GB |
| Memory Slots | 12 |
| Max RAM | 384GB |
| Max Storage | 96TB |
| Hard Drive Bays | Upto 8 x 3.5" Drives |
| Hard Drive Options | SAS HDD, SAS SSD, SATA HDD, SATA SSD |
| PCI Slots | 5 |
| Internal RAID Controllers | PERC H330, PERC H730, PERC H730P, PERC S130 |
| External RAID Controllers | PERC H830 |
| Power Supply | Dual |
| Warranty | 1 Year |
| Remote Management | Yes |
| Supported Remote Management | iDRAC8 Enterprise, iDRAC8 Express, iDRAC8 with Lifecycle Controller |