Dell R620 Server Hard Drives
AED 215 (-5%)
Complete Range Compatible with R620
Expand Your Server Storage
Both SAS & SATA HDDs Available
High RPM & Data Transfer Rates
Best Performing Drives
Highly Competitive Prices
Description
Add More Storage Space to Your Dell PowerEdge R620 Server
Buy Dell HDDs from Server Basket for your Dell PowerEdge R620 Servers if you are looking for upgradation of your present server with larger storage capacity. The hard disk drives are now on sale with huge discounts, and we are even providing a free caddy that not only holds your hard drive but also safeguards it from external damages. It is not the end; Server Basket also provides free installation support, tech support, has an easy replacement policy, and provide free delivery all over the UAE.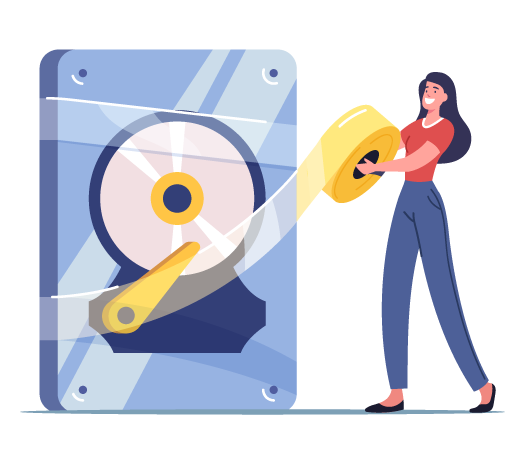 Complete Range Compatible with R620:
A complete range of hard disk drives is compatible with the Dell PowerEdge R620 server. You can choose from 10 drive bay chassis or 8 drive bay chassis. There are multiple hard disk drive options including 300GB, 900GB, 600GB, 1TB, 1.8TB, 1.2TB and 2TB hard drives both in SAS and SATA technology. There is an option to choose from 4 diverse internal storage such as 10 x 2.5 inches drives, 8 x 2.5 inches drives, four 2.5 inches drives plus two 2.5 inches express flash PCIe SSD, and four 2.5 inches drives.
Both SAS & SATA HDDs Available:
The PowerEdge R620 server's Dell HDDs are available with both SAS and SATA in small form factor 2.5 inches such as Dell R620 2G SAS 600GB 2.5 inches SFF 10K Hard Drive in Dell G176J Tray, Dell PowerEdge R620 2TB SAS 2.5 inches 12Gbps 7.2K SFF Hard Drives, Dell R620 12G 300GB Serial Attached SCSI 15K 2.5 inches SFF in Dell G176J Tray Self Encrypting Drive (SED), Dell PowerEdge R620 3G SATA 80GB 2.5 inches SFF 7.2K Hard Drive, etc.
Expand Your Server Storage:
Are you running out of your server storage space? Here is the perfect option for you. You can expand your server storage for up to 10TB of maximum internal storage. Upgrade your Dell PowerEdge R620 server with this Dell HDD to eliminate your compromise on storage issues.
High RPM & Data Transfer Rates:
The Dell PowerEdge R620 rack server hard disk drives are provided with the spindle speed of 7.5k rpm for SATA & near-line SAS, and a rotational speed of 10k and 15k for SAS. The SATA hot-plug SFFs are available with data transfer speeds of 3Gbps and 6Gbps whereas, and the SAS hot-plug SFFs come with 3Gbps, 6Gbps, and 12Gbps of data transfer rates.
Best Performing Drives:
These hard disk drives are the best performing drives for your dell PowerEdge R620 servers. Your servers, if connected to this higher data transfer speed & rpm and with huge storage capacity, enable you to store large amounts of information and help in making computation processes easy. If you are looking for a high-performance server, then upgrade your server with this Dell HDD.
Highly Competitive Prices:
Grab the best deals on every purchase you made with Server Basket, and we make sure that we provide highly competitive prices to our customers without any kind of compromise in providing grade-A quality products. You can compare our Dell hard drives prices with any of the other online sellers, and we are sure of providing the best market valued price.
1 Year Warranty Assurance:
Do you want assurance for your purchases? Then buy from Server Basket. We provide a warranty for all the hard drives we sell on our website. Server Basket provides 1 year of seller warranty for the Dell hard disk drives. You can always come back to us if there is any issue within that warranty period.
Instant and Safe Delivery:
Server Basket offers its clients with prompt shipping throughout the UAE. We ship your Dell HDD immediately after the confirmation of your order along with payment. If you are in a hurry to get your hard drives within no time, then choose us as we provide not only fast delivery but also make sure that the Dell hard drives will reach you safely. To ensure safety, we make industrial-grade packaging for all your purchases made with us.