Dell 2TB 6Gbps 7.2k RPM 3.5″ SAS HDD
AED 340 (-6%)
Dell Certified SAS Hard Disk Drive
Better Than Previous Generation HDDs
Supports Dell Servers & Other Servers
Faster Disk Access
Speedy Read- Write
Firmware Signature To Stop Third-Party Intrusion
Description
Buy Dell 2TB 6Gbps 7.2K 3.5in SAS HDD at Low Price in UAE from Server Basket, Same Day Shipping.
If you want to boost your storage and security of the server, then Dell 2TB 6Gbps 7.2K 3.5 inches SAS HDD is the right choice. These hard drives help to accelerate the efficiency and performance of your business. Get a quick and safe experience with your existing server by switching to Dell 2TB 7.2K 3.5inches SAS hard drives. Buying the server and its components from Server Basket is an ideal choice that helps your business economy. Server Basket provides many features like installation support, 24/7 tech support, presales support, and many other services. By keeping your business requirements in mind, you can customize any components like raid controller, RAM, Memory, Processor, Cores, and other components.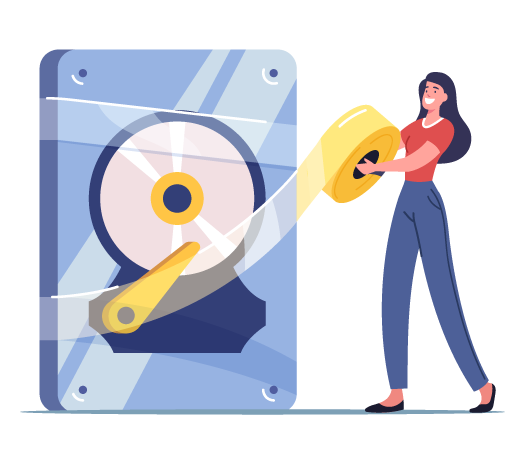 Upgrade Your Dell Server Storage:
If you are looking forward to enhancing storage for your existing server, then Dell 2TB 3.5inches HDD SAS interface hard drives are the ideal choice. It will provide massive storage space to your servers, helps to boost the performance and internal storage of your server. Now tap the power of maximum storage capacity and add more Dell 2TB 6Gbps Sas hdds to your existing sever.
Dell Authorized SAS HDD:
Server Basket is providing the Dell 2TB 6 Gbps SAS HDD hard drives, which are certified products from Dell. We are providing certified hard drives which are thoroughly tested by engineers to ensure the best performance. We understand that genuinity is an important criteria in business and so we will never compromise on our client's trust on us.
High Transfer Rate:
Highlighting SAS, the excellent Dell 2TB 7.2k SAS HDD hard drive is intended to deliver high data transfer speed, as it comes with 600 Mbps specification. It provides a quick and secured data transfer experience within less time. You can experience quicker data transfer compared to your previous generation hard drives with Dell 2TB sas drives.
Speedy Data Access:
Dell 2TB 6Gbps 7.2K SAS HDD hard drives operate on the SAS interface with 6Gbps, which runs at the accelerated speed and allows fast data access. As it offers the SAS interface, it delivers high speed, great performance, and provides full bandwidth to the drives.
Low-Cost SAS HDD:
Replacing spare parts for the server rather than buying a new one will surely save your money. Purchase the Dell 2TB 6Gbps 3.5 inches SAS hard drives from the server basket as we provide the best discounts and affordable prices. You can get a bigger discount if you buy Dell 2TB 6gbps drives in bulk from us.
100% Compatible with Dell Servers:
The best advantage of using Dell 2TB 7.2k 3.5 SAS hard drives is, it is compatible with all the Dell servers. These hard drives support a wide range of servers which include, PowerEdge R240, PowerEdge T440, PowerEdge R730xd, etc and many more.
Best in Class Data Protection:
The Dell 2TB 6Gbps 7.2K 3.5in SAS HDD hard drives allow Instant Scramble Erase (ISE) and digitally signed firmware. It protects your data securely from the third party intrusion. Signed firmware is validated with cryptographic signatures to confirm whether only authentic firmware is running.
Free Remote Installation Help:
You need not worry about the installation of Dell 2TB 6GBPS 3.5inch SAS HDD, as we are providing installation support for free. We provide 24/7 technical assistance and guidelines to maintain the server. For any queries or issues, you can reach us through email, live chat, or call without any hesitation.
1 Year Accessible Warranty:
You can avail one year warranty on the Dell 2TB 3.5in SAS hard disk drives. As we are very confident about the quality, we assure you to provide instant replacement if any damage found. You can claim the warranty in tenure, which starts from the date of installation to complete 1 year.
Delivery Available All Over UAE:
Server Basket delivers the Dell 2TB SAS 7.2k 3.5 HDD to anywhere in UAE. Whether it is Sharjah, Dubai, Ajman, Abu Dhabi, Ras Al Khaimah, or any other corner in UAE, we bring your server at your doorstep. We also cater to the Gulf belt including the countries like Oman, Doha, Qatar and Kuwait. We provide instant delivery within 2 to 3 working days with a safe and secure package. You can avail tracking option while we are shipping your server.