Dell PowerEdge R620 Server Spares
AED 105 (-5%)
Accelerate Your Server with Certified Spares
Intel Xeon E5-2600 or E5-2600 v2 Family Processors
Memory's 4GB, 8GB, 16GB, 32GB, 64GB Available
SAS, SATA SSDs & HDD Hard Drives Available
Fiber and Copper LAN Cards Available
Fully Compatible Redundant Power Supplies
10GbE Ethernet Cards
Safeguard Crucial Data using RAID Controllers
CPU Heatsink X3400 / L3400 Series
Description
Does your Dell R620 server need a makeover to keep up with your growing work demands? In search of a perfect source in the UAE that can sell every spare part your Dell server needs? Server Basket is the most reliable and foremost seller of the branded superior quality server components. We have our warehouse filled with every single hardware your Dell PowerEdge R620 server requires, such as RAM, hard drive, processors, power supplies, LAN cards, RAID controllers, and many more of all configurations and part numbers. Customers of all sizes and all sectors can make use of our spares for their Dell R620 servers to drive and deliver enhanced work efficiency and performance. No matter whatever hardware you need for your Dell R620 server, you can find its exact specification at Server Basket. Our hardware spares are of excellent quality and have undergone numerous testings under the strict supervision of professionals. Contact us today to know more about our affordable prices on the Dell server spares that come along with free installation assistance, iron-clad replacement warranty, and superquick delivery to every nook and corner of the UAE.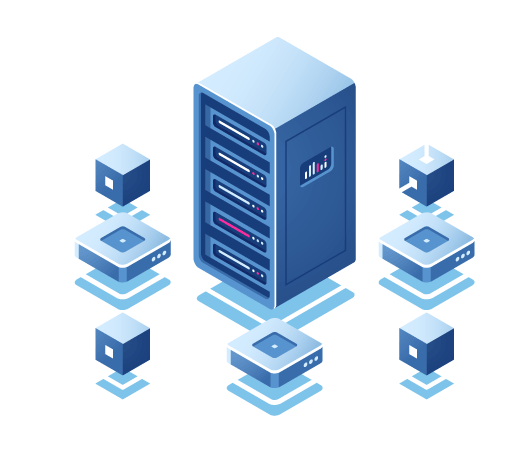 Accelerate Your Server with Certified Spares
Why hang on to older server versions while you can scale up your server easily using our certified spares? Our tested and certified Dell R620 spare parts will accelerate your server's speed, performance, and serviceability to create a finer and much competitive platform for your tedious workloads. On the other hand, choosing to remodel your server with selective spare parts is a better option, both fiscally and ergonomically, than buying a completely new server.
Multiple Options for Expanding Storage (HDDs and SSDs)
Add more drives to your existing storage or replace your old ones with our branded top-notch storage drives to enhance and improve the storage capabilities of your Dell PowerEdge R620 Server. We have all versions of SAS HDDs such as LFF, HFF, and nearline SATA HDDs, SSDs, and other self-encrypting drives. Aforementioned, we avail numerous options to our users, and they can choose one that can perfectly fit the work requirements to help them excel in their fields.
Increase Cores with Powerful CPUs
Do you wish to work on multiple processes without degrading the speed of your Dell R620 server? Our unique cluster of these Intel processors will ideally suit your Dell servers. Amplify your workflows by increasing the core count of your servers with our powerful Intel Xeon E5-2600 series or E5-2600 v2 family processors. These Xeon CPUs tag along with the latest technologies that support multi-tasking and other demanding workloads with much ease and agility.
Wide Range of RAMs for Memory Expansion
Does your Dell R620 server demand more room for better performance of your workflows? Server Basket offers high-quality memory options to your Dell servers with the best DDR3 RAMs of multiple capacities ranging from 2GB to 64GB for speeding up your server processing. Expand your memory the way you desire to enhance the availability and boost up your Dell server's performance with our impeccable memory modules available at the lowest price exclusively for our customers in the UAE.
Fiber and Copper LAN Cards Available
If you are looking for the best LAN cards to support your server networks with better speed and connectivity, then you should definitely go through our certified spares for the Dell PowerEdge R620 server. We have fiber and copper 10G LAN cards of all part numbers abundantly in stock to deliver great performance with very low latency and better throughput. These low-cost LAN cards consume less power and get more work done once affixed to your Dell server.
Safeguard Crucial Data using RAID Controllers
Are you planning to add an extra layer of security to your stored data? Maneuver your Dell R620 servers with the finest RAID cards to shield your crucial data and files from unprecedented damage, downdrifts, and failures. At Server Basket, you can find numerous RAID controller cards, including PERC S110, PERC H310, PERC H710, PERC H710P, and PERC H810, to safeguard your data and improve the performance and redundancy of your Dell R620 hard drives.
Fully Compatible Redundant Power Supplies
Do you prefer a more reliable power supply for your prevailing Dell PowerEdge R620 server? We have an eminent collection of energy-efficient hot-swap power supplies inclusive of 495W, 750W, or 1100W that are extremely redundant, showering compatibility beyond imagination. Execute your works more effectively using the power supplies enriched with titanium efficiency and auto-ranging platinum efficiency. Energize your servers, save your energy costs, and access your data at all times without any fear of unexpected downtimes.
Free Installation Assistance for Any Spare
Are you worried that you might mess up installing the spare in your Dell R620 server? Server Basket has a team of technical experts who have hands-on experience dealing with every single part of the Dell R620 servers. They will guide you through the entire installation procedure, ensuring that the spares are free from any static damage that might have occurred. Our team will clear your doubts, if any, and confirm that the server spares are installed perfectly.
Standard Replacement Warranty
Our standard warranty deals are as reliable and as flawless as our servers are. You have our word on the Dell R620 server spare's perfect functioning in the stipulated warranty period. Any sort of issues, either physical or functional, you face in this span will be taken care of by us without leaving any marks behind. You will be compensated with an immediate replacement of the faulty part at its earliest so that your workflow is not hampered.
Expand Configuration At Affordable Price
Do you want to scale up your Dell Poweredge R620 server configuration with minimal investments? Invest your money in our affordable and reasonably priced Dell R620 spares to quickly step into a better configuration and support your workloads. Server Basket offers the best economic prices compared to any other merchant in the UAE market. Each spare part will be specced and priced with utmost care so that the customers receive nothing but the best from us.
Prompt & Safe Delivery Across UAE:
Experience the speed like never before. Server Basket values your time and promises the delivery of your ordered server spares as soon as possible. We have our tie-ups with the most dedicated delivery agents who will drop-ship the Dell R620 spares at your preferred destination in no later than 3 days. A securely packed and sealed parcel of the spare parts will be at your doorstep before the specified time, irrespective of the place you live in the UAE.