Servers for VMware Hosting Providers
AED 6,350 (-5%)
Powerful Servers Built for Vmware Hosting
Customized Servers with Certified Hardware
Tier 4 Data Center Based Co-location Services
Multiple Pre Designed Configurations
Earn Quick Returns with Low Investment
Reduce IT Costs with Our Managed Services
Affordable Rental Plans for Hosting Providers
Description
Are you a VMware hosting provider and looking for a power-packed server to support your workflows? Do you need a cost-effective way to suffice your growing needs? Server Basket is here to deal with your necessities. We offer proven management services to our customers that help them to cut down their IT expenses and improve their returns to a huge amount. Also, we provide co-location services using fault-tolerant servers built on super sturdy tier 4 data centres to proffer uninterrupted support to your high-end workflows. On top of that, you can find both pre-designed and customizable servers from the popular brands at Server Basket. This cluster of industry-renowned servers is available for renting, buying, or co-locating at Server Basket to provide efficacious VMware hosting for your clients. You can absolutely expect uninterrupted performance and uptime from our servers at all possible times. Constant technical support and full-time monitoring will be provided to all our users by an incredible technical team. Get in touch with us to get hold of our servers and services at the most affordable prices and be the recipient of an infallible replacement warranty and super-secure delivery facilities.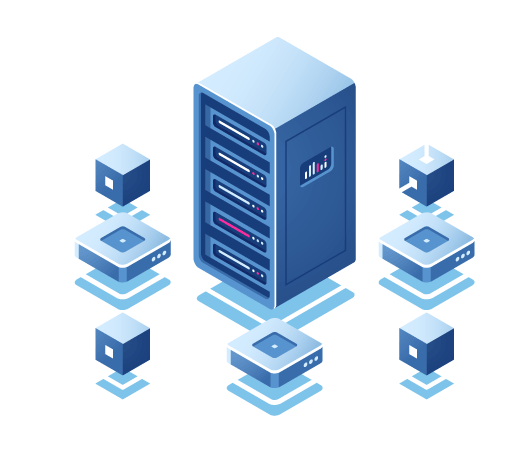 Powerful Servers Built for Vmware Hosting
In search of robust servers for your Vmware hosting? Take a look at the magnificent collection of our 'A' quality servers that are specially built for handling your client traffic and supporting your tedious work activities. Our servers are enriched with impeccable memory modules, eminent storage drives, redundant power supplies, mighty ethernet cards, and an ability to support multiple OS. All these together create a perfect alongside a powerful server platform for providing an undeniable VMware hosting environment.
Customized Servers with Certified Hardware
If you want to buy or rent a server with the exact specifications you desire, you can find no better place than the Server Basket. Our services include customizing the server you wish with the same hardware and software you require. Upon customization, they will be subjected to multiple tests in tangled work conditions under the supervision of industrial experts. Those servers that have passed these rigorous tests will be certified and then set out for packaging.
Tier 4 Data Center Based Co-location Services
Do you want to co-locate your servers to a sturdy platform that can offer uninterrupted services to your VMware hosting customers? Every server you choose to co-locate at Server Basket is built on the tier 4 data centres and shows high tolerance towards any work condition. We build the server with the best hardware and software to offer better power, security, performance, and uptime to your resources at all times. Our co-location services are highly authentic and completely trustworthy.
Multiple Pre Designed Configurations
In need of a powerful server immediately? Take a look at our pre-designed server configurations that are engineered with the most compelling in-demand hardware components of all capacities and part numbers, ready for deployment. We are the proud sellers of renowned servers of multiple configurations you could ever find in the entire UAE. Our collection of pre-configured server versions can undoubtedly resist all tough work environments to deliver the high performance and efficiency you anticipate.
Earn Quick Returns with Low Investment
Are you planning to improve your VMware hosting business for better returns? Switch to Server Basket as we have excellent servers that offer better performance, speed, and productivity to your business with minimal downtime. Our enterprise-level servers are highly affordable, effective and are capable of effortlessly boosting up your workflows significantly in less amount of time. Several users, including VMware hosting providers, can certainly earn better returns with low investments by renting or buying our eminent servers.
Reduce IT Costs with Our Managed Services
Want to minimize your IT expenditure? Tie up with Server Basket to relish the benefits of managed services. Our technical experts will take care of all your server resources, starting from setup or provisioning to performing security audits inclusive of everyday management tasks, updating your server and OS whenever needed, securing the servers, regular data backups, monitoring server resources, and many others. This can drastically reduce your IT costs and avail you of burden-less server management.
Affordable Rental Plans for Hosting Providers
If you are looking for a reliable platform that can offer you cost-effective server rental plans for successfully providing VMware hosting to your clients, then you should definitely take a look at our affordable rental plans. Users can scale up the configuration of these servers you rent whenever their work demands. We come up with the most reasonable rental plans on all our high-end servers that allow users to work productively to deliver efficient outcomes.
Assured Hardware Replacement Warranty
Do you want a server that guarantees flawless functioning for more extended time periods? Server Basket is the best choice for you as we avail of strict replacement warranty schemes on each of our servers. In case you face any issues with the server functionality in the given warranty period, we will provide you with an immediate replacement of the faulty hardware with genuine spare parts as soon as we can so that your workflow is not disturbed.
Fast Delivery with Secure Multilevel Packing
Are you tired of late server deliveries? Well, that won't happen with Server Basket as we offer prompt delivery of the servers you buy in the least possible time, letting you work on VMware hosting without delays. We pack the server in multiple protective layers and seal this package before its dispatch. Our reliable delivery agents will make sure that the server is reached at its correct address in its perfect shape in less than 3 working days.
Pro-Active Team for 24/7 Remote Support
We strive to provide you with a better server user experience. Server Basket has a group of technical experts who will be on their toes to help you with any issues or concerns you might have. Each of our technical experts is trained to handle the servers of any configuration and generation. Our highly attentive team will be available 24/7 to cater to your requirements. You can contact us through call, WhatsApp, LiveChat, or email for an immediate response.