AED 5,555 (-10%)
Customize Hardware as per Application Requirements
End to End Managed Services
Colocate at our Data Centres
Upgrade Servers at any time
Create DC Infrastructure at Your Premises
Affordable Solutions for Virtualization
Description
Are you interested in buying a custom server that is specially built for your workspace? Why compromise with the server configuration when you can get exactly what you need? Server Basket offers customized servers to its users which helps to boost the work performance and efficiency by accommodating demanding hardware systems in the custom rack servers. Users can upgrade our custom-built servers with minimal efforts. Our services are not confined to customization alone. We provide end-to-end management solutions as well as colocation services for your comfort. We have custom dedicated servers to augment your virtual workloads and create an ergonomic data center infrastructure in your IT environment. Businesses, start-ups, firms, and organizations have rapidly growing needs that can be handled by our custom storage servers. 24-hour testing is performed on all our high-quality servers with the help of advanced stress testing software to prove their sturdiness. Get in touch with us to know all about our server deals and bag a redundant server that justifies your works and budget as well. Along with our custom servers, we provide free installation support and a trusted warranty deal to all our users.
Colocate at our Data Centres
Does your office lack technical staff to maintain your servers? Utilize our colocation services for the safe and smooth operation of your workflows. You can have your servers located in multiple areas at our data centers and enjoy the exceptional performance you anticipate from your custom-built servers. You can easily scale up your custom servers that offer ideal bandwidth and uptimes with the most predictable and reasonable expenses by co-locating your servers at our data centers.
Upgrade Servers at any time
If you are in search of scalable and flexible custom server solutions for your workloads, then we are here for you. Our custom-built servers give you the chance to easily upgrade the hardware and software with your growing workloads. These effortless technical revamp helps our clients to stay competitive by achieving the faster innovation they need. You can leverage huge information and manage your data constantly using better upgrades on our customized servers.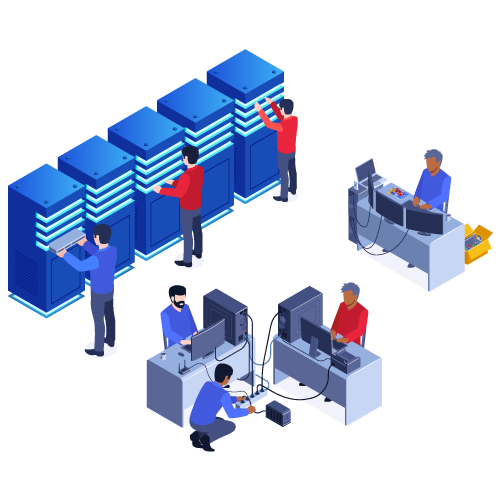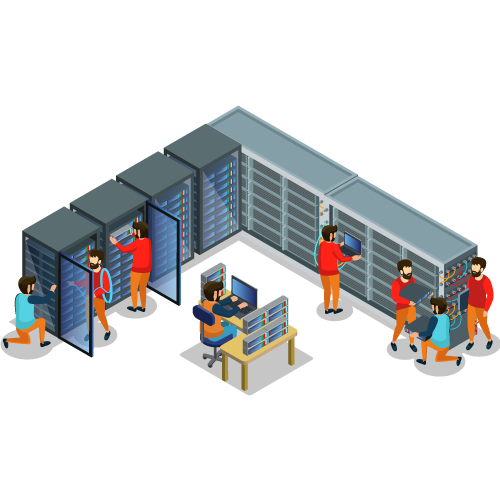 Create DC Infrastructure at Your Premises
Server Basket helps you create a DC infrastructure at your own premises using custom dedicated servers and custom rack mount servers considering your organizational goals. We can help you model a software-defined workplace that is agile and smart enough to allocate the resources depending on the workloads. Our team of qualified engineers will deploy the necessary hardware and software ably providing outstanding facilities such as guaranteed power backups, security, bandwidth, etc., along with our custom server solutions.
Affordable Solutions for Virtualization
Do you plan on improving your work productivity using virtualization technology? You can simplify your data management while increasing the capability of your works using our custom servers designed for virtualization. Server Basket avails numerous custom-built servers with a huge number of upgrades to balance loads effectively with uninterrupted availability for all your virtual machines. Loaded with hypervisors and ideal hardware, these custom servers help your OS and virtual platforms with affordable virtualization solutions.
Customized Storage Servers
Are you looking for an efficient custom storage server that can cater to your growing volume of business requirements? Improve your business processes by taking advantage of our custom storage servers that are tailored to keep your storage demands in check. You can future proof your organization with our custom-built servers that offer high-performance, unquestionable reliability, and flexibility. IT firms or businesses can make the best out of our custom storage solutions to enhance their work efficiency.
Quality Certified Servers with High Redundancy
If you are expecting a high-quality redundant custom server from us, then you are certainly true. Server Basket offers top-notch custom-built servers that are furnished with reliable backups to make use of unexpected data strikes and downtimes. Our customized servers are tested in both regular and burn-in conditions under strict supervision to ensure their affinity to any work situations. All the high-end servers we sell are certified for their exceptional quality and data-secure functionality.
Free Hardware Installation Support
Do you need a little help with hardware installation? We are at hand to provide you with any assistance you need. We have a team of technical engineers who have significant experience dealing with all types of customized servers. They will carefully guide you through the whole installation process and also clear your doubts. We don't charge any money for the help we provide. Our sole purpose is to offer a comfortable journey for our customers with Server Basket.
Everything Covered Under Warranty
Server Basket abides by the rules. Take a look at the assured warranty plans we offer on each of our custom servers. Our unique and strict warranty plans ensure that users will not encounter any issues with the custom servers they buy from us in the stipulated warranty period. If they face any issue with the functionality of the hardware components, we offer an immediate replacement of the faulty hardware with genuine spare parts as soon as possible.