Refurbished Dell 900GB SAS HDD
AED 393 (-10%)
Suitable for Dell PowerEdge Servers
Save Money on Top Quality SAS HDD
Rigorously Tested & Certified
High Data Transfer & Spindle Speeds
Best Price in Market
Avail Installation Guidance
Description
Boost your Server Storage Performance with the Refurbished Dell 900GB SAS HDD
For optimum server operation, it is mandatory to get the right storage. Factors such as capacity, form factor, speed and interface should be considered while buying the HDDs. Looking at different business needs, we suggest that 900GB SAS HDD is the best upgrade that you can gift your business. If you are a business that has eCommerce, banking transactions and other such high availability requirements, then 900GB SAS HDD is worth the buy. The refurbished Dell 900GB SAS HDD is not only best in terms of capacity and speed but also comes at a very lowest price. Buy from Server Basket to get heavy discounts, free installation guidance, warranty period and continuous support.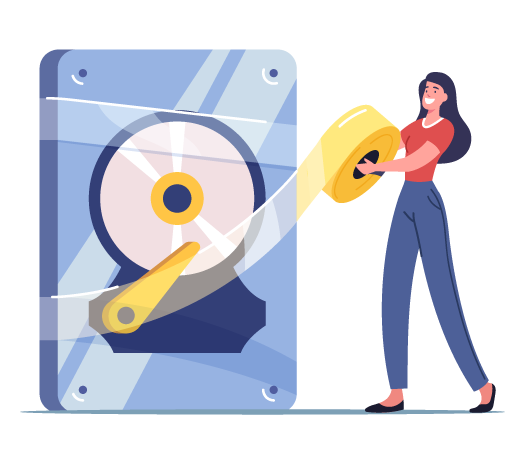 Suitable for Dell PowerEdge Servers:
The refurbished Dell 900GB SAS HDD comes in 2.5" form factors. The 900GB capacity hard disk drive not only outfits your business demands but is highly compatible with all the Dell PowerEdge servers. Install on Dell PowerEdge T440, M820, T630, C6320 and many other servers and enhance the capacity and speed of your servers.
Save Money on Top Quality SAS HDD:
To speed up your website and create the best networking environment, you should use the high-quality hard disk drive. The 6 Gb/s SAS interface is the best hard disk drive that not only offers higher performance but saves a lot of your investment cost. The refurbished 900 GB SAS HDD comes at a fraction of the cost of a new SAS HDD.
Rigorously Tested & Certified:
The refurbished 900GB SAS HDD is a fully wiped HDD with no bad sectors. The SAS HDD undergoes a range of qualification tests so that you can run your business smoothly and efficiently. The rigorously tested hard disk drive is free from any OS and firmware incompatibilities. And for this very reason, it comes with a warrantied Dell certification.
High Data Transfer & Spindle Speeds:
The low-cost refurbished 900GB GB SAS HDD is engineered with 10K RPM spindle speed and 6Gbps data transfer rate. This allows your server to read/write data at a very faster rate. The higher spindle speed allows you to unlock your server's full potential and increase its responsiveness. With the affordable 900GB Refurb SAS HDD, your users can access data at a faster rate.
Best Price in Market:
Increase your server processing speed with the lower-priced 900GB SAS HDD. Whether you need a single hard disk drive or in bulk, get unimaginably higher discounts like nowhere else. Trust us, we offer the highest quality 900GB SAS HDD at the best price in the market.
Avail Installation Guidance:
With us, get personalized guidance and comprehensive support during Hard disk drive installation. While installing the server hard disk drive, you need to follow basic technicalities as it helps to enhance your server performance further. Our technical executives would provide you with remote installation help and test your server to ensure that the product is properly installed.
90 Days SB Warranty:
Due to rigorous testing processes, the Refurbished 900GB SAS HDD is free from any material defects. It is redesigned as such that it has a longer life span. We help you run your server without any inefficiencies by offering instant replacement during any SAS HDD failure. During any hardware failure, we provide you with a proactive response, continued support and necessary replacement during the warranty period.
Quick & Secure Delivery:
Thanks to our efficient logistics partners and their wide network in UAE, it helps us to reach our customers at the least possible time. Whether you are located in busy cities of UAE like Dubai, Sharjah, Fujairah, Al Ain, Abu Dhabi or some rural place, we promise to deliver your Refurbished 900GB SAS HDD at very little time with no extra freight charges.