8GB DDR4 RAM For Dell, HP, IBM, Cisco, Fujitsu Servers
AED 189 (-10%)
8GB DDR4 RAM
Supports All Brand Servers
Capacity: 8GB
Bus Speed: 3200 MHz
Faster Memory Speed
7 Days Return Back Policy
Description
Buy 8GB DDR4 RAM For Dell, HP, IBM, Cisco, Fujitsu Servers At Lowest Price In UAE With 1-Year & 90 Days Warranty
Are your heavy applications taking time to load? Are you facing latency issues with your Server? Then its high-time to supercharge your server with the 8GB DDR4 RAM. Why buy a new server, when you can replace the RAM and enhance the overall server performance? Server Basket sells only genuine DDR4 RAM of branded companies. Our genuine and Grade "A" quality memory modules allow the system to run to its full potential. Our affordable RAMs are best for running memory-intensive applications. The RAMs are engineered with various speed, memory module types, and the latest technology. With us, you get higher product reliability, a 7-days return policy option, quick delivery services, free installation assistance, and higher discounts. Trust us, you won't get 8GB DDR4 RAM anywhere in UAE at such lower prices.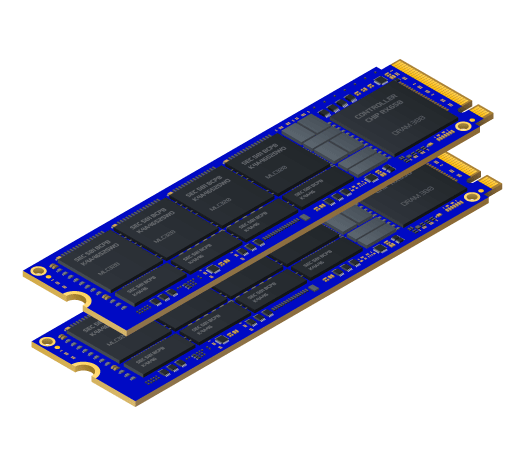 Expand Your Server RAM:
Pack more memory into your server, as the DDR4 memory comes with memory storage of 8GB. With more capacity, you can now run demanding applications such as virtualization, high-end computing, Big-data analytics without any latency issue. Expanding the RAM of your old server enhances the overall performance of the server, thus helping you to meet everyday workloads with great ease.
All Brands Listed with Part Numbers:
Server Basket has an available stock of all major DDR4 RAM brands. You can now easily buy the top brands like Dell, HP, IBM, Kingston, Samsung RAM brands in UAE at one single place. We have various memory modules like UDIMM, RDIMM, LRDIMM with varied bus speed. Our website showcases various brands with part numbers of 8GB DDR4 like KVR16LE11/8, KVR21N15S8/4, M471A1K43BB1-CRC, etc. If you know the part number, you can easily search the affordable RAMs of your choice.
Upgrade Any Brand Server:
More Power to Handle Multi-Tasking:
If you do not have enough RAM to run your business workloads, then it may lead to freezing, slowdowns, crashing, and other needless frustration. Solve your latency issue by upgrading your legacy server with the 8GB DDR4 RAM. The higher capacity, speed, and latest technology of DDR4 RAM allow the server to run multiple applications without any delay.
Enterprise-Grade RAMs:
Server Basket is a renowned retailer of different memory modules in the UAE. We sell only genuine and branded memory modules. Our enterprise-grade RAMs are engineered to offer higher performance, reliability, availability, and agility. The RAMs come at a very lower market price and have an extended lifespan. The 8GB DDR4 RAM is designed to increase your business productivity while reducing your total cost of ownership.
Faster Memory Speeds:
The highly affordable 8GB DDR4 RAM comes with increased bandwidth. The memory module comes in a wide bus speed range, such as 1600, 1866, 2133, 2400, 2666, 2933, and 3200MHz. Depending on your application, you can choose the RAM speed range you want. The various memory speeds allow your server to process massive workloads easily.
7 Days Easy Return Policy:
Tensed whether the product configuration is compatible with the server or not? Then don't worry as we offer a standard return window. If you are not satisfied with the 8GB DDR4 RAM, then you can return the product within 7 days of the purchase. We assure you that as soon as you return the product, your complete amount will be refunded.
Free Installation Support:
RAM installation is a very crucial aspect. From handling the 8GB DDR4 RAM, till installation, you need to follow the proper guidelines. That is why we are here to provide you with complete installation assistance. Server Basket believes in offering great customer satisfaction, and so we offer installation support for Free.
Iron Clad Warranty:
If the DDR4 RAM doesn't perform to your satisfaction or if the product behaves erratically, then we are available 24/7 to give you support. New RAMs are backed by 1-year warranty whereas for the 8GB used DDR4 RAMs the warranty is valid for up to 90 days from the date of purchase. During the warranty period, if you face any issue with the memory module, then you have the right to claim for a free replacement from Server Basket.
Instant & Safe Delivery in UAE:
We are backed by an innovative logistic solution that helps us to deliver the RAM anywhere in UAE, within very less time. Even if you are located in Umm AI Quwain, Sharjah, Fujairah, Dubai, Ajman, AI Ain, Abu Dhabi, or any other places of UAE, we assure you to provide safe delivery of RAM within 2-3 business days.