2.5″ to 3.5″ Hard Drive Plastic Caddy Tray Converter
AED 95 (-5%)
Compatible with all 2.5" Drives
Suitable for HDD's and SDD's
Free Screws Provided
Easy to install SFF Drives in LFF Servers
Light Weight and Durable
Enhance Storage at Low Price
Description
Are you planning to upgrade your server storage with lesser investments? Do you want a plastic caddy tray converter for your SFF drives? If yes, then spare a few minutes to consider the 2.5″ to 3.5″ hard drive plastic caddy tray with converters available at server basket for any of your branded servers. We have a wide range of tested caddy converters ready to support and protect your HDD or SSD drives. The lightweight plastic material holds the hard drive without any gaps. Our users are provided with free screws to help them effortlessly mount the hard drive in the converter. The plastic caddy tray converter protects the hard drive from any disturbances and cools the drive, which improves the longevity of the storage drive being used. Expand your server storage without spending a huge amount on LFF drives. Server basket has numerous caddy tray converters to mount your SFF drives in LFF servers helping you boost your storage in the most cost-efficient and convenient way possible. Get in touch with us now to buy a perfect caddy converter for your SFF hard drive and get your order delivered at your doorstep before you even know it.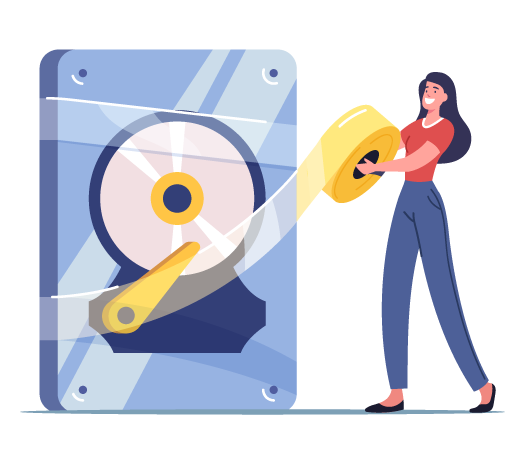 Compatible with all 2.5" Drives:
Do you want to upgrade your server storage? Take a look at our sturdy plastic caddy tray converters that can efficiently support and convert all your 2.5″ hard drives such that they can be easily installed into LFF servers. These caddy converters show high compatibility with SFF hard drives. They assure a fast and firm connection with the hard disk drive and deliver great functionality when installed in the 3.5-inch server bay.
Suitable for HDD's and SDD's:
Looking for a caddy converter for your SSD and HDD drives? Built with the finest plastic material, this 2.5″ to 3.5″ caddy tray with a converter can be ideally used either for your HDD or SSD drives of both SAS and SATA interfaces. Anyone who plans on improving their server storage performance without investing much can opt for these caddy tray converters to get their work done without any issues.
Free Screws Provided:
Server Basket cares about your comfort. Fitting the hard drive imperfectly in the converter might affect the functionality of the drive, and it also becomes impossible to fit in the server bay. To spare our users from these time-consuming efforts, we offer free screws to all our customers who order caddy tray converters from us. These screws help users to fix the drive within the converter without any mistakes, and this helps in mounting it freely in the server bay.
Easy to install SFF Drives in LFF Servers:
Are you planning on installing your 2.5″ hard drives in servers with 3.5″ servers? Then the plastic caddy tray converters can help you in transforming your SFF drives and install them in LFF servers without any issues. The plastic converters we offer are of top quality and are rigid enough and show high resistance against any deformations and cannot be deformed easily. So, users can completely rely on these converters for transforming their SFF drives to LFF drives.
Light Weight and Durable:
If you are in search of durable converters that offer firm support to your drives, then you have to consider the 2.5″ to 3.5″ caddy tray converters that are made of plastic. The plastic helps in protecting the hard drive against noise and vibrations generated while the server is running. These caddy converters are lightweight, sturdy, and effectively cools your hard disk drive. Henceforth, the hard drive undoubtedly becomes highly durable and tough.
Enhance Storage at Low Price:
Why invest more in LFF drives when you can easily enhance your server storage with 2.5″ drives using the 2.5″ to 3.5″ caddy tray converters? Server Basket has the finest collection of perfectly functioning caddy converters which guarantee long-lasting storage upgrades with minimum expenditure. Users can enjoy enhanced storage features at low costs using these rigid plastic caddy tray converters.
Caddies Available for all Brand Servers:
No matter whichever brand server you use, we have 2.5-inch to 2.5″ caddy trays with converters that can be efficiently installed in a wide range of servers. All individuals and people running firms/data centers that maintain multiple brands servers can find their ideal 2.5″ to 3.5″ caddy tray converters at Server Basket. We sell plastic caddy converters for Dell, Cisco, HP, Fujitsu, and IBM Servers. We have converters that perfectly fit in any server bay and protect the hard drive from damage.
Fast Shipping All Over UAE:
Want to experience a hassle-free delivery? Server basket never puts you through any irksome waiting. We offer prompt delivery of our orders all across Dubai, including Abu Dhabi, Dubai, Ajman, Sharjah, Fujairah, etc. We pack the tested 2.5″ plastic caddy converters in a secured package and dispatch the order, the minute you place the order. Our experienced delivery team makes sure you receive your order within 2-3 days.