Used Dell PERC H710 Raid Controller
AED 539 (-5%)
Used Dell PERC H710 Raid Card
32 HDDs & SSDs Drives
Interface: SAS & SATA
RAID Levels: 0,1,5,6,10,50,60
Data Transfer Rate: 6Gbps
Cache Memory: 512MB
Description
Used Dell PERC H710 RAID Controller For Dell R420, R520, R620, R720 Servers with 90 Days Warranty
Want to expand your server storage while creating data redundancy but have budget-constraints? Want to make all the hard drive of your dell server to protect data from unexpected loss and speed up their performance? Then you are on the right website. Buy Dell PERC H710 RAID Controller from Server Basket at the very lowest price. The used Dell H710 Raid Controllers provides higher server RAID performance for multimedia and database applications. Being a refurbished controller, Dell PERC H710 comes at a fraction of the price when compared to a new RAID card. When you buy it from Server Basket, you get more discounts on the refurbished MRP, free installation assistance, option to return back the raid card within 7 days, and 90-day product warranty.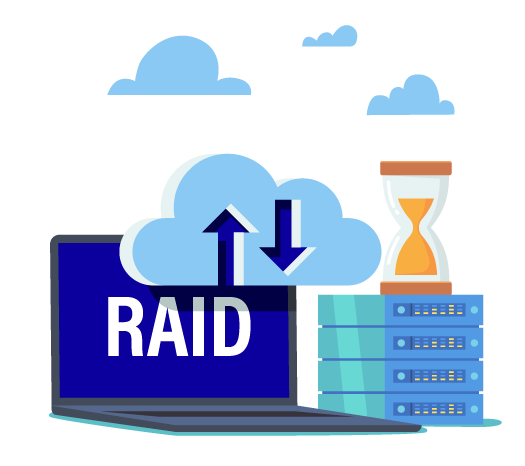 Designed for Dell PowerEdge Servers:
Dell PERC H710 Raid Controller is engineered with advanced software options, enterprise data protection, and intuitive RAID management utility that is ideal for Dell PowerEdge Servers. The low-cost used Dell H710 RAID card is compatible with the rack, tower, and blade servers of all generations. Connect Dell H710 to R520, R620, R720, T30, T40, M630, M640, M830, etc. and experience higher data performance.
Intuitive RAID Management Utility:
The highly affordable used/refurbished Dell PERC H710 RAID controller comes embedded with a collection of tools and applications. Dell offers varied online RAID management and pre-boot setup utility. These utilities allow you to adjust SATA or SAS topology views from the system controller, disk enclosure, and system host down to the physical drive level. The tools during enterprise deployments help to configure, manage, and monitor RAID volumes locally or on the LAN network.
Up to 6Gbps Data Transfer Rate:
Enhance throughput of your storage drives as Dell PERC H710 RAID card allows the applications to read and write data from multiple drives simultaneously. With a data transfer rate of 6Gbps per port, you will never face latency issues while the applications are stored and processed.
Great Support for Various RAID Levels:
With the enterprise-class data protection facility, you receive standard support for all RAID levels. The protection for RAID 5, RAID 6, RAID 60, RAID 50, and NVCache improved the data protection capacity of refurbished Dell PERC H710 Raid Cards. During the power loss event, The NVCache backs up the data to non-volatile storage and keeps it safe for an unlimited period.
Enterprise Level Data Protection:
Dell PERC H710 RAID controller comes with a range of data protection features that includes SED drive support, consistency checks for background data integrity, auto-resume options after power loss. The RAID card also offers fast initialization features for quick array setup, SSD support, S.M.A.R.T support, and many more.
Supports Self Encrypting Drives:
The low-cost Dell H710 RAID controller is the best choice for enterprise-class applications as it supports SEDs. Self-encrypting drives automatically encrypt and decrypt your crucial data from the media. The best security feature of SED is that the encryption key is not saved in the memory of OS rather on the disk, which makes the key, less exposed to any theft.
7 Days Easy Returns:
Not sure whether the RAID card will fit your business needs? Buy the RAID card from Server Basket and get the option of "7-days Easy Returns". If the RAID card is not compatible with your business needs, then you can raise the return request within 7-days from the purchase date.
Free Remote Installation:
We will never leave you alone in your business journey. That is why we offer free RAID card remote installation assistance. The installation guidance is provided by our experts. They would provide you step by step guidance until your Dell PERC H710 RAID controllers are successfully installed and running.
Instant Shipping Across UAE:
We understand your urgent need for RAID cards, and so we make it our business to support your business. For this very reason, we have partnered with the best shipping companies all over the UAE. Even if we face any shipping challenges, we guarantee to deliver the product within 2-3 business days. Get the used Dell PERC H710 RAID card at Dubai, Ajman, Abu Dhabi, Sharjah, Fujairah, etc. within a short time.
90 Day Warranty:
Our refurbished Dell PERC H710 RAID Controller is highly reliable. To provide you the assurance, we sell the RAID controller with a 90 days warranty period. The RAID card has a good shelf life. If, for any reason, you face any issue with the controller, then we assure you to offer repairs or replacement within 90 days from the date of purchase.