Refurbished HP Proliant DL380p Gen8 Rack Server
AED 3,085 (-10%)
Efficient 2U Rack Server
Customizable HP ProLiant DL380p Gen8 Rack Server
Processors: Intel Xeon E5-2600 & E5-2600 v2 Family Processors
Storage: 32 TB Max Storage
Memory: 768 GB Max Memory
Certified Refurbished Server
Memory Slots: 24 DIMMs
Description
Are you looking for high-quality servers to support your growing business and data center requirements? Do you want a server that offers easy and flexible management features? Server Basket propounds the refurbished HP ProLiant DL380 Gen8 rack servers that proffer enterprise-level capabilities to your workflows with a multitude of new management tools to handle any sort of work with ease. This server is tailored to offer energy-efficient solutions with escalated performance and reliability. We have in-stock both customizable and pre-designed servers that are refurbished with 'A' quality server spares. Server Basket has a cluster of these refurbished HP DL380p Gen8 servers that are tested to their core to check their capability of handling variable ranges of workloads. So, you don't have to worry about the quality of our servers. Each one of them is priced reasonably, and these prices will be updated quite often to avail users of the best values. Contact us to know more about these HP DL380p Gen8 servers. You can buy these at the most affordable prices alongside enjoying the benefits of a one-year warranty, technical and installation support, and quick delivery services to customers in the UAE.
HP ProLiant DL380p Rack Server Gen8 (12 LFF / 24 LFF) Pricing List:
SERVER PLAN
PROCESSOR
RAM
STORAGE
PRICE
HP ProLiant DL380p Rack Server Gen8 Server
(Basic)
20 Core / 40 vCPU ( Dual Intel Xeon E5-2670 v2 / 2.50 GHz)
64GB DDR3
2 x 600 GB 2.5/3.5-inch SAS HDD (1.2 TB)
HP ProLiant DL380p Rack Server Gen8 Server
(Standard)
20 Core / 40 vCPU ( Dual Intel Xeon E5-2670 v2 / 2.50 GHz)
128GB DDR3
2 x 600 GB 2.5/3.5-inch SAS HDD (1.2 TB)
HP ProLiant DL380p Rack Server Gen8 Server
(Reliable)
24 Core / 48 vCPU ( Dual Intel Xeon E5-2696 v2 / 2.50 GHz)
256GB DDR3
2 x 600 GB 2.5/3.5-inch SAS HDD (1.2 TB)
HP ProLiant DL380p Rack Server Gen8 Server
(Powerful)
24 Core / 48 vCPU ( Dual Intel Xeon E5-2696 v2 / 2.50 GHz)
384GB DDR3
2 x 600 GB 2.5/3.5-inch SAS HDD (1.2 TB)
Ideal for SMBs and Data Centers
Renovate your data centers and small or middle-sized business centers with these super-effective HP DL380p Gen8 servers to experience a performance you've never seen before. These ProLiant servers are equipped with the most attractive and best-in-class memory, storage, power supplies, and other hardware components to establish an ideal work environment for you. You can work for longer durations without any disturbances and interruptions by installing these HP Gen8 servers in your offices and data centers.
iLO enabled for Server Management
Are you planning to own a server that allows you to work from any place in the world? Check out our HP DL380p server that is configured with the latest HP Integrated Lights-Out technology using which you can power-up, reset, access your server resources, managing and maintaining the server remotely at all possible times. On top of that, this iLO enabled server management complies with numerous program interfaces for its effective interaction on a regular basis.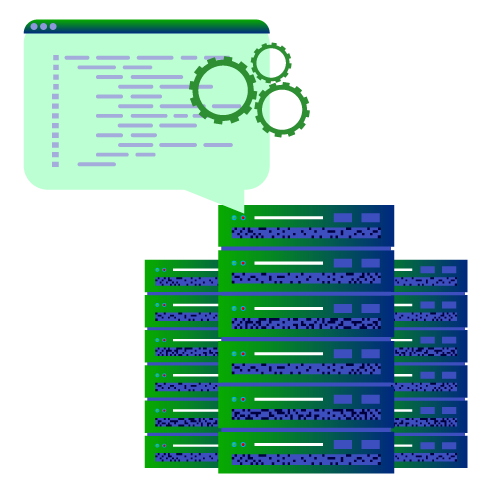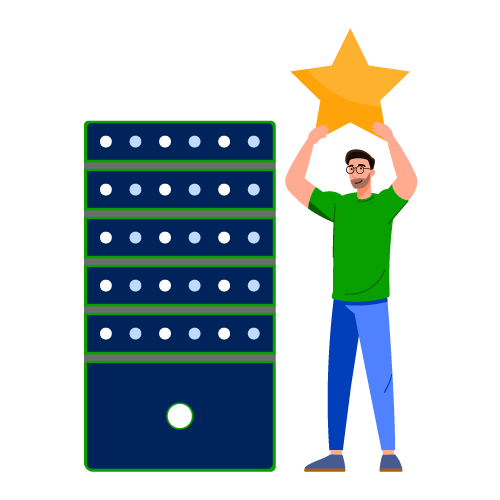 Supports Intel E5-2600 & E5-2600 v2 Family Processors
Improve the processing power of your diversified applications and workloads by replacing your age-old servers with these magnificent HP DL380p Gen8 servers that are engineered with the eminent Intel E5-2600 and E5-2600 v2 family processors. These processors are enriched with the most advanced technologies such as hyper-threading and turbo boost, and many other virtualization technologies to support your high-end applications and tangled workloads on both server and virtual environments with better speed, competence, power, and security.
Grade "A" Quality 2U Rack Server
The HP DL380p Gen8 server has the best memory for heavy applications and rich storage options for your data-intensive workloads. This is a grade 'A' quality 2U rack server that is specially designed to fulfill the requirements of both small and large data centers. Users can undoubtedly rely on these high-performance servers for their growing business needs. We guarantee you that our servers will offer a long life span alongside better productivity and efficiency to your typical workflows.
Designed for Energy Efficiency
Do you want to own a server that offers greater power and performance with enhanced energy efficiency? Then choose our refurbished HP DL380p Gen8 server as it comes along with efficient power supplies, real-time performance measurement, advanced power management features, and lower energy consumption in both the active and idle working states. These HP Servers consume up to 30% less energy compared to other server models, no matter whichever work environment you use them in.
Customized Configuration Servers Available
At Server Basket, you don't have to compromise on anything. We have numerous pre-designed HP DL380p Gen8 servers that are configured with the latest hardware components. We also customize the servers with the best processors, memory modules, storage drives with the capacity you desire based on your work requirements. Upon configuring the server, a quotation will be provided to you. If you are comfortable with the quote we've provided, we can take the process to the next level.
Professional Tech and Installation Support
Need any help with the servers? We strive in all possible ways to cater to your requirements. Server Basket's technical team is just a call or text away. Our talented technicians have complete knowledge about these HP DL380p servers and will help you with the whole installation process. Remote technical support will be provided to all our customers where you can clear all your doubts and concerns related to the functionality of your HP DL380p Gen8 servers.
1 Year Assured Seller Warranty
Are you looking for servers that are backed up by a reliable warranty? Every refurbished HP DL380p Gen8 server you buy from Server Basket is backed up by an infallible seller warranty of one year. If you encounter any form of dysfunctionality or physical damage with any server part under this one-year warranty period, the faulty hardware will be replaced with genuine spare parts. We will make sure that the replacement reaches your workplace without any delay.
Fast & Secure Delivery to Any Location in UAE
Do you want to get your server delivered immediately? Rely on us as we offer prompt delivery services to the customers in the safest possible way. The HP DL380p Gen8 servers will be packed in multiple layers and tightly sealed before their dispatch. Our trustworthy delivery agents will drop-ship the server to your desired destination in 2-3 working days wherever you live in and around Dubai, Sharjah, Ajman, Al Ain, Abu Dhabi, Fujairah, and any place in the UAE.

Specification
Additional information
| | |
| --- | --- |
| Brand | HP |
| Form Factor | 2U Rack |
| Max RAM | 768GB |
| RAM Type | DDR3 |
| Processor | Intel Xeon E5-2600 & E5-2600 v2 Processor Families |
| Processor Sockets | 2 |
| Max Storage | 32TB |
| PCI Slots | 6 |