Dell PowerEdge R840 Server
AED 51,300 (-20%)
High-Performance Server
6TB of DDR4 Memory
Ideal for Machine Learning
Scalable Storage Options
Automated Management
Customizable Servers
Description
Are you into the business of logistic chains involving intense database analytics? Then Dell PowerEdge R840 Server could be helpful for you. The server supports to stimulate business insights and gives steady and high-performance results for necessitating applications including, data analytics workloads. Sustained reliability and integrated security features in this server help you in ensuring the best uptime in your business data center. If you are looking for the best deals on Dell PowerEdge R840 servers, then you are in the right place. At Server Basket, you get to buy a custom-configured Dell R840 server with three years warranty at the relatively lowest price in the market. Apart from warranty, we back our customers with quality tech support, free installation help, and pre-sales assistance.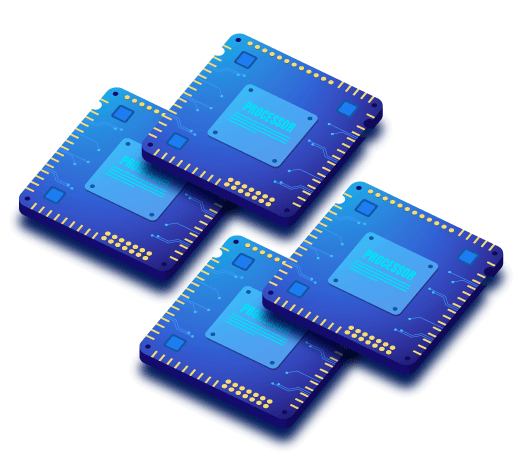 High-Performance Server with Four Processors:
The four-processor 2U Chassis Dell R840 server delivers a notable performance boost using robust second-generation Intel Xeon Scalable processors up to 28 cores each totaling to 112 cores. You can create an optimal configuration of HDD, SSD, GPU, and NVMe resources to reach several demanding workloads. A high rate of data transfers with a completely integrated ultra path is interconnecting all four sockets. Quicken your applications up to up to two FPGAs or two GPUs of double-width.
Whopping 6TB of DDR4 Memory:
To address larger data sets, the Dell PowerEdge R840 Server includes 48 slots of DDR4 DIMM and a maximum memory of 6TB to reduce latency and for data resiliency. It also supports RDIMM or LRDIMM memory and up to 2933MT/s. NVDIMMs can hold a maximum memory of 384GB and NVDIMMs have the ability to boost application performance, data security, and disaster recovery
Ideal for Machine Learning & Database Analytics:
The Dell R840 stimulates business insights and presents unique performance density for your database analytics. The Dell PowerEdge R840 is created to run quicker insights and delivers a performance of four-socket in a 2U design. The machine-learning engine makes autonomous storage into a reality. Both machine learning and data analytics are in direct correlation with the in server performance growth.
Scalable Storage Options:
Dell PowerEdge R840 Server has high-performance storage and scalable storage capacity with up to 26 2.5" SSDs and HDDs, which is 62% more than that of the previous generation. You can power your enterprise-critical workloads, which provide support for up to 26 drives out of which 24 are directly associated NVMe drives that can be scalable upto 184.32TB Storage Spac. You can get various configurations of storage available with the Dell R840 server, which includes 24x 2.5-inch SATA or SAS, 8x 2.5-inch SATA or SAS. There is another option for adding 2 more 2.5-inch SATA or SAS SSDs or HDDs that can be placed in a rear cage for drives.
Automated Management of Routine Tasks:
Dell PowerEdge R840 Server consolidates the management and monitoring of the business IT infrastructure using OpenManage Enterprise. Dell EMC OpenManage assists in delivering high efficiency to the customers of the PowerEdge server by delivering automated management of routine tasks along with intelligence. Coupled with unusual management abilities, the R840 server is easily manageable and can do the routine work automatically. As the workloads grow more complicated, OpenManage Enterprise simplifies IT infrastructure management to focus on your business objectives.
Best Price for Any Configuration:
Server Basket can provide you the best price for any of your customized configuration compared to other retailers in the market. Buy your Dell PowerEdge R840 Server online now from our website. You can always check the IT server market, and you will surely feel our services to be cost-effective.
Installation Support at No Extra Cost:
We offer you free installation support, so you don't need to worry about the server installation. Server Basket has certified engineers who can effectively carry out the installation process. Once the server is installed, our technicians will test the server to make sure that it is working normally. All of our engineers are all fully qualified, and treat your server the utmost care and attention.
24/7 Tech Support:
You can get 24/7 tech support from our team of experienced support engineers. We provide support for 24 hours a day and 7 days a week through live chat, email, and support. Our support specialists will be standing by whenever you need help . Whether it's a complex issue or a simple query, you will quickly get the right solution without any delay.
Three Years Assured Warranty:
Server Basket provides you with three years of assured warranty on hardware components, and the barebones and the damaged parts will be replaced for no extra charge if anything goes wrong during the warranty period. We assure you a seamless service, and you can also get a responsive, spontaneous, and faster service whenever you need.
Quick Delivery throughout UAE:
Instant Shipping of Dell PowerEdge R840 Server is available throughout UAE. You can get an industrial-grade packaging quick delivery of your server within 2-3 business days, how remote the location may be including all the major cities such as Abu Dhabi, Sharjah, Dubai, Ajman, etc.
Specification
Additional information
| | |
| --- | --- |
| Brand | Dell |
| Form Factor | 2U Rack |
| Processor | Intel Xeon Scalable Processors |
| Processor Sockets | 4 |
| RAM Type | DDR4 |
| Memory Size | 128GB, 16GB, 32GB, 64GB, 8GB |
| Memory Slots | 48 |
| Max RAM | 6TB |
| Max Storage | 184.32TB |
| Hard Drive Bays | Upto 10 x 2.5" Drives, Upto 24 NVMe PCIe Drives, Upto 26 x 2.5" Drives |
| Hard Drive Options | NVMe SSD, SAS HDD, SAS SSD, SATA HDD, SATA SSD |
| PCI Slots | 6 |
| Internal RAID Controllers | PERC H330, PERC H730P, PERC H740P, PERC S140 |
| External RAID Controllers | PERC H840 |
| Power Supply | Dual |
| Warranty | 3 Years |
| Remote Management | Yes |
| Supported Remote Management | iDRAC Direct, iDRAC9 |