Server Monitoring Services
AED 3,550 (-16%)
Monitor application & hardware performance
Assured & reliable monitoring
Remote security alerting
Real-time performance analysis
Advanced Reporting & Analytics
price match Guarantee
Monitor metrics through Stats
Best In Class Tech Support
Advanced Installations
Hardware & performance monitoring
Server functionality and health inspection
Description
Do you look out for server monitoring and management for your ERP business systems? Server Basket offers monitoring solutions at affordable prices to manage and monitor the servers with added configurations and tools. Our server monitoring ensures reliable services and remote security alerts. We provide real-time performance reports with advanced analytics to optimize the IT resources and response times. Additionally, the server's health and functionalities are monitored to detect any issues. The proactive monitoring services enable checking out the performance levels of servers, including the monitoring of hardware and software application performance.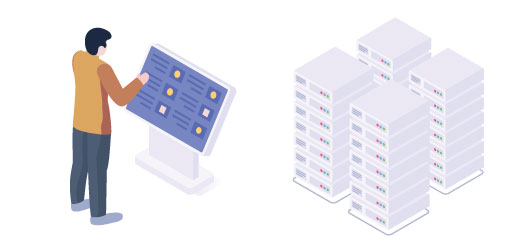 Assured & reliable monitoring
As servers play a vital role in any business, we provide server monitoring that ensures high-end performance for your website and system applications. It helps detect server performance-related issues like downtime, resource utilization, and response time.
Remote security alerting
If your server attempts to login by third-party providers, our monitoring immediately provides security alerts while monitoring the applications logs or system logs. It assists in identifying the security issues that arise when accessing business-critical data.
Advanced Reporting & Analytics
Server monitoring provides advanced real-time analytics and reports about the servers' functioning in your data center. The automated reports include the performance and availability of all servers, and they will be provided on a daily, weekly, or monthly basis.
Real-time performance analysis
The real-time performance reports are provided under server monitoring that allows making the decisions regarding the server upgrades, capacity extensions, and SLA verifications. Our 24/7 monitoring gives the ability to provide intelligent reports for running an optimized IT infrastructure.
Server functionality and health inspection
Our monitoring tools provide a wide variety of features, including performance metrics and server availability with its health condition. You can monitor the server 24/7 and track servers' performance with in-detail information to take preventive actions for detected issues.
Proactive server monitoring with multi-level thresholds
Server monitoring solutions detect performance-related issues and send notifications instantly. The best-in-class monitoring services provide proactive monitoring based on multiple thresholds. Our tools will check the performance levels and notify the issues automatically to avoid an unhealthy environment for servers.
Monitor application & hardware performance
Server Basket provides advanced server monitoring that monitors the services and processes of your application servers. Our monitoring services can detect the CPU and memory performance and the login failures due to bad password protection and account lockouts.