New 2.5" 900GB SAS (HDD) Hard Drive for Dell, HP and IBM Servers
AED 331 (-5%)
Upgrade the Storage of Your Serve
Setup Network Attached Storage
Build RAID for Data Security
Faster &Better Data Transfer Rate
Compatible with Wide Variety of Servers
Low Price Compared to Other Drives
Description
Are you thinking about employing a resilient storage system in your servers? Do you wish to buy SAS HDDs at low prices? Server Basket is a one-stop solution for your storage requirements. We have a cluster of 2.5" inch 900GB SAS hard drives at the best prices that show high compliance with major server brands. With improved data transfer speeds and significant output efficiencies, these SAS HDDs are the most preferable storage drives to support your depriving workloads. They are enriched with advanced technologies that can manage power utilization and heat generation of your servers. They promote connectivity, accessibility, redundancy, and security of your files and data. All our certified 900GB SAS HDDs are tested in multiple work conditions to cross check their flawless operation even in heavy work environments. We put the finest and most affordable prices on all our SAS hard drives compared to any other vendors in the UAE. Get in touch with us right away to upgrade your server storage with cost-effective SFF SAS HDDs and enjoy the added benefits of free installation, reliable warranty, and prompt delivery services.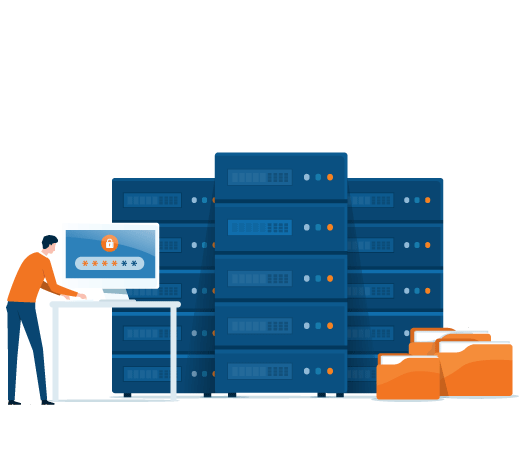 Upgrade the Storage of Your Server:
Does your server demand a storage upgrade to keep up with the growing workload complexity? Choose the 2.5-inch 900GB SAS HDDs at low prices available at Server Basket to enhance your server storage to significant amounts that can boost the potential of your business applications, massive files, and high-end workloads. You can add these SAS hard drives to your servers whenever your work needs them without interrupting the entire operation of the servers.
Setup Network Attached Storage:
If you are planning to set up a network attached storage to your server, the 900GB SAS hard drives can aid you with that. This helps you create centralized storage for the servers working with huge amounts of data. You can easily share multiple files and balance the loads effortlessly among servers. The SAS HDDs enable faster data access, easy administration, and a simpler configuration of NAS, allowing a low cost and consistent storage options.
Build RAID for Data Security:
Are you worried about the safety of your crucial information, confidential data, files, etc.? By configuring 2.5-inch SAS HDDs in a RAID setup, you can improve the server performance alongside providing excellent security and redundancy to your data. They provide data security by enhancing the fault-tolerance and storage availability of your servers. Your data will be protected against any unexpected device issues and external threats when you build RAID using these SFF SAS hard drives.
Faster & Better Data Transfer Rate:
Do you want to buy a storage drive with exceptional data transfer speeds? Prefer our SAS HDDs that can deliver a data rate up to 230MB/s to minimize the loading and response times of your data transmissions. You can easily switch between your programs, files, media, huge documents, high-end applications, etc., with minimum latency and better speeds using our SFF SAS hard drives. They offer a smooth and uninterrupted functioning for your data transmissions.
Compatible with Wide Variety of Servers:
Are you looking for perfect hard drives that can improve the productivity of your servers? Try the 2.5-inch SAS HDDs that have a fine structure and appreciable size that can mount within any server body without any additional efforts. These SAS hard drives can deliver the best performance to your top-most servers such as Dell, HP, IBM, etc. Server Basket has a huge collection of 900GB SAS HDDs of various part numbers to support your servers.
Low Price Compared to Other Drives:
If you are searching for an effective storage solution for your growing storage demands at affordable prices, then the SAS HDD will be perfect for you. These SAS HDD at low prices offer 900GB of storage to support your massive works and loaded data files better than other pricy storage options. Server Basket propounds HDD at the best prices compared to other storage drives that not only save your money but also benefit your server storage capacity.
Thoroughly Tested and Certified Drives:
Do you doubt the quality of our SAS HDDs? Only at Server Basket, you will find certified high-quality HDD at less price that will undoubtedly fulfill all your storage requirements. Each storage drive is subjected to rigorous testing procedures in extreme conditions under professional supervision to prove its ideal performance and capability. The SAS HDDs you see on our website are those which have passed all our intense test levels and can deliver the maximum server productivity.
90 Days Assured Replacement Warranty:
The SAS HDDs you buy from us are backed up by an assured warranty of 90 days. Server Basket guarantees the secure and efficient functioning of the hard drives they sell. The SAS hard drive will comply with your workloads indefinitely, and if you face any issues with the HDD in the 90 days after its installation, you can claim the warranty. Our team will provide you with a genuine spare SAS hard drive as soon as possible as a replacement.
24/7 Remote Assistance for Installation:
Are you inexperienced with the whole HDD installation? Seek help from us. We offer free remote installation assistance to our customers to help them handle their SAS HDDs. Our team of expert engineers will explain each step of the installation process carefully and ensure that the hard drive is installed properly in the server chassis. Contact us through call, LiveChat, or WhatsApp to get an immediate response, as we will be at your service round the clock.
Quick Shipping All Across UAE:
Server Basket offers fast and safe delivery of the HDDs to any of our customers in the UAE within 2-3 working days. The minute your order gets confirmed, our team will select the SAS HDD, pack it in multiple layers, and then dispatch it for delivery. We have tied up with the finest delivery services who can reach your SAS hard drives in-time, even to the busiest places like Dubai, Abu Dhabi, Sharjah, Al Ain, Ajman, etc.