Intel X710-DA4 4-PORT 10G Ethernet Network Cards
AED 2,609 (-10%)
Compatible with Servers & Workstations
Add Four 10G Ports to Server/Workstation
Boost up Your Network Speeds
Excellent Features for Server Virtualization
Avoids Downtime with Fault Tolerance Connections
Supports upto 10Gbps Data Transfer Speeds
Description
Do you want to improve your system transmission speeds? Are you desperate to get rid of poor network connections? Server Basket highly recommends you the Intel X710-DA4 4-port ethernet network card that can support any server or workstation you prefer. They have much better transfer speeds and provide the ultimate connectivity to your numerous network connections. These fault tolerance LAN cards offer extreme uptime and availability for your enterprise, IT, virtual, and any other works. They can support a maximum of 4 networks and offer seamless connectivity to them irrespective of the workloads. These 10G ethernet cards are engineered with advanced technologies and have multiple power management features for secure functioning. We always sell the best. Our network interface cards are highly redundant and are tested for their perfection. Users can buy these Intel ethernet cards at the best prices in the market nowhere other than Server Basket. Get in touch with us to know more about these network cards. Along with a strict warranty, we also guarantee free installation assistance and secure delivery to any corner of the UAE.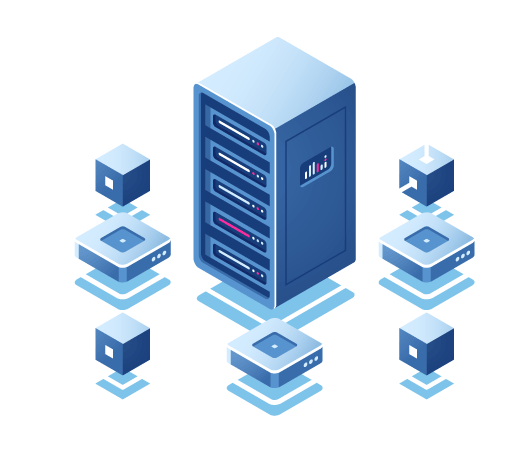 Compatible with Servers & Workstations:
If you are in search of an Ethernet network card that exhibits high compatibility with major servers and workstations, then the X710-DA4 network interface card is all you need. Customers can use them on any server brand or any workstation to utilize their high availability, ideal transfer rates, and optimum functionality features. They deliver efficient transmissions and top-notch performance for your diversified workloads even in adverse conditions with better speeds and high bandwidths.
Add Four 10G Ports to Server/Workstation:
Do you require multiple network connections for accomplishing your work goals? By using our Intel X710 DA4 quad-port ethernet cards, users can add up to 4 10G ports to their servers and workstations. You can switch through multiple networks and transmit any amount of information simultaneously without any fear of merging or leaking your data. Every connection of the gigabit network card is provided a fair amount of bandwidth, networking speeds, and other resources for better propagation.
Boost up Your Network Speeds:
Are you in need of better network speeds for transmitting your data? The Intel X710 4-port 10G Ethernet network card offers high speeds of up to 8GT/s for all the devices connected to it. Customers can transfer any loaded document with better transition speeds with these 10G ethernet cards. They provide high connectivity and interoperability to comply with numerous media, networking, and data. They offer SFP+ connectivity and support most network operating systems with exceptional speeds.
Excellent Features for Server Virtualization:
The Intel X710 10G Ethernet network cards are enriched with excellent features that offer great support for your virtualization platforms. This network interface card is single-root I/O capable and supports flexible port partitioning as well as VMDq technologies. These latest technologies escalate the speed and productivity of virtual machines. By using these 10 Gigabit network cards uniform amount of bandwidth is provided to all the virtual workloads; therefore, your virtual systems can run uninterruptedly to avail best outputs.
Avoids Downtime with Fault Tolerance Connections:
Do you anticipate a reliable network connection with continuous uptimes? The Intel X710 Ethernet network card establishes a fault-tolerant connection between the device and other networks that nullifies the downtime of your websites. They ensure that your websites and applications are up and running even in the case of unexpected power outages. It offers a seamless connection to your multiple high-end networks, which improves the overall performance of your systems with assured uptimes at all times.
Supports upto 10Gbps Data Transfer Speeds:
Tired of bottlenecks, delayed traffic, and low transfer rates? Switch to the Intel X710 ethernet network card that offers high transfer speeds of up to 10Gbps, which improves your network interactivity to the peak extent. The DA4 quad-port LAN card has ideal transfer speeds that significantly improve and simplify the accessibility of multiple files, documents, media, and applications your systems work on. Users can multi-task and maximize their workload productivity using these high ethernet speeds.
Innovative Ethernet Power Management:
Are you looking for an ethernet network card that has better power managing capability? The Intel X710 4-port ethernet card supports the Ethernet power management technology, which provides excellent power management solutions to your servers and workstations. It reduces overall energy consumption reducing power under the system tick-over stage, maintaining the power and capacity while allowing functionality only when the device needs it, and providing maximum efficiency in adverse conditions. This is quite beneficial for your systems' productivity.
Assured Replacement Warranty:
Facing a problem with the Intel X710 network card you bought from us? Not an issue. Every Ethernet network card you buy from us is backed up by an assured replacement warranty. If you encounter a problem with the network interface card in the stipulated warranty period, you can contact us to claim your warranty. Our team will provide you an immediate replacement within the least possible time so that your workflow is not interrupted.
Free Remote Installation Help:
Do you know that the network ethernet card needs to be connected carefully to your system to prevent its malfunctioning? We offer remote installation assistance to all our customers to help them establish the network connections perfectly. Our technical team will be at your service 24*7 to aid you in the installation process. Server Basket doesn't levy you for the service they provide but makes sure that you are comfortable throughout your interaction with us.
Fast Delivery with Multi Level Packing:
Are you among those who prefer quick and safe delivery services? Then Server Basket is the best place for you. We neatly wrap your 10 Gigabit network card in multiple protective layers and tightly seal the package so that it remains safe and unaffected even in the toughest journey. We have tie-ups with the best shipment team who assures prompt delivery of the network ethernet cards to any place in the country in less than 3 working days.
Specification
Additional information
| | |
| --- | --- |
| Product Type | Ethernet Card |
| Model | Intel X710-DA4 4-PORT 10G |
| Brand | Intel |
| Data Rate Per Port | 10 Gb/s |
| Speed | 8.0 GT/s |
| Number of Ports | 4 |
| PCI Slots | 2.1 x 8, 3.0 x 8 |