Lenovo ThinkSystem SR550 Server
Powered By Intel Xeon Scalable Processors
Supports Up to 768GB RAM
Supports Various Raid Levels
Powerful Management Features
Flexible I/O & networking configurations
Choose Any Configuration
Description
Looking for a dual-socket server that can offer industry-leading reliability, flexibility, and performance? But at the same time comes at a cost-effective price? Then buy Lenovo Thinksystem SR550 2-socket rack server at the very lowest price only from Server Basket. The low-cost server features the Intel Xeon Processor Scalable Family that balances capacity, performance, and value. Lenovo's SR550 comes with optimal memory capacity and huge internal storage space, which enables the data to move without any delays. It is designed to handle a wide range of workloads and delivers impressive compute per watt. Get superior performance and enhance your business productivity by choosing the right server configuration. Server Basket helps you get customized Lenovo Thinksystem SR550 at a very competitive price. With the lowest price, we also offer free installation and manufacturer warranty coverage benefits.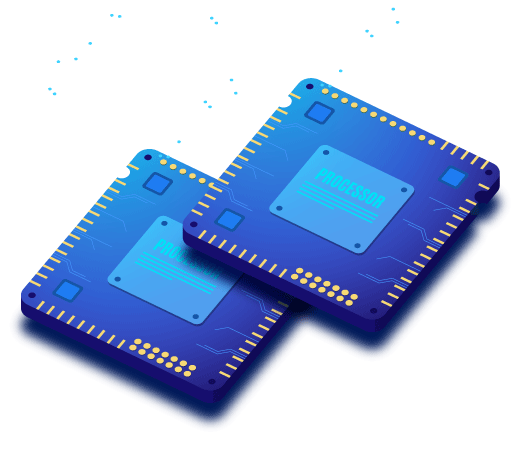 Suitable for Local or Remote Sites:
Do you need a high end server for your remote office? This 2-socket, 2U rack server is ideal for mid to large-sized, that have both local as well as remote sites. It is designed to perform complex analytics on both structured and unstructured data. Lenovo ThinkSystem SR550 speeds transactional systems. The server powers through collaboration workloads with ever-growing large files and data sets that are shared within an organization.
Excellent Processing Power with Two CPUs:
The highly efficient Lenovo ThinkSystem SR550 2U rack server is engineered with Intel Xeon Processors scalable family. These CPU comes with up to 20 Cores, up to 27.5MB Cache, and up to 2666MHz memory speed. With two processors onboard, you get up to 40 cores and flexibility to connect up to 80 virtual machines. The CPUs supported by this server comes with Intel Hyper-Threading, Intel virtualization, and Intel Advanced Vector Extensions technologies.
Flexible Storage Configuration:
Does your business require a powerful server with excellent storage capacity? The affordable Lenovo ThinkSystem SR550 2U rack server can accommodate either sixteen 2.5" or twelve 3.5" storage drives to provide a storage capacity of up to 245.7 TB. It comes with capacity-optimized configurations that support a wide selection of SAS/SATA hard disk or solid-state drives. With SR550, you receive higher I/O scalability, as it comes with six PCIe 3.0 expansion slots that allow you to connect RAID cards and SSD add-on cards.
Customization Facility Available:
Server Basket is the only online retailer that offers customized SR550 rack servers as per your business demands. With us, get the flexibility to choose from various Intel Xeon configurations, memory modules, and storage types. The server comes with various scalable I/O options and RAID cards. You get a wide range of networking options to choose from, like selectable LOM, embedded LOM, ML2, etc. Talk to our sales executive and get the best-configured server at a cheap price.
Advanced Hardware RAID Protection:
Get the most out of the Lenovo ThinkSystem SR550 2U rack server, as it is compatible with the best RAID cards and comes with advanced RAID protection. For RAID 0,1,10,5, and 50, this server supports RAID 530-8i and 730-8i 1GB cards. Whereas for RAID 0,1,10,5,50,6,60, you can connect RAID 730-8i 2GB flash, 930-8i 2GB flash and 930-16i 48 or 8GB flash.
Good Memory Capacity:
Lenovo ThinkSystem SR550 2U rack server supports both RDIMM and LRDIMM memory modules. With two processors, this server supports up to 12 DIMM slots. The 64GB LRDIMMs on all 12 DIMM slots would offer you a memory capacity of up to 768GB. While with 32GB RDIMM, you get a memory capacity of up to 384GB.
Centralized and Automated Management:
The Lenovo Thinksystem SR550 Rack server is embedded with a powerful system and remote management features. The next generation inbuilt Lenovo XClarity Controller provides advanced service CPU monitoring control and alerting functions. The XClarity provisioning Manager improves Unified Extensible Firmware Interface (UEFI) system configuration, setup, simplified error handling, updates, etc.
Free Installation Support:
Our services by our expert team are focused on keeping your business working always. This is the reason we offer free installation support. Server Installation is a crucial aspect. If done as per manufacturer guidelines, then only you get a higher performance guarantee. Our team will look over the installation of hardware parts as well as the operating system as per your choices.
Instant and Safe Shipping Across UAE:
We understand that you have to fulfill your business objectives on time. That is why we are associated with the professional shipping companies of the UAE. Every server is multi-level packed and then dispatched on the same day of the order. We can swiftly deliver the Lenovo Thinksystem SR550 server to Dubai, Fujairah, Ajman, Abu Dhabi, Sharjah, AI Ain, and other cities of UAE within 2-3 business days.
3 Year Assured Warranty:
Get hardware malfunction coverage of complete 3 years only from Server Basket. We are selling Lenovo approved Thinksystem SR550 server that is free from any internal component defects. During any issue, you get the ultimate peace of mind, as can claim free repairs or replacement for the damaged hardware components or barebones during the warranty period.