3.5″ LFF SAS SATA HDD Caddy Tray for HP Proliant Gen8 Servers
AED 67 (-10%)
Best Option for HP Proliant Gen8 Servers
Suitable for SAS and SATA HDD's
Improves Drive Efficiency for Long Duration
High Quality Caddies Available
Improve Storage Space at Low Cost
Free Screw Set Provided
Description
Are you determined to find an LFF caddy tray for your HP server? Do you need a reliable product to house your hard disk drives? Make some time to know all about this 3.5-inch LFF caddy tray that is highly compatible with all your Gen8 HP servers. This caddy tray is designed to support your SAS or SATA hard drives and protect them against unwanted disturbances. It's fine structure helps users to easily mount and remove it from the server bay effortlessly. We have our warehouse filled with multiple high-quality LFF caddy trays for your 2.5″ and 3.5″ hard drives, each of them put through and passed various tests that our expert engineers conduct thoroughly. Users can certainly enjoy the maximum efficiency of the hard drives when they are enclosed in these caddy trays. All the caddies we provide you are sturdy, rigid, and can resist any kind of work environment. They come with cooling holes to get rid of the immoderate heat produced by the drives in extreme functioning periods. Get in touch with us to buy our cost-effective LFF caddy trays and get the order delivered to any place in the UAE as quickly as possible.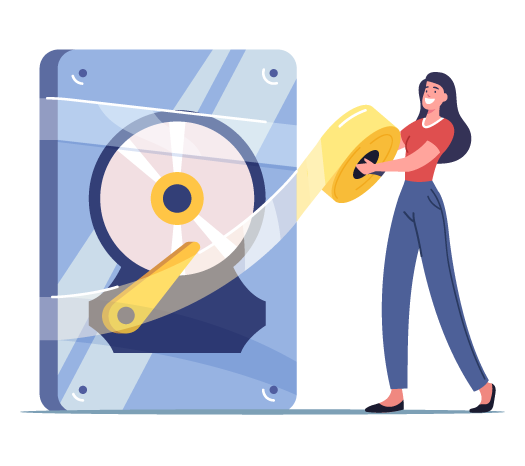 Best Option for HP Proliant Gen8 Servers:
Do you plan on finding a perfect caddy tray for your Gen8 HP servers? Take a look at these rigid LFF caddy trays that are by far the best option for any of your HP ProLiant Gen8 servers. Users can mount either 2.5″ or 3.5″ hard drives in the servers using these rigid caddy trays. They hold your hard drives effectively and can ideally fit in the server bay of your HP servers.
Suitable for SAS and SATA HDD's:
Are you searching for ways to secure your hard disk drives? Stop pondering and pick up the sturdy LFF caddy trays to hold your hard drives, no matter whichever SAS and SATA HDDs you employ in your HP Gen8 servers. These LFF caddies are tailored to accord your SAS/SATA hard drives into the server bay and allow them to function properly without being affected by external parameters.
Improves Drive Efficiency for Long Duration:
Looking for hard drives that need not be replaced anytime soon? Server Basket has a great collection of 3.5-inch caddy trays that can effectively protect your hard disk drives from excessive heat generated and wear and tear, even in the most complex work environments. The reliability, efficiency, and life span of the hard drives enclosed in caddy trays are much greater when compared to those without caddy trays.
High Quality Caddies Available:
If you are hesitant about the quality of the caddy trays you buy from us, then you haven't known us well. The Server Basket is best known for its quality above everything else. We handpick all our caddy trays with extreme care and concern. All the LFF server caddy trays we put up for sale are rigorously tested to ensure that they can withstand all sorts of work conditions to shield your SAS/SATA hard drives in every possible way.
Improve Storage Space at Low Cost:
Does your limited budget restrict you from improving your storage drives? The LFF caddy trays you buy at Server Basket has the best prices compared to any other sellers in the market. Any 2.5″ and 3.5″ hard drives can absolutely fit in your HP Gen8 server bays without any problems. These cost-effective caddies help you to improve your server storage space and promote the effective functioning of the hard disk drives.
Free Screw Set Provided:
When you buy caddy trays from us, you don't have to worry about installation issues as we provide our customers with a free screw set such that there won't be any problem for our customers to mount the hard drive in the LFF caddy. The screws help in holding the hard drive firmly, forbidding all gaps. These caddies, when mounted sublimely, escalates the performance of the hard drives and boosts up the data transfer speeds to the maximum.
Safe and Secure Shipping All Over UAE:
Waiting for your order? Expect a call anytime soon as we offer prompt delivery of our orders, obliging to all the safety measures that must be taken. We carefully pack the tested caddy trays in multiple layers and make sure the package is tightly sealed in a way that there won't be any problem during its shipping. Our delivery team securely drops your caddy tray within 2-3 days wherever you are in Abu Dhabi, Ajman, Dubai, Sharjah, Fujairah, etc.