3.5" Hard Drive Plastic Caddy Tray Converter
AED 95 (-5%)
Ideal for any 2.5" and 3.5" Drive
Best Option for HDDs and SSDs
Caddy Trays for all Brand Servers
Durable and Light Weight
Maintain Long-term Drive Reliability
Expand Storage at Low Cost
Description
Are you searching for a perfect caddy tray for your LFF and SFF drives? Looking for ways to scale up your server storage? Server Basket has the greatest collection of 3.5-inch hard drive plastic caddy trays for various server brands ready for shipment to support your server storage drives. With high compatibility, the caddy tray can hold and protect the drives for longer time periods. They are flexible, agile, and durable beyond limits. Users can use them to either support their hard drives or expand their storage capacity. Plastic caddy trays are light in weight and are sturdy enough to withstand any vibrations and disturbances caused while the server is running. We have multiple caddy trays that are tested for their perfection. These trays can perfectly fit the drives in your server and boost the server performance. Server Basket puts ideal prices on the caddies compared to other merchants. Users can make the best use of high storage capacity drives without investing much by using these 3.5-inch caddy trays. Get in touch with us now to find a fantastic companion for your hard drive and get your caddy as quickly as you click.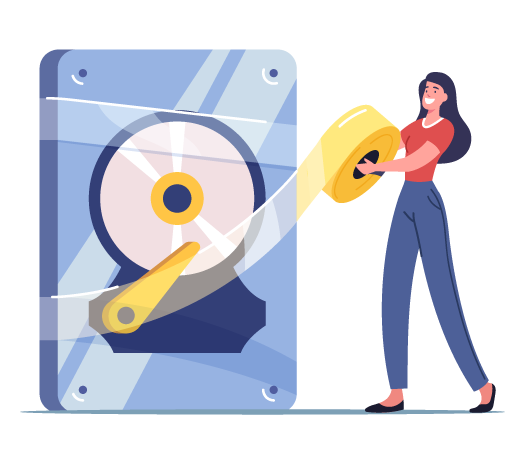 Ideal for any 2.5" and 3.5" Drive:
Do you want a caddy for your 2.5" or 3.5" hard disk drives for installing them in LFF servers? Server Basket has the finest quality caddy trays that can ideally hold and prop up your hard drives while fitting them perfectly in the servers. These plastic caddy trays offer high compatibility and can be used for any of your LFF and SFF drives.
Best Option for HDDs and SSDs:
Are you looking for firm caddy trays that can handle your HDD and SSD hard drives? We have the best collection of rigid caddy trays that are specially designed and built for steadying multiple HDDs and SSDs. The caddies help in offering flexibility to the storage components. By employing these plastic caddies, your storage devices will undoubtedly fit in the server bay, and a secure environment will be created for the hard drives.
Caddy Trays for all Brand Servers:
If you need caddy trays for servers of various brands that are present in your firm or data center, then you are at the right place as we have an eminent collection of high-quality caddy trays for Dell, HP, IBM, Cisco, Fujitsu, etc. We are the only providers of the budget-friendly 3.5-inch plastic caddies in the UAE, irrespective of the server configurations that our customers want the caddy trays for.
Durable and Light Weight:
The 3.5" caddy trays that we are selling are known for their durability. They can withstand significantly high-pressures and are hard to damage. Built with excellent quality material, these 3.5-inch caddy trays offer great protection to the hard drives employed within the server. Also, as a result of their low weights, the plastic caddy trays are easy to hold and mounts the hard disk drives of all form factors.
Maintain Long-term Drive Reliability:
Do you want a reliable hard drive that has a long life? Any of the SFF or LFF drives can be used uninterruptedly even in extreme conditions without affecting its functionality by mounting the storage drives into the servers using these excellent 3.5-inch plastic caddy trays. The firm plastic caddies protect the drives, and they also come with cooling holes to get rid of the power generated, which improves the reliability and longevity of drives.
Expand Storage at Low Cost:
Hesitant about expanding your existing server storage because of towering prices? You don't have to. Now the time has come for you to enjoy high speeds by diversifying your SFF drives using the high-quality 3.5-inch caddy trays. Apart from building up their storage capability, users can also save their money by utilizing the caddy trays we sell. The sturdy plastic caddy trays can easily fulfil your storage necessities at a fraction of the price you are comfortable with.
Free Screw Set with Caddy:
An imperfectly fit caddy can reduce the performance of the storage sometimes, the functionality of the server. For the comfort of our customers, we sell our plastic caddy trays along with the required screws and drive connectors, which aid in fixing the caddy in the server storage slots. They help you to perfectly accommodate your hard drives into the 3.5-inch caddy tray without any installation issues.
Fast Shipping Across UAE:
We understand your urge to enjoy efficient storage. So we offer prompt delivery of all the caddy tray orders to our customers in the UAE. Upon receiving the order confirmation, we neatly wrap the perfectly functioning caddy trays in protective packaging and dispatch them without any delay. Our delivery partners deliver our products within 2-3 days to all the places in and around Abu Dhabi, Dubai, Ajman, Sharjah, Fujairah, etc.