2.5″ Hard Drive Plastic Caddy Tray Converter
AED 66 (-9%)
Supports all 2.5″ Hard Drives
Compatible with HDD's and SSD's
Suitable for all Brand Servers
Best Quality and Light Weight
Retain Long Term Drive Efficiency
Easy Installation with Free Screw Set
Description
Have you planned to increase your storage? Are you looking for the perfect Caddy Trays that handles your 2.5″ hard drives? Server Basket is here to help you with your SFF storage requisites. We have a huge collection of 2.5-inch plastic caddy trays ready to serve your drives and push their limits to deliver optimum speeds. These rich quality caddy trays offer firm support to the hard drives. They can be easily mounted within the server using the screws and connectors we provide. They are highly compatible with any hard disk drives and can be used for all server brands. Their ideal weights and the firm structure helps improve the drive speed and lifetime alongside aiding customers to handle them easily. Server Basket puts reasonable prices on all its high-quality caddy trays. The perfect quality trays can boost the server storage, and you don't even have to spend much money on them. All the caddy trays we deliver to our customers are tested with various hard drives to ensure their perfection. Contact us today to get the best quality Caddy Trays at low prices and enjoy our super-fast delivery services.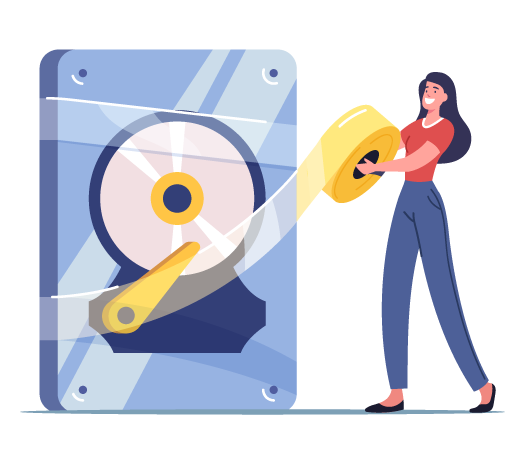 Supports all 2.5
Looking for a cost-effective solution to protect your 2.5-inch hard drives? Try enclosing your SFF storage disks in the plastic caddy tray specially designed to hold any of the 2.5-inch drives. These caddy trays can be used for any of the SFF hard drives. They ensure the safe functioning of the storage devices and helps the users to mount the hard drives into the server bays easily.
Compatible with HDD's and SSD's:
Do you want a robust caddy tray to support your HDDs and SSDs? Server Basket has a wide range of 2.5″ hard drive plastic caddy trays that are suitable for any of your HDD or SSD drives. Users can effectively use them to handle their SAS/SATA drives without any complexities to enjoy the complete efficiency of the drives. The plastic caddies are highly flexible, thereby exhibiting high compatibility with any of your SFF storage devices.
Suitable for all Brand Servers:
Need caddy trays for servers of various brands? Boost your server storage with our top-quality caddies that can suit servers from leading brands including Dell, HP, Cisco, IBM, Fujitsu, and many more. We have the best plastic caddies to help you mount your hard drives in any server configuration with utmost comfort and ease. They offer excellent support for your SFF drives and protect them from external disturbances.
Best Quality and Light Weight:
If you want to experience the joy of exceptional quality, then Server Basket is the only place. We test the 2.5-inch plastic caddy trays we sell with all types of drives to ensure their perfect functioning. These caddies stand firm against rough work conditions and are hard to damage. The lightweight plastic caddies are built of fine material and can undoubtedly handle any of the SFF hard drives users need.
Retain Long Term Drive Efficiency:
Looking for a robust caddy that can keep your hard drive safe from wear and tear for years? Shield your 2.5-inch drives with plastic caddy trays and protect them from any unexpected damage during extreme work conditions. The caddy trays are made of excellent material and are highly reliable. They come with cooling holes to get rid of the heat dissipated by the hard drive, which significantly improves the longevity of the drive being used.
Easy Installation with Free Screw Set:
We sell our caddy trays along with screws and drive connectors for the comfort of our customers. It helps users easily mount and fit the hard drive into the caddy. If the caddy tray does not fit in the bay perfectly, then it might end up functioning improperly. But the caddy screws we provide our customers to help them to adjust and attach the hard drive perfectly in the tray and then in the server storage slot.
Fast and Secure Shipping across UAE:
Server Basket commits to its delivery on time for our customers all around the UAE. Once we receive the order, we select the plastic caddy trays that are perfectly functioning and make them ready to dispatch. We pack our ordered caddy trays in multiple layers, and our delivery partner takes complete responsibility for conducting a safe and secure delivery within 2-3 days in and around Abu Dhabi, Dubai, Ajman, Sharjah, Fujairah, etc.