2.5″ Hard Drive Metal Caddy Tray Converter
AED 95 (-5%)
Perfect for all 2.5″ Drives
Mount any HDDs and SSDs
Optimal for all Brand Servers
Best Quality Assured
Maintains Drive Reliability Long Duration
Free Screw set for Easy Installation
Description
Are you in search of a perfect caddy tray for your 2.5-inch hard drives? Do you want to enhance the life of your server hardware? Worry not. Server Basket has a huge collection of 2.5″ caddy trays that are efficient enough to protect your server HDDs and SSDs by enclosing them with their top-notch metallic body. These caddy trays are highly compatible with all your SFF storage drives. Users can handle and mount them in the server bays without any additional efforts. The fine metal structure of the caddy tray offers great support to the hard drives while cooling them to reduce the heat generated during the continuous workloads. We test all the caddy trays we sell with multiple SFF hard disk drives to ensure their capability and an ideal functionality. Server basket puts reasonable prices on all the server caddies. Therefore, you don't have to spend much money to enjoy the perks of more storage, faster speeds and better performance. Get in touch with us today to buy the perfect metal caddy tray for your 2.5″ storage drives alongside enjoying our brisk delivery service wherever you are in the UAE.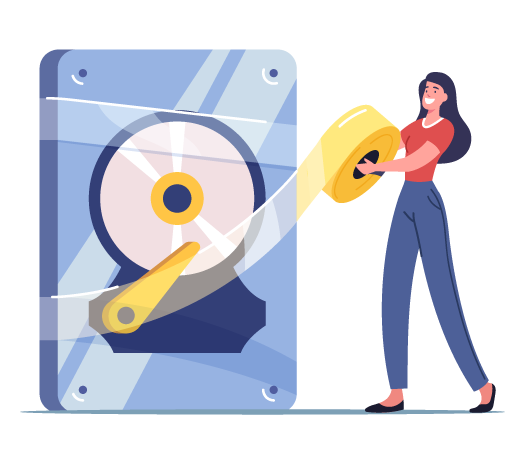 Perfect for all 2.5
Do you wish to encase your 2.5-inch hard drives in authentic and strong caddy trays? Try out these extraordinary metal caddy trays which can easily hold SFF drives. These metal caddies come with perfect dimensions for comfortable insertion of your hard drives. Server basket has solid metal caddy trays that ensure safer functioning of the server 2.5″ hard drive alongside offering great stability to them.
Mount any HDDs and SSDs:
In search of decent caddy trays to mount your HDD or SSD drives? It doesn't matter if you need a caddy for a SATA or SAS interface, we have a great collection of metal caddies, specially built for and can undoubtedly take care of all your hard drives inserted in your server bays. The strong and durable metal caddy firmly holds the hard drive and shows a great affinity towards the SFF drives.
Suitable for all Brand Servers:
If you require efficient caddy trays for your hard drives for any of the leading brand's servers, then Server Basket is the perfect place for you as we have a magnificent collection of 2.5-inch metal caddy trays that aim to handle and protect your server in every work environment however complicated it might be. We have top-notch metal caddies that are suitable for servers from various brands, including Dell, HP, Cisco, Fujitsu, and IBM.
Top Quality Caddies:
Unsure about the quality of caddy trays you buy from us? You can totally be at ease as we offer nothing but the best to our customers. All our 2.5″ metal caddies are tested with multiple hard drives to ensure their ideal functioning. We assure you that the caddy trays we sell to our customers are of top-quality and can successfully provide great protection and support to your hard drives even in extreme conditions.
Maintains Drive Reliability Long Duration:
Are you in search of an SFF hard drive that can resist tough working conditions for longer time periods? Make it possible by enclosing your hard drives in these supreme metal caddy trays which are tailored to serve all your 2.5-inch hard drives. The caddies cool your hard drive and save it from heat generated alongside offering unquestionable protection against vibrations and disturbances generated during heavy work conditions, improving their reliability and longevity.
Free Screw set for Easy Installation:
Installing the hard drive inside the metal caddy trays is now made easy with the help of the screw set we provide to our users along with the excellent caddies they ordered from us. The screws ease up your efforts to install the drive into the caddy and ensure that your SFF storage drive is perfectly fit in the caddy. A perfect caddy enclosed hard drive offers greater performance and desired speeds compared to those drives without caddy trays.
Quick Shipping All over UAE:
Do you want to experience super-fast delivery? Because that is what Server Basket does. We guarantee prompt delivery to all our customers residing in the UAE inclusive of Abu Dhabi, Dubai, Ajman, Sharjah, Fujairah, etc. Upon receiving the order confirmation, we make the caddies ready for dispatching by carefully packing them in protective layers. Our trusted delivery agencies make sure to safely deliver the 2.5″ metal caddies at your doorstep in 2-3 days at maximum.