Refurbished Dell PowerEdge R810 Rack Server
Designed For Virtualization
Best Suited for Growing Businesses
Powered with Intel Xeon 6500 & 7500 CPUs
Upto 40 Cores With 4 CPUs
Excellent RAM Power
Optimal Storage Options
Description
Server Basket has brought the Refurbished Dell PowerEdge R810 server with a compact 2U factor. If you are in search of a server that perfectly suits the consolidation and virtualization workload without overburdening your IT budget, then your search will end here. Dell PowerEdge is featured with a perfect blend of features to support multiple workloads. The refurbished R810 server has been built with a customized configuration that includes processing power, memory capacity, RAM, RAID controllers, and many other features. The consistent performance and its ability to fit in a small space will bring an interest in many companies. Refurbished Dell PowerEdge R810 server is available on a low budget, and you can avail of the best discounts, 24/7 tech support, free quote, instant delivery, and other benefits from Server Basket.
Dell PowerEdge R810 Rack Server Pricing Table:
SERVER TYPE
Processor
Ram
Storage
PRICE
Dell PowerEdge R810 Rack Server Server
(Basic)
20 Core / 40 vCPU ( Dual Intel Xeon 2670v2/ 2.40 GHz)
64GB DDR3
2 x 600 GB 2.5-inch SAS HDD (1.2 TB)
Dell PowerEdge R810 Rack Server Server
(Standard)
20 Core / 40 vCPU ( Dual Intel Xeon 2670v2/ 2.40 GHz)
128GB DDR3
2 x 600 GB 2.5-inch SAS HDD (1.2 TB)
Dell PowerEdge R810 Rack Server Server
(Reliable)
20 Core / 40 vCPU ( Dual Intel Xeon 2670v2/ 2.40 GHz)
256GB DDR3
2 x 600 GB 2.5-inch SAS HDD (1.2 TB)
Dell PowerEdge R810 Rack Server Server
(Powerful)
20 Core / 40 vCPU ( Dual Intel Xeon 2670v2/ 2.40 GHz)
384GB DDR3
2 x 600 GB 2.5-inch SAS HDD (1.2 TB)
Recommended for Highly Virtualized Environments
The excellence of the Dell PowerEdge R810 server is, that it was designed by focusing on virtualized environments. It has an excellent processing capacity suitable for handling multiple workloads. You can create up to 72 Virtual environments with a full-fledged refurb Dell R810 server. Refurbished Dell PowerEdge R810 rack server is an ideal choice for high-performance computing applications in both IT and Non-IT environments.
Peak Operational Efficiency
Dell PowerEdge R810 server focuses on efficiency, energy, adherence, redundancy, and carries low acoustics. Its energy is more proportional to the workloads and improves work efficiency. A refurbished R810 Rack server has a redundant power supply of1100W which consumes less power and saves your business economy keeping your business server always online.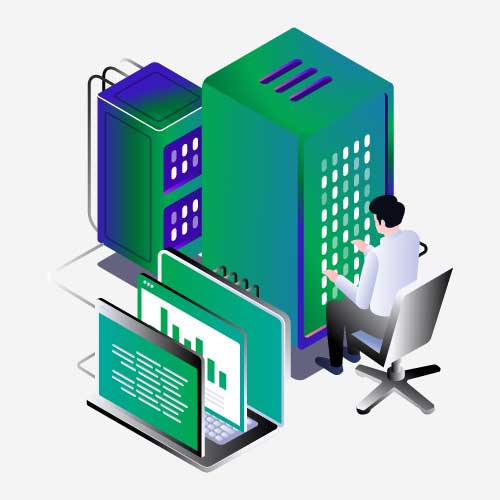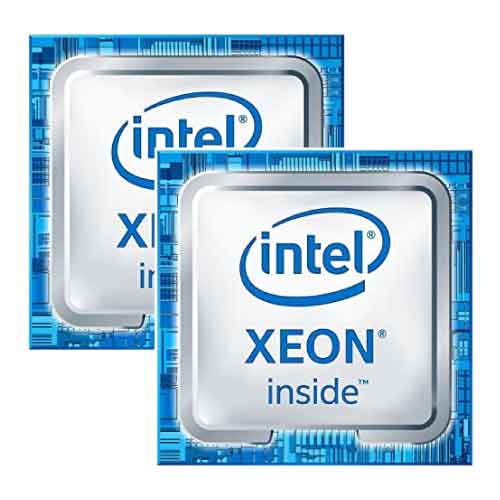 Specially Boosted By Xeon 6500 and 7500 Processors
As Dell PowerEdge R810 rack server is built with an Intel Xeon Processors, it has great reliability. It holds up to 4 processors that are lined up in the middle of the chassis. The Refurbished PowerEdge R810 rack server has 7500 series supports eight cores, and 6500 series supports ten cores to set the high standards. The frequency of the eight-core processor is 6.4GT/sec QPI and handles up to 18MB of L3 shared cache memory. The maximum number of cores you can reach with the refurbished PowerEdge R810 server is up to 40 cores with 4 CPUs.
Perfect Memory Capacity for Data Base Applications
Dell PowerEdge R810 rack server handles DDR3 memory and holds the memory capacity up to 512GB at 1066MT/s. The best feature to know about Dell R810 server is, it comes with FlexMem Bridge Technology which connects CPU1 and CPU2. And, it uses the memory modules of CPU3 and CPU4 without installing the CPU in sockets. It has 32 DIMM (RDIMM) slots that support capacity up to 16GB and helps to deliver reliable applications. You can use DDR3 RAM of 1, 2, 4, 8, 16 GB to configure the Dell R810 memory according to your requirement.
High-Quality Server with Genuine Spares
Server Basket never compromises on the quality of both refurbished and new servers. To every refurbished server, we provide the A-Grade spare parts chosen from the certified companies. We provide the labels of the internal components to let you know about the quality that we are offering. All the refurbished servers undergo multiple testing to ensure that you receive top-notch performance form the refurbished Dell R810 rack server.
Outstanding Storage Options
Do you want a powerful 2U Rack server with outstanding storage capacity for bulk data base applications? With huge storage capacity, the Dell PowerEdge R810 8SFF Rack server is the right option for database, ecommerce and banking applications. You can use up to eight 2.5" SAS SSD or SATA SSD, SAS (10K, 15K), or nearline SAS (7.2K). You can use RAID controllers to enhance the storage performance. Dell R810 server is compatible with PERC H200, PERC H700 and PERC H800 RAID controllers.
Ready for Delivery in UAE
Server Basket is providing an instant free delivery all over the UAE covering all the cities which include Sharjah, Ajman, Abu Dabi, Dubai, Ras Al Khaimah, Fujairah, etc. You can receive the server at your location within 2 to 3 days after buying, and you can check the tracking while shipping.
1 Year Warranty
Server Basket provides one year of warranty of Refurbished Dell R810 Server and 3 months on spare parts. The internal parts are tested multiple times to provide the best quality. We surely replace the items if any damage or issue occurs while delivering the server.
Avail Free Quotation
The refurbished Dell R810 rack server will save your money when you purchase from Server Basket. We are always ready to provide a free quotation for every server. We also provide precise details on your customized components in the quotation.
Free Installation Support
You don't need to worry about the installation or handling of the server. Server Basket will provide free installation support with our experienced engineers. Our team will help you install the server by following the right guidelines in every step. You also can avail instant installation support, once you receive the refurbished Dell PowerEdge R810 server.
3 Year Powerful Warranty
ServerBasket assures 3years guarantee on Dell PowerEdge M630 blade server including spares parts. If you receive any failed parts or damaged parts you can claim for replacement or repair server parts within the three years tenure. The warranty period starts from server installation to the next 3 years.

Specification
Additional information
| | |
| --- | --- |
| Brand | Dell |
| Form Factor | 2U Rack |
| Max RAM | 1.5TB |
| RAM Type | DDR3 |
| Processor | Intel Xeon processor E5‐4600 product family |
| Processor Sockets | 4 |
| Max Storage | 6TB |
| PCI Slots | 7 |