Dell PowerEdge R710 Server Spares
AED 105 (-5%)
Processor Series: Intel Xeon Quad-Core and Six-Core 5500 and 5600 Series
Available Memory's 4GB, 8GB, 16GB, 32GB, 64GB
SAS, SATA HDDs and SSD Hard Drives
Supported Internal & External Raid Controllers
Supported Power Supplies
CPU Heatsink X3400 / L3400 Series
Description
Genuine and Certified Dell PowerEdge R710 Server Spares in UAE with Powerful Warranty
Want to boost your Dell PowerEdge R710 server? Want to enhance its virtualization capabilities? Then you need the right combination of processors, memory modules and storage drives. Upgrade your Dell PowerEdge R710 rack server with the genuine and certified spare parts from Server Basket. If you want a strong IT foundation and higher business productivity from your existing server, then you need to opt for the right spare parts. Server Basket sells Poweredge R710 Hard Drives, Processors, Motherboard, Memory modules, Power supply, Fans, Raid controllers, etc. We offer the best price for all the Dell PowerEdge R710 server spares. With higher discounts, also get the benefits of "7days return policy", free installation assistance, and quick delivery.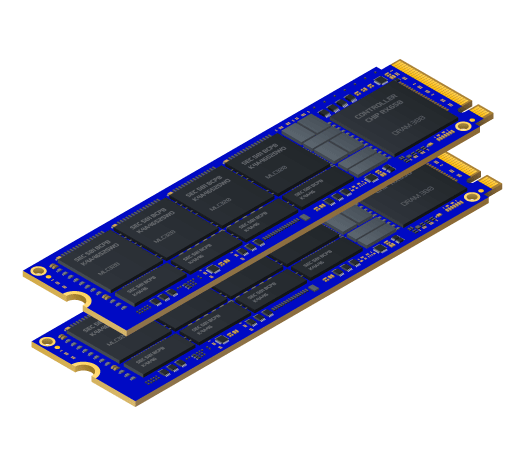 Upgrade Dell R710 Configuration with Genuine Spares:
Upgrade your server with the best processors and memory to enhance application performance. With the right storage drives, increase the space of your server to store heavy databases. The RAID cards enhance more storage and create data redundancy. While with the right cooling fans and power supply, you can eliminate downtime issues of the server.
Boost Storage with Certified Storage Drives:
Server Basket stocks only those Storage drives that are from genuine brands. We have both 2.5" and 3.5" form factor drives that support the Dell PowerEdge R710 server. Buy the Hot-Plug drives from Server Basket at the very lowest price. With our varied options of SAS/SATA HDD, or SAS/SATA SSD, you can now expand the storage capacity of your server up to 18TB.
Wide Range of Compatible RAMs:
Now upgrade the 18 DIMM slots of Dell PowerEdge R710 rack server with the best DDR3 RAMs. We provide a range of RDIMM, UDIMM, and LRDIMM memory modules depending on your budget and needs. We offer memory modules of various capacities like 1GB, 2GB, 4GB, 8Gb and 16GB capacity.
Low-Cost 10Gb Ethernet Cards:
Looking for Ethernet cards that can speed up your server virtualization and IP convergence? Then buy the high-quality 10Gbe Ethernet cards like Intel Ethernet X520-SR2 Adapter that will speed up your network. Our 10Gbe Ethernet cards are highly reliable and come embedded with three important components such as core switches, uplinks and highly-efficient interface cards for servers and storage drives.
Best Quality Processors:
Get the best quality, highly-reliable Intel Xeon 5500 and 5600 processor series CPUs for your server. Choose from the quad-core and six-core processors. The wide-ranging processors that are compatible with Dell R710 server spares come with varied Cache, core count and the latest technologies. Buy from us to get the best Processors the very lowest price.
All Power Supplies Available:
Buy the Energy Smart Hot-Plug highly-efficient 570W power supplies at the very lowest price. If you have the requirement of higher output Hot-Plug 870W Power Supply, we also have that. Get the Uninterruptible power supplies of the best brands of 1000-5600W, 2700-5600W at an unimaginable lower price.
Secure Data with Supported RAID Cards:
Create data redundancy and secure your crucial data with the compatible RAID cards. Buy PERC H200, PERC H700, PERC 6/i and PERC H800 External RAID controller with battery-backed Cache (512 MB) at the lowest price. The RAID controllers are of Dell's brand and come with a standard warranty period.
Free Remote Installation Help:
Get complete guidance on varied spare parts installation. Some of the crucial spare parts of servers such as processor, memory, etc. have to be installed adhering strict manufacturer's guidelines. Our team is well-versed with all spare parts installation and provide you step by step guidance.
7 Days Return Back Policy:
With us, get complete peace of mind. If you find that the Dell R710 server spares is damaged during transportation or you have not received the right product, or you just discovered that the spare parts are not compatible with your server, then you can return it to us within 7days from the date of purchase.
Instant Delivery All Over UAE:
We leverage cutting-edge technology so that our clients can easily place the product. As soon as we receive the order, the spare part goes through multi-level packing. The order is dispatched within a few hours of the payment. Our logistic partners help us to deliver the hardware parts to Sharjah, Dubai, Ajman, Fujairah, AI Ain, Umm AI Quwain, etc. within 2-3 business days.
Powerful Warranty:
Enjoy comprehensive warranty coverage of 1 year on new spares and 90 days on all refurbished spare parts of the Dell R710 rack server. Our warranty itself is an assurance that the spare parts are free from any hardware defects. But still, if any unexpected issues are faced the spare part, then we assure you to offer an instant replacement.