Fanless workstations
Designed to withstand the extreme heat, dust, shock
Our Rugged server designs are proven by rigorous testing in severe environments, including high-temperature, vibration, shock, humidity and other demanding situations. Our rugged servers and workstations are designed to handle the most demanding conditions.
Starting @
Description
Fanless Processors For cool and quiet Operation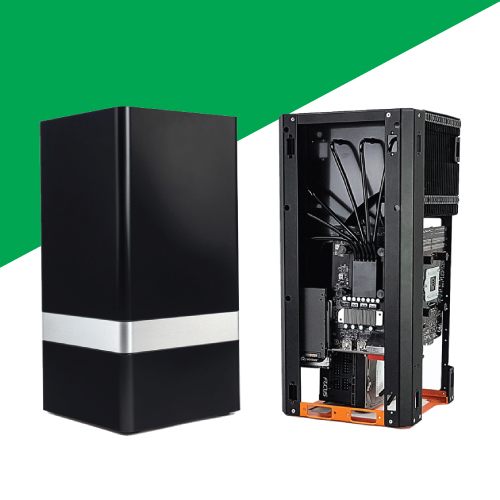 SBA 1
Powerful, compact, smart and silent workstation with unique design. High grade built cooling solution with copper cold plate, aluminium heat sinks, ideal for CCTV and video analytics, 2D software and quiet environment research.
Processor: AMD Ryzen, up to 8 cores/16 threads
Memory: DDR4, max 32GB
Storage:  4×2.5'' SSD NAND SATA 3, 2xM.2 slots, max 16TB
GPU: ZOTAC GeForce RTX 3060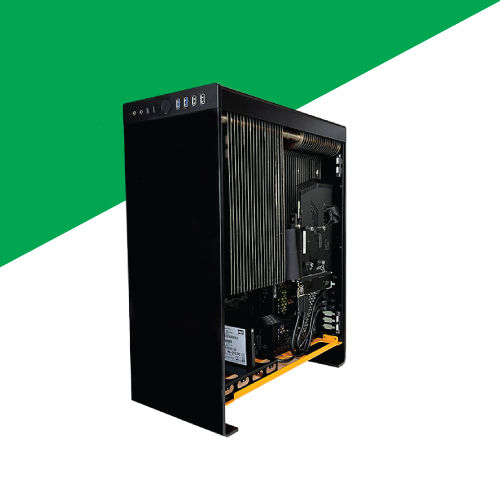 SBA2
Fan-less, sustainable, compact, powerful workstation built around its cooling solution. Zero dust trap, high grade build, copper cold plate, aluminium heat sinks, perfect for AI, 3D rendering, application testing, research.
Processor: Intel core i7/i9, 10 cores/20 threads, AMD Ryzen, 12 cores/24 threads
Memory: Up to 128GB
Storage: Up to 4×3.5" HDD, 8×2.5" SSD, 2xM.2 slots, max 4TB
GPU: RTX, RTX GeForce
Are you looking for a high-performance workstation that should fit your business standards and operational needs? Server Basket sells fanless workstations, which integrate with fanless processors to minimize the temperature of the CPU and increase the system longevity. The Intel Core processors ensure to deliver superior performance for high-compute applications. The workstation includes automated waking or sleeping modes that conserve less energy when performing business operations. The innovative workstation comes with SATA HDD drives and hot-swappable CPU options to provide scalable storage benefits. The embedded cable slot and lockable door system of a workstation give high-end security against unauthorized access. The workstation assures that the business workflows will perform smoothly with reduced heat generation and zero noise.

Fanless Processors For cool and quiet Operation
The workstations embedded with fanless processors enable the CPU to adjust the frequency and voltage by monitoring software and hardware requests. The processors feature a cool 'n' quiet operation that reduces the temperature of the CPU, and it automatically improves the lifetime of a workstation. The overall system temperature is maintained at optimum conditions based on the automated options. 
Auto wake/sleep modes to conserve energy
Thinking about purchasing an energy-efficient workstation? If yes, prefer fanless workstations as they consume less energy, even for complex workloads. The integrated feature of auto sleep or wake modes enable whenever there are no operations to be performed. It makes the system more energy-efficient and provides reliable performance for your enterprise-grade business operations, leading to a more durable workstation. 

Cutting-edge workstation with hot swappable CPUs and drives
The fanless workstations integrate with the two swappable 2.5'' SATA HDD drive bays and scalable CPU options that expand storage capacity. The workstations achieve the business goals regarding storage requirements while delivering the optimum performance for business applications. Server Basket provides the customization configurations of fanless workstations to meet your business needs for large storage databases. 
Better protection with Lockable front door and security cable slot
The workstations ensure security for your data centre by providing cable slots and front door locks. The security feature of door locks allows locking the workstation rooms whenever they're not in use to avoid unauthorised physical access. A cable security slot is provided to lock the workstation at a fixed place to secure the workstation against hacking activities. 
Powerful Intel Core processors to deliver maximum performance
A fanless workstation comes with a powerful Intel C246 Chipset and Intel-Xeon, 8th or 9th Gen Intel Core i3/i5/i7, or Intel Celeron processors. It enhances the reliability, productivity, and efficiency for demanding high-end computation business workloads. The workstation is well-suited for running edge computing, intelligent surveillance, deep learning, AIoT, robotic control and machine learning applications with robust speeds. 
Smooth and efficient functioning with zero Noise and Heat generation
Do you need a premium-quality workstation that should generate less heat and a noise-free environment? You can opt for this fanless workstation from Server Basket. The workstation is embedded  with the latest heatsinks that keep the system cool and generate less noise. It assures reliable performance with less heat production and zero noise even when processing demanding and high-intensive applications.