Dell PowerVault ME4 Series
Server Basket offers comprehensive data center solutions, including: Virtualization, Server Consolidation and Transformation. Hosting and colocation services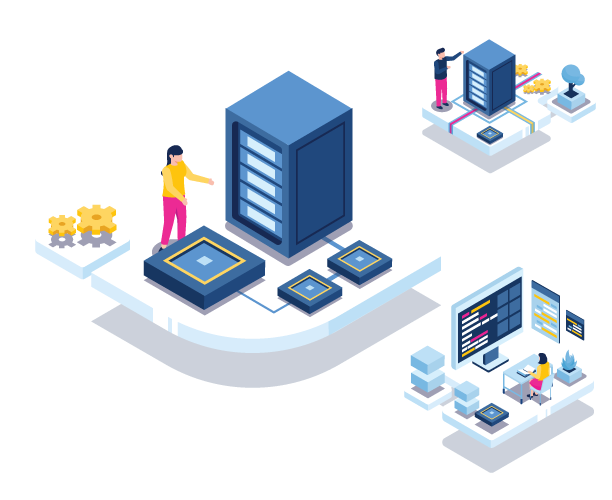 Setup and Manage Easily
For SAN and DAS Workflows
Quick and Powerful Processors
Protect Data with PowerVault Manager
Faster and Easier Data Recovery
Guaranteed Warranty

Does your enterprise need a simple and affordable storage array to improve your DC growth seamlessly? Purchase PowerVault ME4 storage array from Server Basket and establish the advanced IT infrastructure with simplicity, including installation, management, and serviceability. It perfectly suits virtualization and HPC workloads and delivers optimum performance while minimizing resource utilization. You can run DAS or SAN storage efficiently without compromising on managing the data. PowerVault has included a powerful storage architecture with Intel processors, SAS protocols, fibre channel, and SAS back-end support to provide high-level computing services. ADAPT software assures data safety based on the automated data backups that help bring back the storage array into a normal condition than the RAID infrastructure. Additionally, it has other advanced features for data security, such as replication, virtual copy, snapshots, and SEDs when disaster recovery issues occurred
Ideal for HPC and Virtualization
Most businesses demand virtualization services to gain IT administration and hardware efficiencies. Dell EMC ME4 PowerVault is ideally suited for virtualization and computing applications, whether it's small or large enterprise. The storage array can achieve resource efficiency that leads to increased business productivity with effective data management.
Fast and Affordable DAS/SAN Storage
The advanced PowerVault ME4 supports running a variety of workloads relevant to SAN or DAS storage applications. It helps meet your business demands based on the optimized data-intensive applications and utilization of intelligent data management. The ME4 series is aligned with Dell PowerEdge servers for storing and accessing data.
Powered by Intel Broadwell Processors
PowerVault ME4 embedded with Intel "Broadwell-DE" processors to maximize the reliability and uptime for your business-critical applications. The processors enable expansion slots to fulfil the demanding needs while maintaining robust speeds of operations. These features allow businesses to harness more data and operate effectively.
Ensures High-Speed Computing Experience
You can experience high-performance computation when combining PowerEdge servers and ME4 storage. It gives the flexibility to scale for capacity and throughput for ensuring high-end performance. ME4 can handle the heavy and complex data storage challenges, including from small to growing business needs, with the assurance of higher speeds.
Powerful Entry Level Storage Architecture
The PowerVault ME4 includes a block architecture with VMware integration and support for SAS protocols, iSCSI, and fibre channel. Each storage system has a full 12 Gb SAS back-end and facilitates an extra storage capacity via Disk Array Enclosures (DAE). The intuitive web-based GUI enables effective management services.
Secure & Automated Backups with ADAPT
ME4 series storage array delivers faster drive rebuild times to improve the data protection functionality using ADAPT software. It ensures data security through the automated backup system and distributing it across pools of drives. It will detect the crucial data and assist the array in returning to the optimal state.
Advanced Security Features for Data Protection
Dell PowerVault ME4 has advanced data protection features, including snapshots, virtual copy, self-encrypting drives, and asynchronous replication. The files can recover easily through the point-in-time copies of data based on snapshots. This storage array will do disk-based backup and recovery by enabling seamless virtual disk copy.