Dell EMC PowerEdge T350 Tower Server
AED 8,342 (-9%)
Dell EMC PowerEdge T350 Tower Server
Server Type: Tower server
Server Size: 4.5U
Processor Type: Intel Xeon processors
RAM Type: DDR4
Maximum RAM: 128 GBs
Description
Are you searching for a tower server that suits organizations of all sizes and addresses advanced computing needs? Dell EMC PowerEdge T350 is one such server that offers enterprise features at a low cost. It is available at Server Basket at reasonable prices compared to the other server sellers in UAE. The server comes with an advanced Intel processor and DDR4 memory to support the high-computing applications and data-intensive workloads. The server hard drives are managed with the effective RAID controllers and management features allow monitoring of the functions remotely. We deliver it to Dubai, Sharjah, and other destinations in the UAE.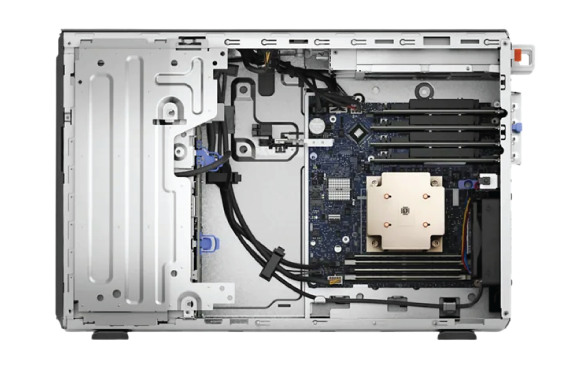 Designed for SMBs and Branch offices
PowerEdge T350 server is a single-socket entry-level server with a form factor of 4.5U. It is a general-purpose server that is specifically designed to provide high-end performance for applications used by small and medium businesses and remote or branch offices. The server addresses the evolving compute demands of your business and ensures it meets the scalability needs. This tower server is the best choice for businesses that require an affordable and simple server with advanced enterprise-grade features.
Ideal for Data-intensive Applications
Dell T350 is purpose-built for handling complex workloads and intense data-based applications with the support of substantial throughput improvements. It is an ideal choice to meet the data center needs without compromising on performance and efficiency. You can use this server to operate the applications relevant to the DBMS, productivity, and storage workloads. This small chassis infrastructure offers improved thermal efficiency that could be suitable for running all common business and data-intensive applications.
High-speed DDR4 memory capacity
T350 supports ECC DDR4 memory of up to 128 GB capacity with 4 DIMM slots, and a speed of up to 3200 MT/s. High-speed memory improves access and response times and allows you to multitask. The server delivers increased performance and provides business productivity. This tower server fits into all enterprises regardless of their sizes and supports large-scale data center environments as well. It reduces your IT business operational complexity with easy and effective management of all components.
Powerful Compute with Single Processor
PowerEdge T350 can support one Intel Xeon processor from the E-2300 series with up to 8 cores, or an Intel Pentium processor with up to 2 cores. It can deliver accelerated compute and performance for business-critical workloads including cloud infrastructure, database management, and point-of-sale transactions. All-inclusive features of this server–data security, stability and reliability make it suitable to process heavy business workloads at robust speeds. T350 server boosts your IT infrastructure operations and automates many functions for enhanced operational efficiency.
Embedded Management Capabilities
With the integrated EMC OpenManage systems, you can overcome the complexity of management of server and supported applications. It makes the business operations smooth with reduced administration of tasks while focusing more on business productivity. The built-in technologies of the server offer streamlined visibility and control over the business tasks with better management. The server automates the management system capabilities and provides a cooperative infrastructure to gain good remote management to drive towards business goals.
Scalable Storage with Different RAID Controllers
Dell EMC is compatible with multiple storage drives and RAID controllers with different levels to enhance the system's storage performance. It supports 4*3.5'' SAS/SATA drives with up to 64 TB and 8*3.5'' SAS/SATA HDD or SSD with a maximum capacity of 128 TB. The internal RAID array controllers of the server are PERC H345, PERC H355, PERC H755, S150, and HBA355i which simplifies storage management and improves fault tolerance.
Specification
Additional information
| | |
| --- | --- |
| Product Brand | Dell |
| Server Size | 4.5U |
| Processor | Intel Xeon E-2300 Series |
| No of Processor Socket | 1 |
| Supported RAM Options | DDR4 |
| No of RAM Slots | 4 |
| Max RAM Capacity | 128GB |