Refurb Intel 1.6 TB SSD for HP, Dell, IBM and Cisco Servers
AED 1,715 (-5%)
Increase your Server Storage
Improves Application Loading
Multi-Tasking at Incredible Speeds
Optimized for High End Computing
Less Power Consumption
3D NAND Technology for Best Durability
Description
Do you want to upgrade your server storage? Are you in search of affordable storage drives that can run your high-end applications and complex computations with better performance and speeds? Try our refurbished Intel 1.6TB SSDs that are highly compatible with your popular server brands, including Dell, HP, IBM, Cisco,etc. They have high transmission rates, rich performance and the most appreciable read/write speeds along with desirable booting and loading times. In-built with 3D NAND flash technology, they offer great redundancy to your data and provide great availability at all times. On top of that, these Intel 1.6TB SSDs have cut above switching speeds that allow you to multi-task easily. You don't have to hesitate about buying our refurbished SSDs. They have undergone various upgrades and tests to comply with any tangled work environments. All our refurb Intel 1.6TB SSDs are genuinely priced, and these prices are frequently updated considering the prevailing market value. Get in touch with us now to increase your server storage with these high-quality SSDs that come along with free installation and technical assistance, assured warranty, and prompt delivery services.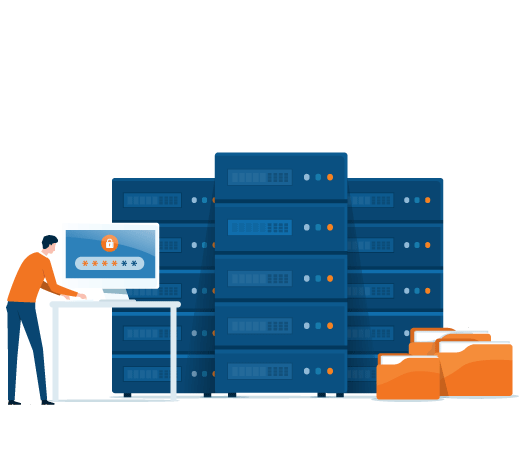 Increase your Server Storage:
If you are thinking about expanding your server storage with little investment, Server Basket has the best deal for you. We have high-performance refurbished Intel SSDs that offer a maximum storage space of 1.6TB to your servers. These SSDs offer immense storage space to support your files, applications, media, software, and other resources that can be easily accessed and worked on with inflated efficiencies. Our refurbished Intel SSDs are the most cost-effective solution to achieve your storage goals.
Improves Boot-Up Speed and Application Loading:
Are you tired of low speeds and high loading times? Then the Intel SSDs will be the best choice for your servers. These solid-state storage drives have quick booting times that aids your server to get started immediately from its rest state. Their exemplary speeds provide the finest loading times for your server applications. Users can employ these Intel 1.6TB SSDs in their enterprise servers to make the best use of their improved boot-up and loading times.
Multi-Tasking at Incredible Speeds:
Does your work demand you to run various applications or programs simultaneously? Then your server must make use of the highly renowned Intel 1.6TB SSD that can undoubtedly support your multiple workloads. These SSDs have impressive transition speeds that allow users to switch through applications without any noticeable latency. They are highly beneficial for your business, e-commerce, statistical, and high computational workloads. You can expect the best performance in any work environment using these Intel storage drives.
Optimized Performance for High End Computing:
Do you require top performance storage drives that can keep up with your high-end computing workloads? Switch to the industry-leading Intel 1.6TB SSDs that have sustainable read/write capabilities and ideal transition rates to render optimized performance for running your intensive computing tasks with better speeds and efficiency. These Intel SSDs offer outstanding support to your complex workloads with better responsiveness. They come with advanced technologies to unleash the maximum productivity of your servers.
Less Power Consumption:
Over other qualities a perfect SSD possesses, low power consumption is crucial and much preferred one. The absence of rotational parts in the SSDs utilizes minimum power to run thereby saving more energy. Moreover, the Intel 1.6TB SSD is engineered with NAND flash technology that uses up to 50%less power compared to other drives. All these factors promote efficient energy utilization which enhances the longevity of the SSDs for serving your workloads.
3D NAND Flash Technology for Best Durability:
If you are planning to buy storage drives that are highly durable and can endure your excessive workloads, you should go for the Intel 1.6TB SSDs that are designed to render effective performance even in high-capacity environments. The 3D NAND flash technology improves the storage drive durability by offering extra and better storage even in the smaller physical storage space. Henceforth, they can offer more storage capacity to your server for longer periods of time.
Assured 1 Year Replacement Warranty:
Are you interested in buying storage drives that come with an assured replacement warranty? Our refurbished Intel SSDs tag along with an infallible warranty of one year. Any issues you encounter with the 1.6TB solid-state storage drives such as dysfunctionality, poor performance, latency, or any deformation problems, within one year from its installation, will be covered by us. We provide you, an SSD replacement with another genuine storage drive without any delay.
Free Remote Technical & Installation Guidance:
Do you not have any experience using the Intel SSDs? We are here to help you. Server Basket has a team of experienced engineers who have hands-on experience with all types of storage drives. They will help you install the SSD in the server without any mistakes and will clear all your concerns regarding its usage without any charges. You can contact us at any time, and we will respond immediately to resolve your doubts and issues.
Fast Shipping All Across UAE:
Server Basket understands your requirement for the SSD. So we offer super fast delivery services to all our customers wherever they live in the UAE so that you'll receive your order within 2-3 working days. Our team makes sure that they pack the refurbished SSD in numerous protective layers and then seal the package before dispatching it. Prompt delivery services are extended for all our users in and around Dubai, Sharjah, Abu Dhabi, Al Ain, Ajman, etc.